Easily get bruises? Keep a bottle of one or more of the following 7 essential oils for bruises in handy! Essential oils help speed up healing and fade the discoloration fast.
What are Bruises?
Blue, purple, black or even green discolorations of skin, bruises normally happen after injury from hitting yourself but without cutting the skin. The discoloration and tenderness of the area together with pain and swelling is due to leakage of blood from an injured blood vessel to the surrounding tissue.
Many people from kids to adults suffer from bruises due to common accidents and injuries such as falls, hitting a body part on something like banging your elbow on a handrail, getting a punch or hit by someone, and so on. These types of minor bruises usually go away on their own but they have other symptoms such as pain, swelling, inflammation, tenderness and discoloration which you'd want relief from fast and essential oils can help with that!
How Do Essential Oils Help Bruises?
Essential oils are highly concentrated liquid plant extracts obtained through steam distillation or mechanical expression of aromatic parts of plants such as the tree bark, flowers, roots, fruit rinds, stems, resin and leaves. They have therapeutic healing properties that make them healing. Essential oils help bruises by:
Healing the bruise
Fading discoloration
Relieving pain
Reducing swelling
Minimizing tenderness
Speeding up the rate at which the bruise heals
Soothing the skin
Increasing blood circulation
And more
Below are the top 7 essential oils for bruises:
Top 7 Essential Oils for Bruises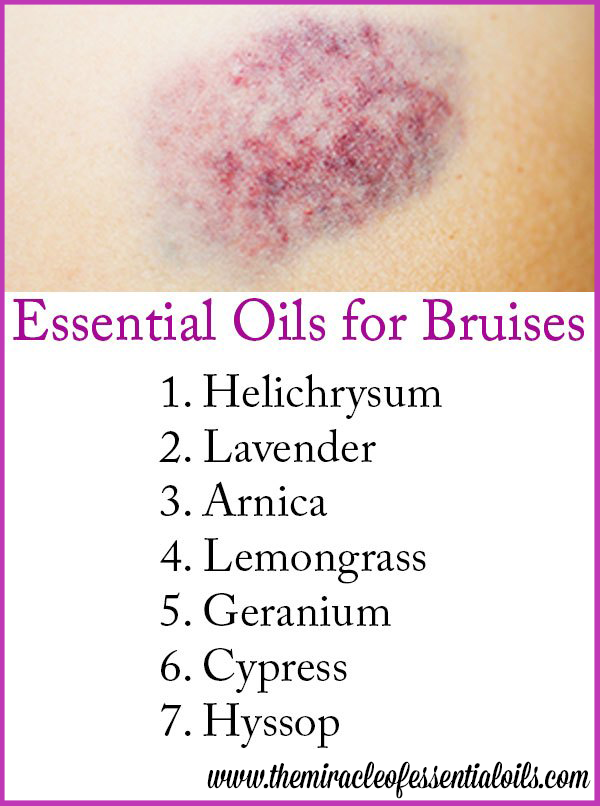 Essential Oil Recipes for Bruises
When applying these essential oil blends to bruises, please be gentle and do not deeply massage or rub the oil in. Just a light smearing will do. Below are 2 essential oil recipes for bruises:
1. Bruise Blend for Quick Healing

What you need
10 drops helichrysum
5 drops lavender
5 drops arnica
3 drops geranium
2 drops lemongrass
Fractionated coconut oil (where to get it)
10 ml roller bottle (where to get it)
Method
Remove the roller ball from the roller bottle and add the essential oils drop by drop.
Top with fractionated coconut oil and firmly push back the roller ball.
Screw on the cap and shake gently to combine the oils.
Gently roll on and around the bruise thrice a day.
2. Cooling & Soothing Gel

What you need
4 tbsp pure aloe vera gel (where to get it)
5 drops lavender
5 drops helichrysum
5 drops geranium
3 drops cypress
3 drops arnica
2 oz glass jar (where to get it)
Method
Whisk the essential oils into the aloe vera gel and transfer the healing gel into an amber container.
Store in a cool dry place.
To use, dip into the jar with clean fingers and smear the gel lightly over your bruise.
Repeat as necessary to help cool the bruise and alleviate pain.
Which essential oils for bruises are you going to use?