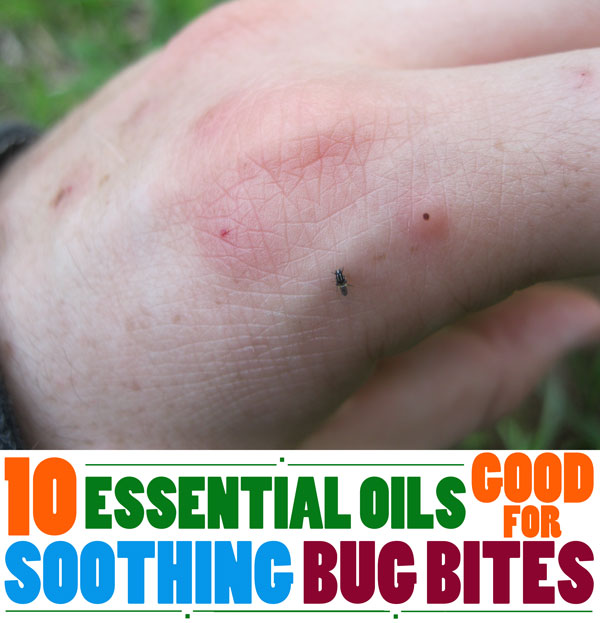 Ouch! Got bitten by a bug? Before you scratch, slap or set your bug bite to fire, take a look at some natural remedies that can help you heal your bite within minutes. There are many natural and therapeutic essential oils for bug bites that you can use on bug bites without having to run and buy a bunch of synthetic fragrance-laden bug creams.
But first, can you pinpoint what insect bit you? This can be helpful for treatment and fast action because critters like the black widow spider are poisonous and potentially life threatening, while tick bites can contain harmful bacteria and viruses that can cause diseases like Lyme's. In such cases, you must seek professional medical help.
Know Your Bug Bite
Common bug that bite humans include:
Bed bugs
Fire ants
Water bugs
Fleas
Ticks
Lice
Spiders
Mosquitos
Bees, hornets and wasps
What Are Some Essential Oils for Bug Bites?
Essential oils are versatile plant extracts that are helpful for hundreds of health conditions and ailments and they can work wonders for healing bug bites, without having to resort to any artificial chemical-based bug creams. Here are the top 10 essential oils for bug bites:
Extracted via steam distillation of the leaves and stems of the basil plant, basil essential oil is a powerful oil that has many therapeutic uses. It's used in respiratory congestion, to treat colds and flu, to relieve painful joints and sore muscles and more.
The high quantity of anti-inflammatory properties in basil oil make it great for reducing swelling in bug bites. It also has astringent properties which help shrink the size of bug bites and make them less itchy.
Chamomile essential oil has long been use for its soothing properties to quell an upset stomach and to ease digestive troubles like indigestion, gas and bloating.
It's exceptional soothing properties help to pacify painful bug bites and is safe to use for bug bites on sensitive baby skin and on young children.
The eucalyptus tree, native to India is a tall and strong aromatic tree with long succulent leaves, from which the essential oil is extracted. It is rarely affected by pests as it contains aromatic compounds that act as natural insecticides.
While eucalyptus oil can repel bugs, it can also be greatly helpful in bug bites as it has analgesic compounds, which can help relieve painful bites. It is also highly anti-inflammatory and helps reduce the swelling and redness of many types of bug bites.
Lavender, arguably the most popular oil in aromatherapy is a favorite of many, thanks to its long list of health benefits. It has many uses including relieving headaches, soothing sore muscles after a workout, promoting peaceful sleep, reducing anxiety and nervousness and more.
This versatile oil is a god-send for bug bites because it helps calm and soothe the bite area, reduce swelling and inflammation, reduce redness and cools the heated bug bite area, especially when it comes to spider bites and ant bites.
Lemon balm (also known as Melissa) is another aromatic oil that has properties similar to lavender including calming the nervous system, dispelling depression, anxiety and nervousness and sedative properties.
Melissa oil is one of the best soothing oils to use on bug bites because of its antiviral, antispasmodic and antibacterial properties which prevent infections from forming in the bites and also help to reduce and relieve itching and swelling in bites.
Peppermint oil is a personal favorite of mine, with its minty refreshing scent that awakens the senses, creates mental alertness and improves mental and physical stamina. Peppermint oil is great for bug bites because it creates a tingling sensation when applied on the skin. It's great for numbing painful insect bites and it also helps relieve swelling and itching.
Peppermint oil can be applied neat on to bug bites to provide immediate relief.
Tea tree oil (also known as melaleuca) is an Australian native plant that has been used as a healing medicinal tool by the aboriginals for centuries to treat various skin conditions. Tea tree oil is used to treat cuts and scrapes and to prevent infections in open wounds.
Tea tree oil, like peppermint and lavender, can be applied neat (or undiluted) on to the bug bite spots to help relieve symptoms of the bite and to prevent the risk of infection.
Thyme is a perennial herb related to the mint family and its essential oil has remarkable medicinal properties including correcting hormonal imbalances, treating fungal infections and preventing tooth decay and plaque.
Thyme oil helps prevent infections from bug bites and any wounds from scratching itchy bug bites.
Neem oil is a powerful antibacterial, antifungal and antimicrobial essential oil that has wonderful disinfecting properties for the skin. In ancient times, herbal baths were taken using boiled neem leaves and turmeric to cleanse the body of any harmful bacteria and to prevent skin ailments like acne and fungal infections.
Neem oil when applied on bug bites can help reduce inflammation, sanitize the bite and prevent bacterial infection.
Clove oil is a minty, slightly camphorous and strong smelling essential oil that repels bugs and also treats bug bites. It is rich in eugenol, an aromatic compound that is analgesic, anti-inflammatory and rich in antioxidants.
Clove oil can help relieve itching, reduce pain and decrease swelling from all sorts of bug bites including bee stings, wasp stings, ant bites and more.
Other Non-Essential Oil Remedies for Bug Bites
Essential oils are potent remedies for bug bites, but as they are concentrated essences, it is recommended that you limit your exposure to them. Babies, children and pregnant or lactating women may use essential oils for bug bites only once or twice a day, taking care not to be exposed to too much of a quantity. Luckily other effective bug bite remedies can also be used alongside essential oils to help provide relief. These include:
» Aloe vera gel (where to get it)
Aloe vera gel is a natural plant gel found inside the succulent leaves of the aloe vera plant. This gel is rich in many healing compounds that work like a charm on bug bites. Aloe vera can be mixed with essential oils or just be applied on its own to provide a cooling soothing effect on insect bites. It also helps reduce scarring and quells swelling and redness from bug bites.
» Baking soda (where to get it)
Baking soda is another one of those natural compounds that have hundreds of versatile uses like apple cider vinegar and coconut oil. Make a baking soda paste by mixing baking soda and a little bit of water and apply on bug bites. Baking soda will help open up the pore and penetrate into the bug bite so that its alkaline properties can help neutralize the acidity of bug bites.
» Activated charcoal  (where to get it)
A simple salve can be made with activated charcoal and coconut oil and applied on to the bug bite to draw out toxins and poisonous venom from insect bites from bees and wasps, and even spiders.
» Colloidal oatmeal (where to get it)
Ever been to an outdoor event only to return home covered in bug bites? Well, that happened to me, and putting essential oils drop by drop over dozens on bug bites can be time consuming, not to mention being hard to reach in some parts of your body like the back. This is where a soothing oatmeal bath comes into play. Fill up your bath tub with warm water and 1 cup or 2 of colloidal oatmeal. Soak yourself in the bath for about 15 minutes to heal and soothe bug bites.
» Witch hazel (where to get it)
Witch hazel is a clear, natural astringent liquid that is popularly used in acne treatment and skin toners. It is rich in tannins which help reduce inflammation, prevent infection, reduce pain and itching. Douse a cotton ball in diluted witch hazel and apply to bug bite areas.
Bug Bites – When You Need to Go to the Doctor
Most bug bites are benign and go away on their own. But sometimes, it may not be that simple. Here are some warning signs that you need to be on the look out for:
Difficulty breathing
Headache and dizziness
Nausea and vomiting
Swelling on the face, tongue or lips
Fatigue
If you notice any of these signs, you may need to visit your doctor and get a diagnosis and treatment.