Burns can take long to heal, have a risk of getting infected and can leave behind ghastly scars. But all this can be avoided by using 15 powerful essential oils for burns and scalds at home.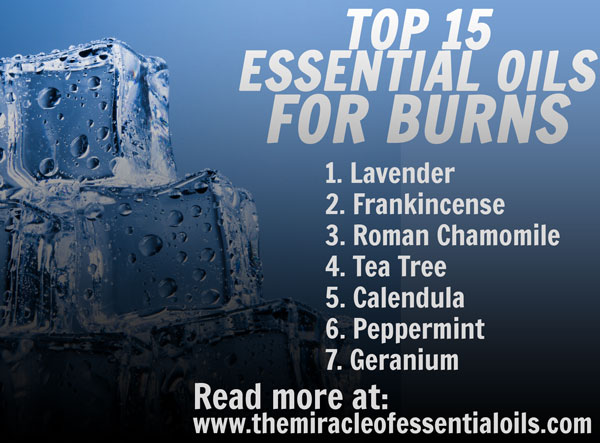 Understanding the Anatomy of Burns
A burn is damage caused to the skin by extreme heat; usually through contact with fire, hot oil, hot metallic objects, hot water or steam.
Burns can also be caused by extreme cold, radiation, electricity, harsh chemical exposure and friction.
There are 4 main categories of burns, including:
First-Degree Burns – This is the most common type of burn, where only the top most layers of the skin (epidermis) are affected. It is characterized by redness and pain, and usually heals within 3 days.
Second-Degree Burns – Second-degree burns are deeper than first-degree burns, with the damage extending to the skin layers beneath the epidermis. Blisters often develop and it is extremely painful. It may take up to 6 weeks to heal. Scars are often left behind when the wound heals.
Third-Degree Burns – A full-thickness or third-degree burn affects all three layers of the skin, including the epidermis, dermis and hypodermis. There may be no pain since the pain receptors under the thick layer of skin have been damaged. The burn area is stiff and healing may take months and is often incomplete. Severe scarring and early excision ensues.
Fourth-Degree Burns –  The most severe type of burn, fourth-degree burns are deep and the damage extends beneath the skin layers, fat layer and reaches the muscles, tendons and bones. Survival after this type of burning is rare. Amputation is often required.
Note: If you have severe burns, you must see a doctor immediately to receive the best treatment and care. Natural remedies such as essential oils are only to be used as first aid and treatment for minor burns. Essential oils may also be used alongside conventional treatment for medium burns.
What Makes Essential Oils Good for Burns?
Essential oils are potent substances rich in unique compounds (including a wide variety of plant terpenes), which hold healing properties that can help you treat burns. Here are some of the qualities in essential oils which make them ideal for using on burns:
Anti-oxidant: Anti-oxidant properties found in essential oils such as roman chamomile and helichrysum help to speed up healing from free radical damage to the skin. It also helps bolster regeneration of new skin cells.
Anti-inflammatory: The powerful anti-inflammatory properties found in essential oils like sandalwood and lavender, help to greatly reduce swelling, inflammation and redness on the site of the burn.
Analgesic: Burns can be painful and analgesic compounds in peppermint, wintergreen and lemongrass essential oils can help to alleviate pain. Menthol, found in these oils, creates a cooling effect and a tingly sensation that helps distract from the pain.
Scar Prevention: You can avoid ugly scars from burns by promptly treating your burn with oils such as frankincense, myrrh and geranium. They help the skin cells to develop in proper form so that scars do not appear. Even after scars are formed, these oils can help lighten and eliminate the scars.
Anti-bacterial: To prevent infection of burn wounds, you can use essential oils such as tea tree and eucalyptus, which are rich in anti-bacterial, anti-fungal, anti-microbial and anti-viral properties. They also act as natural disinfectants, helping to keep the wound clean and sterile.
Top 15 Essential Oils for Burns
Here are the best 15 essential oils that you can reach out for when you or your loved one suffers a burn. Watch out for the helpful recipes towards the end of the article.
How to Use Essential Oils for Burns
1. Overnight Poultice for Burns
This poultice is a potent remedy that is traditionally used for skin ailments such as rashes, boils and burns. It works like a charm and I highly recommend you try it. Apply it at night and by morning the burn wound will look so much better and less painful.
What you need:
1 – 3 banana peels (depending on the size of the burn)
2 teaspoons of dry ginger powder (where to get it)
1 teaspoon of coconut oil (where to get it)
2 drops of roman chamomile oil
2 drops of lemongrass
1 drop of geranium oil
Directions
In a small bowl, combine the dry ginger, coconut oil and essential oils with a popsicle stick. The resulting paste must be smooth and thick.
Now gently apply the paste onto the burn area.
Cover with banana peels. The inside of banana peels has wonderful healing enzymes. It also provides a cooling effect.
Now use the cotton gauze to firmly wrap the burn. Make several rounds with the cloth and secure to make sure it does not unravel.
Leave the poultice on overnight and remove in the morning. Repeat for 2 – 3 more nights, if needed.
2. Cooling Gel for Burn Relief
This is a cooling gel that you can whip up in a few minutes. Attend to the burn by immediately showing the wound under cool running water. Then proceed to make this natural cooling gel. If you have a fresh aloe plant, that's even better. I always keep a lovely aloe plant at my kitchen window sill and it works as an awesome burn soother for kitchen burns.
Ingredients
1/4 cup of pure aloe vera gel (where to get it)
4 drops of peppermint oil
2 drops of eucalyptus oil
2 drop of wintergreen essential oil
Directions
In a small bowl, combine all the ingredients and mix them thoroughly.
Now slather generously onto the site of the burn. You will immediately feel cooled and soothed.
This remedy also helps eliminate the chance of scarring and you can make a large batch and store in the refrigerator. Apply 2 – 3 times a day for 3 days.
3. Soothing Burn Salve
Make this soothing burn salve with natural ingredients that you can keep in your first aid kit. It can help soothe burns, reduce redness and prevent scarring.
What you need:
Directions
In a double boiler, melt the shea butter and beeswax together. If you don't have a double boiler, not worry. You can improvise by placing a large sauce pan of water over medium heat and place a glass bowl containing the butter and pastilles on the hot water.
Once the shea and the beeswax are fully melted, take off heat and add all the essential oils and the manuka honey.
Stir thoroughly and transfer to your container.
Place in the refrigerator for 2 hours to set.
Now gently apply this balm over the burn wound 2 -3 times a day.
If you have kids or are prone to frequent burns (such as in the kitchen), make a batch of this balm and keep it in your first aid kit.
Have you ever used essential oils for burns? What oils did you use? Share with us your healing story in the comments below.