Having cough as an adult sucks, so you can only imagine; it's twice as bad for kids. Here are some essential oils for children's cough and how to use them for quick cough relief.
Dealing with Stubborn Children's Cough?
Children tend to get coughs all the time, since they are highly contagious and they go to school where they can easily get infected by others.
A cough is a sudden reflex where air is violently released from the lungs with a distinctive sound. There are many types of coughs including:
Dry cough – Usually gets worse at night and can be persistent and cause pain. It is not accompanied with mucus.
Wet cough – Accompanied with a lot of mucus or fluid, a wet cough is a sign of lower respiratory infection
Whooping cough/pertussis – Characterized by frequent coughing fits of up to 5 – 15 coughs at once, pertussis can cause shortness of breath and is highly contagious.
Coughs are caused by bacteria or viruses invading and infecting the respiratory system. They cause inflammation in the lungs and the overflow of sputum. There are many natural remedies for coughs including eating immune boosting foods, eating a diet containing in expectorant, antibacterial food such as garlic and honey and of course, using essential oils.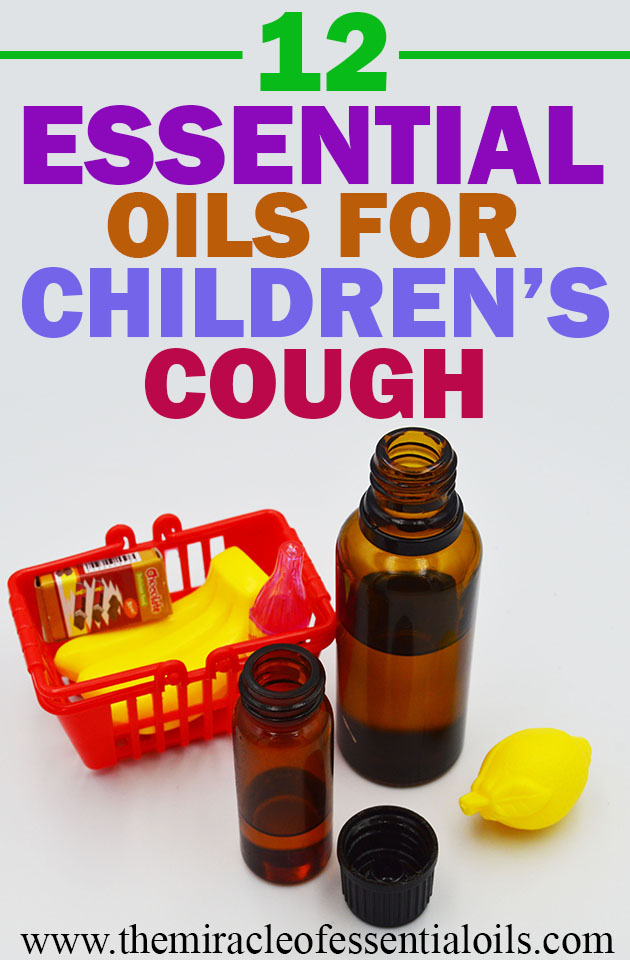 Why Use Essential Oils for Children's Cough?

When you go to the doctor with your child who has cough, you'll leave with a set of antibiotics such as amoxicillin, azithromycin and clavulanate, usually in the form of syrups.
Here are the problems with antibiotics:
They are usually over prescribed – Over-prescription of antibiotics is becoming dangerously rampant and is causing contagious and life threatening bacteria to become resistant. Bacteria such as E. coli and Staphylococcus aureus are already showing antibiotic resistance and are causing concern in the scientific community.
Cough syrups are loaded with sugar and unnecessary synthetic coloring and fragrance – Too much sugar is bad for your child's health because it lowers immunity, depletes the body's stored nutrients and even causes behavioral problems. Synthetic coloring and artificial fragrances are carcinogenic and can disrupt hormones.
Antibiotics kill ALL bacteria – We need good bacteria in our bodies as they play a huge role in allowing proper absorption of nutrients, supporting the immune system and even regulating hormones. Yet antibiotics wipe out these good bacteria and leave the body more vulnerable to diseases and disorders.
Note: It is highly important to get your child checked at the doctor to get proper diagnosis and treatment for cough. If your child has persistent coughs, mention this to your doctor so that any underlying health problems can be invested. Essential oils should be used after consulting with your child's doctor.
Essential oils, on the other hand, are completely natural, plant-derived precious substances that have potent healing abilities. Many essential oils fight bacteria that even antibiotics cannot kill. The effectiveness of essential oils against bacteria that cause cough has been proven by many studies.
Research on Essential Oils for Children's Cough
Essential oils (thyme and clove) were found to be rich in antibacterial compounds and can help reduce the amount of antibiotics that need to be taken (read more)
Essential oils, when combined with conventional antibiotic drugs, were proven able to fight drug-resistant bacteria (read more)
Drug resistant bacteria like Salmonella were destroyed by using essential oils orally: carvacrol, thymol, eucalyptol, lemon (read more)
Top 10 Essential Oils for Children's Cough
Here are some of the best essential oils for children's cough: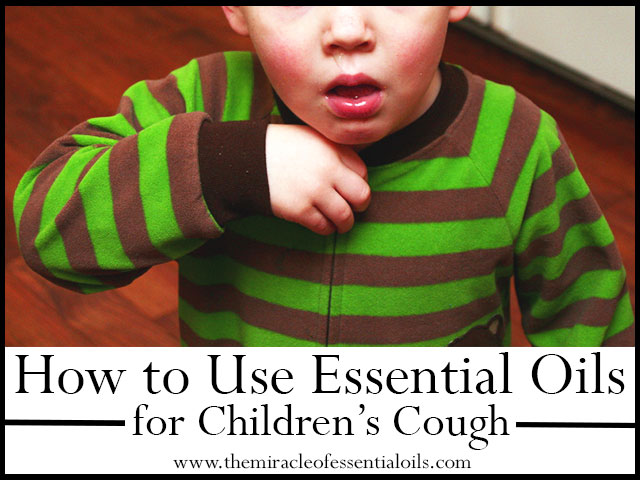 How to Use Essential Oils for Children's Cough
1. Chest Rub
One of the best ways to use essential oils for the respiratory system is making a healing chest rub, which works as a wonderful decongestant, especially for younger children. Consult a doctor before using it for children under 3 years.
What you need:
Method:
In a double boiler, melt the shea butter while stirring it gently with a spatula.
Once fully melted, take off heat and allow to cool down a bit.
Once cooled (but still in a liquid state) add in the essential oils and stir.
Now pour this liquid chest rub into a container preferably 2 oz and place in the refrigerator overnight. This will help to solidify the chest rub.
Apply a little amount of the chest rub onto your child's chest and also throat. You can apply this once in the morning and once at night. Remember, when your child spits up mucus, teach them to spit it out and not swallow it.
2. Steam Inhalation

What you need:
Method:
Boil some water until it starts steaming. Transfer this water into a large bowl. Add the essential oil.
Let your child hover their head over the steaming essential oil-infused water and breathe in the vapors deeply. For older children (above 7), you can create a tent over their head and the bowl with a towel to trap steam. Let them come out to take breaths of fresh air as it may be too intense for them, especially in the beginning.
Most children may be wary to try this, but they'll feel better once they are done. Try to make it like a game, and get them to take in at least 5 deep breaths. This will help clear the air ways, break down thick mucus and allow easier expulsion, and fight cough-causing bacteria in the respiratory system.
Do you use essential oils for children's cough? How long did it take to get rid of the cough using essential oils? Please share in the comments below so others can benefit from your experience!