Find out 5 of the most powerful essential oils for chronic pain and one potent essential oil pain relieving recipe that is very effective for chronic pain management.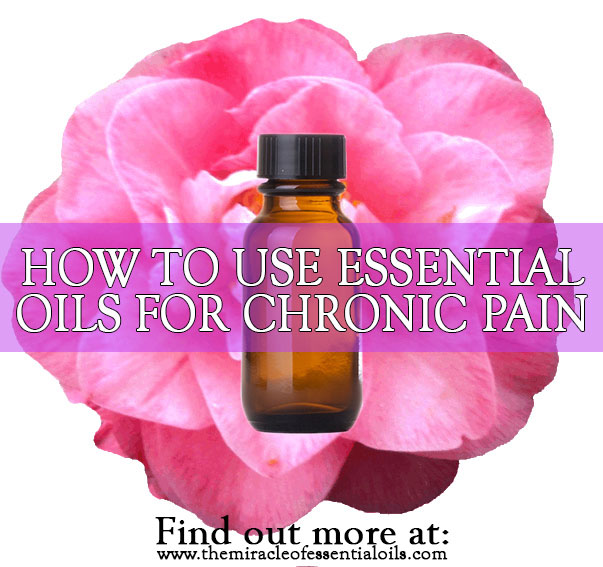 Every day aches and hurts can easily be managed with a pop of a pill. However, when you have chronic pain, much stronger medications are needed to give even a little relief. But those potent medicines have scary side effects that only show up when you least expect them after accumulating for a long period of time!
For those of you who want to naturally manage your chronic pain without reaching for heavy pain relieving medicines, there's good news – you can turn to Nature's very own healers: essential oils. Essential oils are highly concentrated volatile liquid aroma compounds extracted from aromatic plant parts such as their leaves, stems, barks, flowers, seeds, roots and resin.
What makes essential oils so amazing is that they are 100 % all natural, which means they do not contain synthetic chemicals whatsoever. Please ensure to purchase 100% pure high quality essential oils from a reputed seller.
Though essential oils won't cure your chronic pain overnight, when used consistently, you can definitely notice significant improvement!
Top 5 Powerful Essential Oils for Chronic Pain
Below are our top 5 essential oils for chronic pain relief. Each essential oil on this list works because of their analgesic and anti – inflammatory properties that both help in relieving pain and reducing inflammation.
A spicy hot oil, ginger essential oil has analgesic properties, is warming and helps increase blood circulation to the area where it is applied. This encourages blood flow to the area which delivers necessary nutrients and oxygen – rich blood which helps reduce inflammation and alleviate pain.
2. Wintergreen Essential Oil (where to get it)

One of the most powerful essential oils for chronic pain, wintergreen is touted for its potent analgesic properties. The wintergreen plant is the only other plant apart from birch that is said to contain natural methyl salicylate, which is the main ingredient in aspirin. Research suggests that wintergreen oil has a cortisone – like effect that enables it to relieve pain fast.
Lemongrass oil is another warming oil with analgesic properties. It's extracted from the fresh fragrant blades of lemongrass, which is a type of grass that grows wild in India. Lemongrass oil is also anti – inflammatory and helps reduce inflammation that aggravates pain in the aching area.
Cooling and invigorating, peppermint oil works by numbing down the area to which it is applied (in diluted form, of course). But it doesn't stop there – peppermint also reduces inflammation and cools down the area because of its high menthol content. Peppermint oil is especially beneficial for joint pains, stomach aches, menstrual pain and headaches.
Extracted from sweet marjoram which is also known as the 'joy of the mountains,' marjoram oil is particularly useful for arthritic pain, migraines and muscle spasms. It also has a sedative quality that promotes deep and good quality sleep that's much needed for those with insomnia due to chronic pain.
A Potent Essential Oil Recipe for Pain Relief
A synergistic blend which combines the pain–fighting and anti–inflammatory properties of ginger, sweet marjoram and wintergreen oils in a base of grapeseed oil, this 'powerful pain potion' is formulated to help combat chronic pain if used every night without fail.
»  Powerful Pain Potion

What you need
15 drops ginger oil
20 drops marjoram oil
20 drops wintergreen oil
¼ cup grapeseed oil (where to get it)
4 oz amber glass dropper bottle (where to get it)

Method
Combine all the oils in the glass dropper bottle and shake gently till all the oils are well mixed.
Store in a cool dry place, away from sunlight and away from the reach of children and pets.
To use, place about 5 – 7 drops on one palm then rub both your palms together and deeply massage it on your painful area every night before bed.
5 Foods to Take to Naturally Manage Pain
Incorporating these foods into your daily diet will help you gradually lessen your pain by fighting off inflammation, which is the root cause of pain and disease. Here are five superfoods that traditional folks in other parts of the world take on a daily basis as part of their staple cuisines:
► Turmeric: A powerful pain – fighting spice used in Indian cooking since ages ago, turmeric is available in powder and capsule form. Its key compound is curcumin, which actively fights inflammation and pain. A popular way of consuming turmeric is by making 'Golden Milk' which is a delicious drink that is also said to promote good quality sleep. To make Golden Milk, heat up a cup of grass fed whole milk or almond milk, if you're vegan, until it's warm then add just ½ tsp of turmeric powder. Also add a pinch or two of ground black pepper (yes, please do!). Black pepper boosts the bioavailability of turmeric in your body! Stir in a tsp of raw honey and slowly sip it up every night before bed.
► Ginger root: An invigorating spice also native to India, ginger root is an incredible inflammation – fighting and pain – relieving super food. Ginger strengthens the immune system and actively fights infectious pathogens in the body. To take ginger, make a tea out of it with 1 tsp fresh grated ginger, 1 cup of water and add honey to sweeten. It also relieves headaches and stomach cramps! You can also make use of powdered ginger root, if you don't have access to fresh ginger.
► Cayenne: A hot spicy food, cayenne pepper contains capsaicin, the active compound found in chilli peppers and bell peppers that is well known for its pain alleviating properties. Capsaicin is so beneficial that it's added to many pain medications and creams. Ground cayenne pepper is popular among weight watchers and they take it first thing in the morning in warm honey water to help reduce excess fat. You can also use it this way to fight chronic pain.
► Cinnamon: Yet another spice originating from South East Asia, cinnamon is a sweet spice that's popularly used in baking. Making a tea with ground cinnamon is a perfect way to enjoy the pain relieving benefits of this spice and you can add in a splash of milk and honey for a sweetened and healthy drink.
► Pineapple: After looking at spicy foods to relieve pain, it might be shocking to see a fruit: pineapple on this list! Yet pineapple is a powerful pain fighting food – it contains a special compound known as bromelain that has potent anti – inflammatory properties. Fresh pineapple is more palatable than cayenne so feel free to enjoy it daily or at least more than once a week! You can chop it up and eat it as a mono meal, juice it or even grill it!

What essential oils for chronic pain are you interested in trying out first? Do you have other natural remedies for chronic pain? Please share below!