Cracked heels, though harmless, can be a painful and irritating condition that needs relief super fast. It's very hard to help cracked heels especially those that flake and bleed. However, using these healing essential oils for cracked heels, you might have a great chance at getting those cracks under control forever!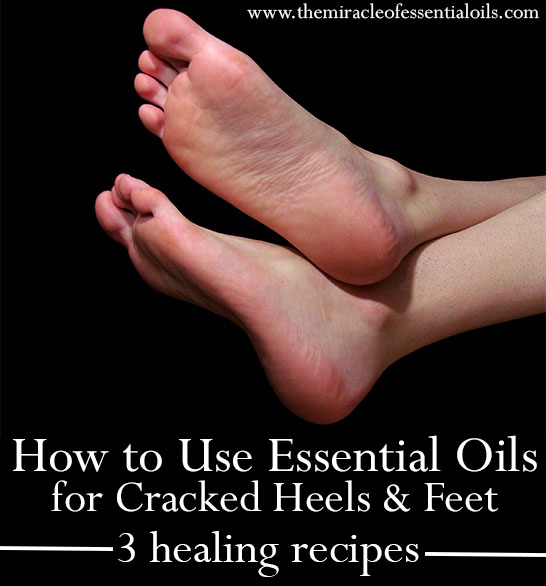 What Causes Cracked Heels?
Cracked heels is a very common skin condition that affects the heels of the foot. Cracks develop on the soft heels, making them become dry and flaky. Cracked heels can be from mild to severe. Mild cracked heels usually just have cracks and extra flakiness on the heels while severe cracked heels can have bleeding cracks that are very painful.
The causes of cracked heels include dehydration, dryness of the foot skin, accumulation of dead cells and fungal infections, among others.
How do Essential Oils Help Cracked Heels?
What makes essential oils helpful for cracked heels is there anti-fungal, anti-inflammatory, wound-healing, moisturizing, anti-septic, cicatrisant and analgesic properties which all help to:
Moisturize cracked heels
Heal bleeding cracks
Exfoliate excess dead cells
Relieve burning or tingling pain in cracked heels
Fight off fungi that's a major cause of cracked heels
Help in cell regeneration
And more
Below, find out 7 healing essential oils for cracked heels:
7 Healing Essential Oils for Cracked Heels
From tea tree to geranium, all these essential oils are helpful for relieving cracked heels and improving their appearance:
3 Essential Oil Recipes for Cracked Heels
1. Healing Balm for Painful, Bleeding Cracked Heels

What you need
Method
Melt the beeswax pastilles, shea butter and coconut oil using a double boiler. You can create a makeshift double boiler by placing your ingredients in a small pot then placing it over a larger pot containing about ¼ cup of water.
Place the setup on the stove top and heat over medium low flame till it melts.
Once melted to liquid form, remove from heat and let it cool down for about 2 minutes then add the essential oils and stir with a disposable popsicle stick.
Now pop the mixture into the refrigerator to set into a balm.
To use, smear a liberal amount on your cracked heels. You may cover your feet with a pair of comfortable socks to prevent oil stains.
2. Quick Roll – On Blend

What you need
Method
Remove the roller ball from the roll – on bottle and add the essential oils drop by drop.
Top with fractionated coconut oil.
Firmly put back the roller ball, close the cap and shake the bottle gently to combine the oils.
Roll onto clean and dry cracked heels. Throw on a pair of comfortable socks.
3. Essential Oil Foot Soak for Cracked Heels

What you need
A tub of hot water and a stool to sit on
10 drops tea tree (where to get)
7 drops lavender (where to get it)
A handful of Epsom salts (where to get it)
Anti – fungal soap
Pumice stone
Towel
A jug of warm water for rinsing

Method
Prepare your foot soaking session by placing all the above tools near you.
Fill a tub with hot water (make it very hot but not hot enough to hurt yourself) and while the water is running, throw in the Epsom salts and let them disperse.
When the tub is halfway full, close the tap and add the essential oils.
Now sit on the stool, immerse your feet and use them to stir the essential oils in the water.
Soak for about 15 minutes.
After soaking, soap up your legs preferably with an anti-fungal soap if you have one.
The get the pumice stone and start scrubbing away the dead cells and flakes on the cracked heels.
Now rinse your legs with the jug of warm water and dry them thoroughly using the towel.
You can now apply the healing balm or roll – on above.
Do you have mild cracked heels or severe cracked heels? Which essential oils do you plan on using? Share your thoughts below!