Are you suffering from dry and flaky nail cuticles that are peeling off at places? Are unhealthy cuticles causing you physical pain and stress? Don't worry, you're at the right place perfect post for growing healthy and shiny cuticles. With the help of essential oils! These 5 essential oil for cuticles can do wonders in maintaining nail health. Using essential oils for cuticles can help you develop perfect shiny nails, which sparkle with a natural glow.
What Are Nail Cuticles?
Before going into the details of essential oils, let us have a brief idea about the structure and function of your nail cuticles. Your cuticle is a layer of transparent skin present in the bottom tip of the fingers and toes. Its primary purpose is to protect your budding nails from bacteria when they are growing from your nail root.
Your cuticle is a very delicate tissue and may get infected by bacteria or fungal invasion. Infected nails are a cause for concern as it causes pain, bleeding and takes time to heal. Infections can also leave your nails with ugly scarring or change in color. In most cases, dry cuticles are the main reason for bacterial infection. For this reason, it is essential to take care of your nails, and nothing can be better than essential oils in this regard.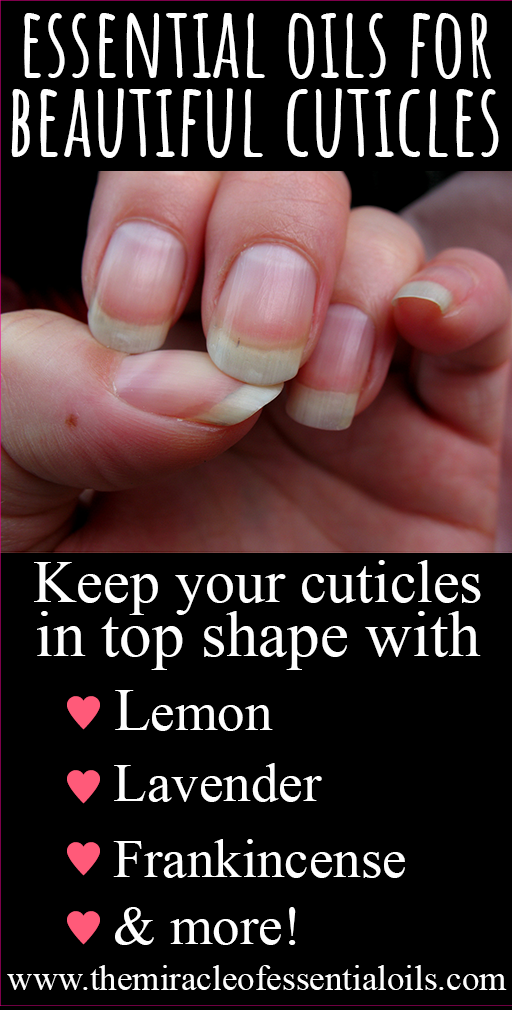 Top 5 Essential Oils for Healthy Cuticles
Let us now have a look at the top 5 essential oils for cuticles for healthy nails and more:
1. Myrrh Essential Oil
Myrrh essential oil is perfect to take care of your cuticles. It has remarkable antibacterial, anti-inflammatory, and moisturizing properties. It prevents the occurrence of bacterial infection and flaking of nail cuticles. We obtain myrrh oil from the Commiphora myrrha tree, which is widespread in African and Middle East countries. This plant is botanically related to frankincense.
Myrrh is a resin or sap like substance. It comes out through a cut made on the trunk of the tree. The sap dries out within a short time and looks like teardrops on the bark. The planters collect this resin and obtain the essential oil through the steam distillation process. The essential oil is yellowish orange and has a smoky appearance. Its active ingredients are terpenoids and sesquiterpenes. These compounds have effective anti-inflammatory, antibacterial, moisturizing and antioxidant properties. You can apply the oil a fter diluting it with water on the nail cuticles.
2. Lavender Essential Oil
Lavender is a unique essential oil which helps to strengthen your nails and cuticles and keep them moisturized. It comes from the plant Lavandula angustifolia. This plant produces scented lilac color flowers and grows abundantly in northern Africa, the Mediterranean region, Europe, the United States and Australia. The key ingredients of the oil are linalyl acetate, linalool, lavandulyl acetate, 1,8-cineole, Geraniol, and limonene. Lavender oil has marked anti-inflammatory, antibacterial, antifungal, antispasmodic and calming effect. Apply the essential oil along with coconut carrier oil on your nail to keep them healthy and moisturized.
3. Lemon Essential Oil
One of the best essential oils for cuticles is lemon essential oil. This refreshing oil is excellent to treat cuticle infection. In fact, it removes stains and imparts a shiny look to your nail. The oil comes from Citrus limon plant belonging to Rutaceae family. The chemists obtain the essential oil by cold-pressing the lemon peel. Lemon oil has a refreshing scent and excellent anti-inflammatory and antimicrobial properties. Due to the presence of two compounds, limonene, and b-pinene in it. Moreover, it is also used as a cleanser and purifying agent on nails to keep them fresh and shining.
4. Frankincense Essential Oil
Frankincense essential oil has remarkable antiseptic, anti-inflammatory, healing and moisturizing properties. When you apply the diluted form of this oil on your infected cuticle, it provides soothing relief from the pain and promotes nail growth. The oil comes from Boswellia carteri plant, and the active ingredients of this oil include actanol, bornyl acetate, linalool, incensole, octyl acetate, and incensole acetate. These compounds have remarkable antiseptic and anti-inflammatory properties which is essential to treat infected cuticles.
5. Geranium Essential Oil
Finally, our last essential oil for cuticles is geranium. The chemists extract this oil from the Pelargonium graveolens plant. It is highly beneficial for moisturizing your cuticle and restoring the skin around your nails. Moreover, it also has marked analgesic and anti-bacterial properties which prevent the spread of bacterial infection. Apply it on your cuticle after diluting with coconut oil to get instant soothing relief from cuticle pain.
So, these were the top 5 essential oils for infected, dry or painful cuticles. Apply them today on your nails to experience healthy cuticles which shine with a natural glow.