Are you a restless or light sleeper who easily awakens at the sound of even the tiniest sound? Learn how to have good quality sleep using these 7 essential oils for deep sleep.
Deep sleep is very important for the human body to get fully rested, heal any wounds, regenerate itself and preserve enough energy to function properly the next day.
Not getting deep sleep may be due to noise pollution, chronic stress, anxiety and more. This can make groggy, irritable, unable to do his/her tasks well the next day and have a weak immune system!
Below are some studies to show that essential oils do work in promoting good quality sleep:
Research on Essential Oils for Deep Sleep
Study One: Lavender increases the Percentage of Deep or Slow Wave Sleep and increases stage 2 (light) sleep which decreases restlessness and insomnia (read more)
Study Two: Lavender Decreases Rapid Eye Movement (REM) sleep, thereby promoting a deep peaceful and good quality sleep with no disturbances or tossing and turnings (read more)
Study Three: Inhalation of essential oils have a positive effect on sleep and may be considered for people with mild sleep disturbances (read more)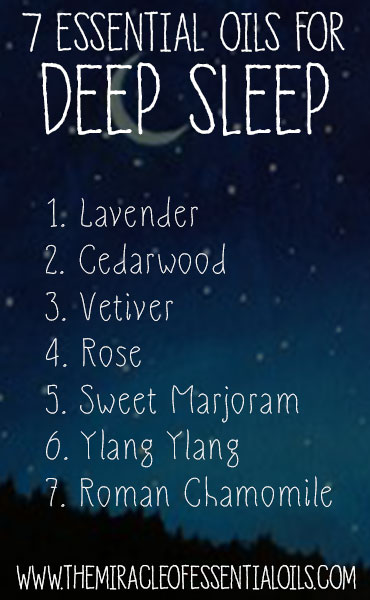 7 Essential Oils for Deep Sleep
How to Use Essential Oils for Deep Sleep
Diffusion. Place about 5 drops of any of the above essential oils in your high quality diffuser. You can also use any of the blends found here: 7 Soothing Essential Oil Diffuser Blends
Personal Inhaler. Remove the wick from the personal inhaler, drop into it about 6 drops of essential oils, place it back in and inhale deeply for promoting sleep and calmness.
Add to a Cloth/Cotton Ball. Place 2 – 3 drops of essential oil on a hanky, cotton cloth or cotton ball and place it near your pillow when sleeping.
Bath Blend. Mix about 20 drops of essential oil in 1 tbsp of coconut oil or 2 cups of whole milk and pour it into your bath.
Pillow/Linen Mist. Fill an amber glass spray bottle with 1 oz witch hazel, 3 oz distilled water and add 14 drops of essential oil. Shake well and mist on pillows and sheets.
Foot Blend. To a roller bottle, add about 20 drops of essential oil(s) then top with a carrier oil of choice like fractionated coconut oil. Shake gently and roll onto bottoms of feet before bed.
Sleep Cream. Place ½ cup of soft shea butter and 1/4 cup of coconut oil in an electric stand mixer and add 20 drops of essential oil. Beat until you get a white mixture. Transfer the cream into a clean container. Rub all over body after your night time bath or shower.