Dry hair can be very hard to manage especially during the tedious process of de-tangling or in the rough winter months when it gets a crunchy straw-like texture. If you've got such a hair type, no worries! You can easily get your locks back to their original luster with hair treatments using essential oils. Let's take a look at 8 essential oils for dry damaged hair and a few recipes to make your own revitalizing and nourishing hair oil blends to get you started on your journey to moisturized, silky and luscious locks!
8 Revitalizing Essential Oils for Dry Damaged Hair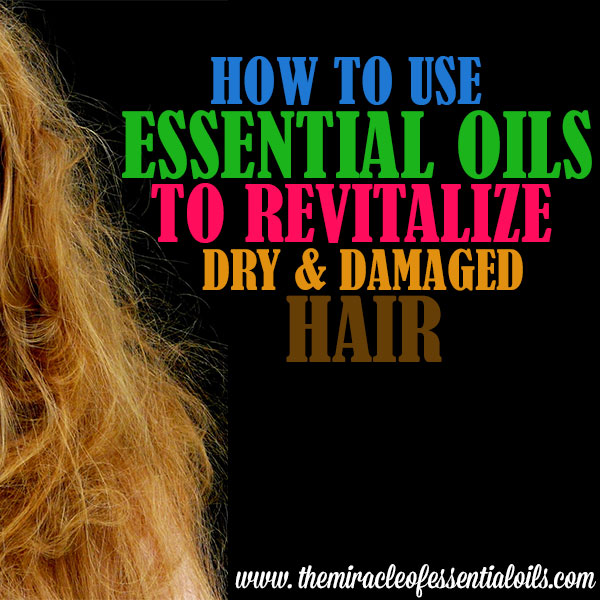 1. Sandalwood Essential Oil
Known for its exotic woody and long lasting fragrance, sandalwood is a popular ingredient in many perfumes and cosmetic products. The essential oil of sandalwood (where to get it) is extracted from the chipped heartwood of mature sandalwood trees, that take about 30 – 60 years to grow to full maturity. What makes sandalwood essential oil good for hair is its emollient qualities that seal moisture into dry damaged hair.
Sandalwood essential oil can be used straight onto your wet hair right after a shower to lock in much-needed moisture and nourish damaged hair. You can also dilute a few drops in a pure plant oil such as coconut oil to make an overnight treatment, leave-in conditioner or hair moisturizer.
2. Carrot Seed Essential Oil
Just as its name suggests, carrot seed essential oil (where to get it) is derived from seeds of the wild carrot plant, Daucus carota. This deep orange oil is highly touted as a natural remedy for sun damaged skin and mature skin types because of its powerful antioxidant properties and high carotol content that both have cell regenerating and skin rejuvenating effects. These same qualities make it one of the best essential oils for dry damaged hair!
Since some people may find its soft earthy smell a bit unpleasant on its own, consider creating a blend with carrot seed essential oil and any other essential oil(s) listed below in a carrier oil of your choice for an aromatically appealing hair treatment. Tip: Carrot seed blends particularly well with lavender and geranium as well as spicy and citrus oils.
3. Rose Essential Oil
Having one of the most heavenly scents in the world of essential oils, rose essential oil (where to get it) is a must-have for women who love romantic floral fragrances. It's not all about the aromatics, though – rose essential oil also has an extensive list of beauty benefits including balancing oily skin, treating acne & preventing breakouts as well as nourishing dry damaged hair.
It provides much-needed moisture to dry locks and instantly seals it into hair. After drying my hair, I like to place a few drops of rose essential oil on my palms, rub together and smooth them over the length of my hair, to keep it moisturized, conditioned and smelling oh-so-gorgeous!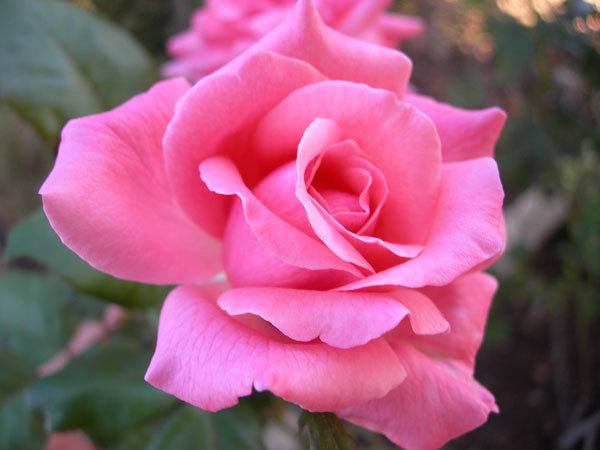 4. Lavender Essential Oil
Lavender essential oil (where to get it) is the most versatile essential oil in aromatherapy and also one of the safest ones that can be applied 'neat' or directly onto skin and hair. For dry hair, lavender essential oil is particularly beneficial because it helps regulate sebum production as well as seal in moisture.
Since it can be applied without dilution: for a quick no-hassle dry & damaged hair treatment, add about 3 – 5 drops of lavender essential oil onto your hair brush and brush through your hair to make it silky and smell beautiful!
5. Vetiver Essential Oil
Vetiver essential oil (where to get it) is extracted from the roots of a fragrant perennial grass called vetiver, also known as 'khus', that is native to South East Asia. It has a pleasant scent which makes it a popular ingredient in perfumes. Vetiver also has many beauty uses and benefits such as: fading dark spots & dark circles under the eyes, treating acne, regenerating skin tissue, and so much more. Its hydrating qualities make it a great revitalizing & nourishing oil for chapped skin and dry damaged hair.
6. Ylang Ylang Essential Oil
Extracted from freshly picked flowers, ylang ylang essential oil  (where to get it) is a good choice for dry hair types because it has a sebum-regulating effect on overly-dry hair which prevents the scalp from producing too much sebum.
To treat dry damaged hair, one formulation that works wonders is as follows: blend 5 drops of ylang ylang essential oil in 2 oz of sweet almond oil. Store this hair oil blend in an amber glass dropper bottle and apply just a little amount on your scalp and an equally small amount on your tresses to combat dryness and frizz. Use it as a leave-in hair oil.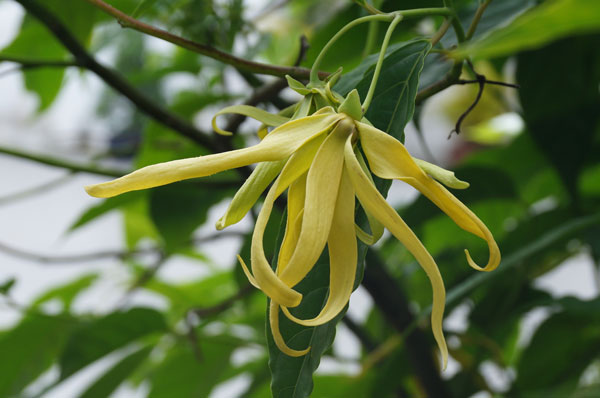 7. Geranium Essential Oil
Native to Africa, the geranium plant is of various species including Pelagornium Odorantissimum and Pelargonium Graveolens, the latter having a rosier scent than the former and being more expensive. Both types work well in treating dry damaged hair. Geranium essential oil (where to get it) helps dry hair by balancing the scalp's oil production as well as naturally conditioning it. It moisturizes dry brittle and frizzy strands and is also effective against head lice and dandruff.
8. Jasmine Essential Oil
I personally had a wonderful experience with the moisturizing qualities of jasmine essential oil (where to get it) when a few drops from the outside of the oil bottle came on my hands. I rubbed my palms together and the result was baby soft, moisturized and the silkiest skin I've had so far! When used for hair, it gives the same effect AND it has the most heavenly and intoxicating scent in the world – rivaling that of rose essential oil! Mix it in an odorless oil like grapeseed oil and lightly apply it on your locks.
Please note: Jasmine essential oil must not, by all means, used by pregnant or lactating women! For more essential oil safety information in pregnancy, please visit 'Is it Safe to Use Essential Oils While Pregnant?'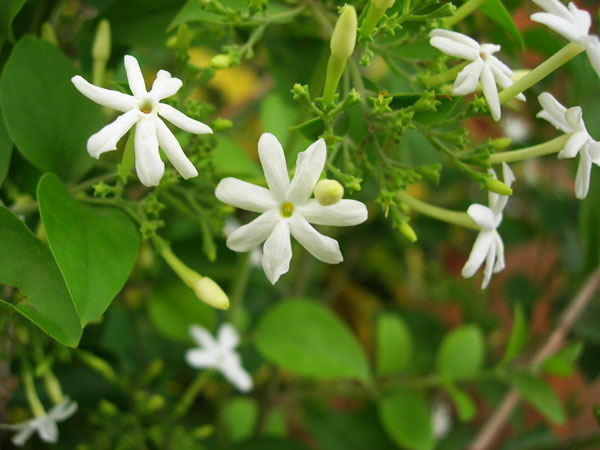 3 Nourishing Hair Treatments using Essentials Oils for Dry Damaged Hair
» Sandalwood Sealant
What you Need
Directions
In an amber glass dropper bottle, add 1/4 cup of sweet almond oil and 5-7 drops of sandalwood essential oil. Shake well to combine. To use, work in just a few drops on the length and ends of freshly washed damp hair and leave it on till your next shower.
» Dry Damaged Hair Formulation
What you Need
1/2 cup of liquid coconut oil (where to get it)
10 drops of lavender essential oil
7 drops of geranium essential oil
7 drops of ylang ylang essential oil
4 oz amber glass dropper bottle (where to get it)
Directions
Combine all ingredients in the dropper bottle and shake to combine. Place about 5-7 drops on your palms, rub them together and apply it to your scalp and hair length. Tie up your hair in a bun and cover it with a shower cap. Leave the formulation for 30-60 minutes then wash your hair as usual.
» Hot Oil Massage:
What you need
1-2 tbsp olive oil (depending on your hair length and thickness)
2 drops vetiver essential oil
2 drops carrot seed essential oil
Directions
Place the olive oil in a pan and heat it over a very low flame. Once warm to the touch, immediately switch off the flame and add all the drops of essential oils. Stir well with a spoon. Now section your hair and use the spoon to slowly pour the oil blend onto your scalp. When your whole scalp is saturated, move on to your hair length – just apply a tsp. Cover your hair with a shower cap or soft cloth and let the treatment sink in for 30-60 minutes. After which, wash your hair as usual and you can shampoo twice if your hair still feels oily.
» Nourishing Overnight Mask:
What you need
5 drops carrot seed essential oil
3 drops jasmine essential oil
1-2 tbsp avocado oil (where to get it)
Directions
Mix all the ingredients until well-incorporated then coat your hair with the oil blend. Wrap and cover your hair with a shower cap, plastic wrap or soft cotton cloth and get your beauty sleep! The next morning, wash your hair very thoroughly using a gentle sulfate-free shampoo and repeat shampooing if necessary.