Is it possible to use essential oils for dry eyes to relieve dryness, itchiness and discomfort? Find out the safest and best ways to use essential oils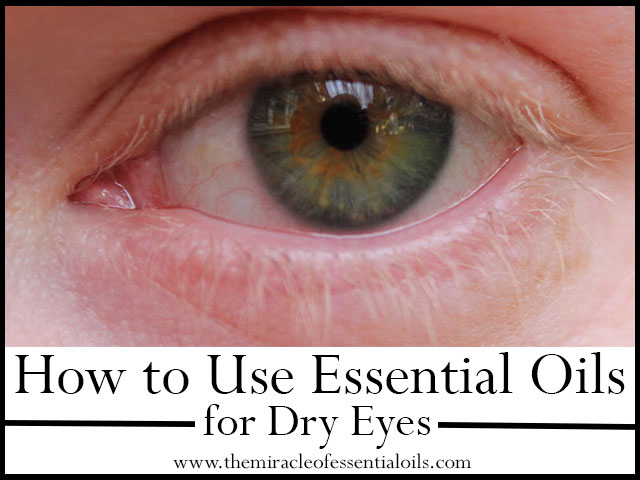 What are Dry Eyes and What is Dry Eye Syndrome?
Dry eyes occur when there are not enough tears being produced to moisturize the eyes, or there is an imbalance in the composition of the tears and the eyes are not sufficiently lubricated.
Some of the signs of dry eyes are feeling roughness or scratchiness when closing the eyes, burning sensation, irritation in the eyes, redness and sometimes discharge. Dry eyes are easily fatigued and are made worse after spending long hours on the computer or phone. Blurred vision often occurs after several hours of being awake.
When dry eyes occur chronically for over 6 – 12 months, it is termed as 'dry eye syndrome'. It is more common among elderly people. However, it is becoming more common among younger people as well, especially those who spend a lot of time on electronics such as computers at work.
Some of the causes of dry eyes include:
Lack of water or chronic dehydration
Fatigue
Lack of sleep
Stress
Frequent wearing of contact lenses
Eye surgery such as LASIK
Allergies
Hormonal imbalances
Vitamin A deficiency
The conventional treatment for dry eyes is through eye drops designed to mimic the natural tears produced by the eyes. Some eye drops may also contain ciclosporin or steroids.
How Do Essential Oils Help Dry Eyes?
Essential oils are not a recommended or popular treatment for dry eyes. In fact using essential oils in close proximity of your eyes is not advisable. Before we look at a safe way to use essential oils for dry eyes (later on in this article), let's first review the dangers of using essential oils in your eyes.
The Dangers of Using Essential Oils for Eyes
If essential oils get into your eyes, they can be very irritating and can cause major damage if not attended to in time. This is because essential oils are very potent substances, containing concentrated amounts of compounds such as menthol, eugenol and methyl salicylate, which can irritate the delicate membranes of the eyes.
There are many cases in recorded history where essential oils were applied into the eye, accidentally. The results are gruesome. In 2009, Bristol UK, an old man aged 73, was admitted into the emergency room after accidentally pouring an essential oil blend containing eucalyptus oil, cajuput oil and other oils. This blend was meant to be applied topically to treat respiratory ailments, but was mistaken for eye drops. The resulting chemical burn was healed after a week of intensive treatment, although it led to partial loss of the corneal tissue.
Lesson: Never apply essential oils directly into your eye, whether diluted or undiluted.
What To Do If You Get Essential Oil in Your Eye
Warning: Never put essential oils, undiluted or diluted into your eyes.
In case you get essential oil into your eye, the immediate first aid is to flush out your eyes with a carrier oil such as fractionated coconut oil or extra virgin olive oil. You can also flush out your eyes with pasteurized sterile milk. The fat in the milk/carrier oil will help bind to the essential oil and help remove it all from your eyes. Do not use water as essential oils are hydrophobic and will not get attached to the water, but will instead keep sticking to your eye and causing damage.
How to Use Essential Oils for Dry Eyes
1. Steam Inhalation
Steam inhalation is the best way to transport essential oils into your eyes in a safe, yet effective manner.

What you need:
A large bowl
Hot water
A thick towel
2 drops of lavender essential oil (where to get it)
Method:
In a large bowl, pour in hot water and 2 drops of lavender oil.
Place your head over the hot water such that the steam is touching your face.
Cover your head and the bowl with a thick towel so that the steam does not escape.
You can keep your eyes closed or open, while deeply breathing in the vapors of the essential oil.
2. Cooling Eye Gel
Collected from inside the succulent leaves of the aloe plant, aloe vera gel is a natural cooling gel-like substance. Apply this gel above and around your eye lids for cooling and soothing relief from dry eyes.
What you need:
Method:
In a large 8 oz jar, mix the pure aloe vera gel and essential oils until thoroughly combined.
Apply a small pea-sized amount of this gel all around your eyes, taking care not to get it anywhere inside your eye.
This gel is cooling and the essential oils help to increase blood circulation to your eye. This can help deliver vital nutrients and oxygen to your eye so that your dry eyes can get some relief.
3. Milk Compress
Fun fact: Did you know that breast milk is a folk remedy that is directly applied into the eyes to heal all sorts of conditions such as pink eye, eye infections and dry eyes? Don't worry we won't be applying any milk IN to our eyes, but we will make use of this wonderful, soothing compress for dry eyes:
What you need:
Method:
Dilute the essential oils in the milk. The fatty molecules found in the milk will dissolve the essential oils so that they won't remain in clumps that can get into your eye.
Now dip the cotton pads in the milk and apply them over your closed eye lids, while in a sleeping or reclining position.
Rest in this manner for at least 10 minutes. This will help completely relax your eyes and make them feel rejuvenated and soothed.
Other Non Essential Oil Remedies for Dry Eyes
1. Diet-based Remedies
In order to alleviate dry eyes, eat a diet rich in the following foods:
Avoid coffee, soft drinks and tea, which contain caffeine and can further dehydrate your eyes.
2. Rose Water Pads – Rose water is a flower hydrosol obtained during the process of extracting rose essential oil. It is rich in vitamin C and is incredibly cooling when placed on the skin. For dry eye relief, soak 2 circular cotton pads with rose water and place on your closed eyes. Relax in this manner for at least 5 – 10 minutes. Your eyes will feel fresh and rejuvenated.
3. Honey Eye Drops – Honey is a natural humectant that can moisturize your eyes. It is also rich in antioxidants that can help encourage the repair and regeneration of healthy new cells in the eye. To make honey eye drops, simply mix 1 teaspoon of raw honey with ¼ cup of distilled water. Keep this in a glass dropper bottle in your fridge and apply 2 drops per eye at least 2 times a day.
4. High Quality Supplements – Certain vitamin deficiencies can cause eye problems including dry eyes. If it is hard for you to regularly get these nutrients in your diet, consider investing in high quality supplements to support your eye health. The main eye-supporting nutrients you need for dry eyes are:
Before taking the above supplements, please consult your doctor.
5. Get Proper Sleep – Getting at least 6 hours of sleep is vital for completely resting and recharging your eyes for the next day. Take a nap in the afternoon if your eyes get tired during the day – this will help rest and revitalize tired, scratchy eyes.
Are you struggling with dry eyes? Have you tried safely using essential oils for dry eyes? Share your story in the comments below so others can benefit.