Essential oils for ear infection treatment – can they really help? Find out in this article!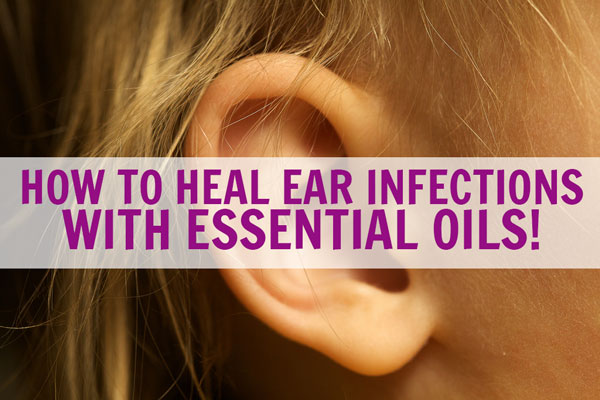 What are Ear Infections?
The common ear infection, scientifically known as Acute otitis media, occurs in the middle of the ear which is an air-filled space that is located between the ear canal and Eustachian tube, auditory nerve and the cochlea.
Some of the symptoms of ear infections include mild or severe ear pain, persistent feeling of pressure in the ear, discomfort or stuffiness in the ear, pus-like ear drainage, hearing loss, sore throat, fever and more.
The reason why you can have a sore throat and earache together during an ear infection is because the eustachian tube and middle ear are connected – the eustachian tube drains fluid from the middle ear into the throat. The essential oil remedies below help reduce the severity of an ear infection, take away ear pain as well as soothe sore throat.
How Essential Oils Work for Ear Infections
Essential oils are truly amazing substances because they are the essences of plants and a single drop can contain potent healing properties. They can be defined as liquid aroma compounds extracted from fragrant plant material. Essential oils offer a wide variety of therapeutic benefits and healing effects for many ailments including ear infections. Below are ways how essential oils work for ear infections:
Ease ear aches and pain
Reduce inflammation
Fight germs including viruses, bacteria, yeast, fungi and more with their antiviral, antibacterial & anti-fungal properties
Promote quick healing of the infection
Are powerful antioxidants that ward off free radicals that are among the causes of all diseases.
11 Effective Essential Oils for Ear Infections & Ear Pain
Below are the most effective essential oils for ear infection and earaches:
How to Use Essential Oils for Ear Infections
No matter what you do, do not put essential oils into your ear. You might wonder how the heck essential oils work for ear infections if you can't drop them in your ear like every other ear infection treatment but there are effective ways to use them that will instantly relieve ear pain. Find them below:
3 Essential Oil Based Remedies for Ear Infections
You can use one or more of any of these 3 essential oil based remedies for ear infections for instant relief from excruciating pain:
Recipe #1: Steaming
Steaming or facial steaming, as it's more popularly known, is a very effective method for treating ear infections, earaches, congestion and ear wax buildup. It involves using the power of steam and when essential oils are added, the steam carries their aroma compounds which contain the medicinal properties directly to the affected area, providing healing benefits.

What you need
A pot of water (about 4 cups)
2 drops tea tree oil
2 drops frankincense oil
A towel

Method
Place 3 cups of water in a saucepan or pot on the stove and let it boil and become steamy.
After which, turn off heat and carefully place the pot on a table over a place mat.
Sit down next to the pot and add the essential oils.
Create a tent with the towel by placing it over your head and the pot to trap the steam.
Position your affected ear in a way that the essential oil-infused steam enters into it.
Let the steam do its magic for about 10 – 15 minutes or until the water grows cold.
You can do 4 steaming sessions in a day for acute pain and congestion.
Recipe #2: Cotton Ball Application
This essential oil ear infection recipe is very effective in drawing out the infection, killing germs and relieving pain but you have to be careful not to get the oil into your ear canal. Just tape the cotton ball to your ear or put it just at the entrace without plugging it deep into your ear.

What you need
Method
Warm the olive oil until it's just warm enough to the touch.
Next mix in the essential oils.
Then get a cotton ball and dip it in the warm oil mixture. The cotton ball should not be dripping with oil. If it is, squeeze out any excess oil. This is to prevent the oil from dripping into your ear canal. Remember, do not get the mixture into your ear canal, please.
Tape the cotton ball to your ear. Do not plug it in your ear because you do not want the oil to seep into the ear canal. Refrain from lying down with cotton ball taped to rule out the possibility of the oil entering the ear canal.
Recipe #3: Pain Relieving Rub
This is similar to a vapor rub and I can tell you through personal experience that it really works WONDERS in getting rid of ear pain and healing an ear infection. What I do is deeply rub the pain relieving balm over the eustachian tube (basically apply it on the neck region below the affected ear and over the tonsils going downwards) for as long as I can like about 3 – 5 minutes. The essential oils plus pressure creates heat that provides amazing pain relief.

What you need
Method
Melt the shea butter in a double boiler. Make your own double boiler by placing a heatproof bowl containing the ingredients over a pot containing about 2 inches of water.
Once melted, leave it to cool off for a minute.
Now stir in the essential oils with a disposable chopstick or back of a spoon.
Leave the mixture to set for an hour or place it in the refrigerator to speed things up.
To use, rub the cream over your eustachian tube for about 2 minutes.
Recipe #4: Roll-on Blend
Coupled with a hot compress, this roll-on blend can give sweet relief to a painful ear infection! You can also apply it alone without following up with a hot compress.

What you need
10 drops frankincense oil
5 drop lavender oil
3 drops lemon oil
3 drops rosemary oil
Olive oil (where to get it)
10 ml roller bottle (where to get it)

Method
Remove the roller ball from a roller bottle and add the essential oils drop by drop.
Once that's done, fill the bottle with olive oil and put back the roller ball.
Close the cap and shake the bottle to combine the oils.
Roll on the back of ear, front of ear (near the cheek) and along the eustachian tube.
Now get a washcloth, wring it out in very hot water, fold it into a rectangle and hold it to your affected ear and the areas you applied the oil.
Repeat the washcloth hot compress technique till you feel better – about 3 to 4 more times.
Recipe #5: Oil of Oregano Capsules
Oil of oregano or wild oregano is a miracle worker when it comes to strengthening the immune system against seasonal allergies including colds, non-stop sneezing, runny noses and ear infections & aches. It's good to keep some oil of oregano capsules on hand so whenever you suffer from ear aches and infection as well as other allergic symptoms, you can pop a capsule twice a day to fight it off faster. You can also make your own oil of oregano capsules! Here's how:

Note: Please consult your doctor before ingesting essential oils.
What you need
Method
Open the 00 vegetable capsule and place two drops of oil of oregano into it.
The fill the rest of the capsule with olive oil.
Close the capsule and take one after a meal for two times daily over 3 days.
While using this remedy, also try the above methods as well for a wholesome natural ear infection treatment.
If you don't want to make your own oil of oregano capsules, please purchase pre-made wild oil of oregano capsules.
Essential Oil Safety
As mentioned earlier, do not drop the essential oil(s) into your ear canal, only use it on the outside. Using something so concentrated and potent like essential oils in your ear can affect the ear drum not to mention cause burning sensations in your ear.
Keep essential oils away from children and pets.
Do not use essential oils if suffering from chronic or severe health conditions like epilepsy or high blood pressure.
Refrain from using essential oils during pregnancy.
Always buy 100% pure high quality essential oils from a reputed seller. One of the best essential oil sellers I trust is Plant Therapy Essential Oils.
Apply patch tests with essential oils you're using for the first time to check if you may be allergic to any before using it on your body.
Seek Professional Help
Essential oils alone can't cure a full-blown ear infection, complete with pus-like drainage – for this please go to your doctor for professional diagnosis. They can only provide relief to ear infection symptoms such as fever, earaches and congestion, which can help get rid of small ear infections.
For severe ear pain and other bad symptoms like bleeding or pus, please seek professional medical help. A doctor can also check for a ruptured ear drum and give you the right medication for it.