When you're tired and feel your body's energy reserves have been depleted, aroma therapy can help you. Discover 10 essential oils for energy and how to use them to become full of vigor again!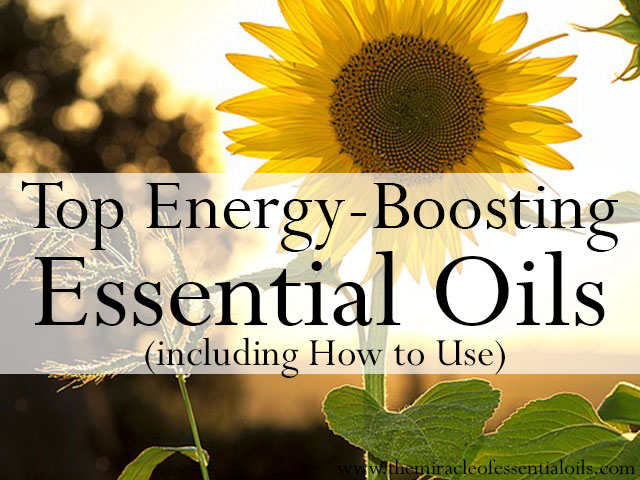 Symptoms of Low Energy
Low energy is a natural consequence of pushing your body beyond its limits. It can happen to anyone – from a school going child to a full-time working adult. Getting good quality sleep and eating nourishing foods usually replenishes your low energy levels, however, some types of low energy are not physical in nature. Low energy can be caused by mental fatigue and emotional stress.
Some of the symptoms of low energy include:
Lethargy, which means abnormal tiredness or drowsiness
Sore and weak muscles
Painful body
Increased thirst and hunger or the opposite: loss of appetite
Low motivation
Depression
Irritability & crankiness
Low concentration and focus
And more
How Do Essential Oils Help with Low Energy?
Essential oils are pure liquid extracts obtained through steam distillation or cold pressing of aromatic plant material. They have aroma therapeutic benefits and medicinal properties that make them amazing natural remedies for a wide variety of ailments. Applying essential oils topically and inhaling their scents have been proven to help combat bodily complaints and improve mental health.
Essential oils help boost energy by:
Uplifting your moods & thoughts
Calming everyday mental pressure
Dispelling negative energy
Rejuvenating a tired mind
Increasing mental focus, alertness and concentration
Promoting positive feelings of happiness
Reducing fatigue & exhaustion
Reducing stress and anxiety
Relieving both mind and body tension
Increase stamina and endurance
And more
The sweet and fruity scent of citrus oils such as lemon, sweet orange, bergamot and grapefruit among others are great for creating happiness, feelings of positivity and dispelling negative emotions and depression. When citrus oils are inhaled, their aroma compounds travel into the nose and are picked up by the olfactory cells which then send information to the brain. The brain processes this information and sends signals to the body which responds with increased energy, happiness and good mood.
On the other hand, the fresh and invigorating scent of minty oils such as peppermint, eucalyptus, rosemary and spearmint, among others are said to increase mental focus, alertness and concentration. They are also known to improve memory, sharpen the mind and increase mental clarity.
Below, find 9 essential oils for energy and further below, discover how to make your own blends with 3 essential oil recipes for energy boost to revitalize yourself, increase stamina, improve focus and more!
Top 9 Essential Oils for Energy
3 Essential Oil Recipes for Energy, Endurance & Stamina
1. 'Citrus Power' Diffuser Blend

What you need
2 drops bergamot
1 drop lemon
1 drop sweet orange
Non-plastic cold air diffuser (where to get it)

Method
Add the oils and required amount of water (you can use 70-100ml) to your diffuser, following the manufacturer's instructions).
2. 'Instant Energy' Personal Inhaler

What you need
1 drop lemon
2 drops grapefruit
1 drop peppermint
Aromatherapy inhaler (where to get it)

Method
Combine the oils in a small dish.
Remove the wick and use it to soak up the oils.
Place the wick back in the inhaler.
Enjoy!
3. 'Rev Up' Roll – On Recipe

What you need
5 drops lemon
5 drops bergamot
10 drops wild orange
10 drops grapefruit
Fractionated coconut oil (where to get it)
10 ml roller bottles (where to get it)
Method
Add the essential oils to the roller bottle, drop by drop.
Top up with fractionated coconut oil.
Shake the bottle gently to combine the oils.
Roll on temples, back of neck, behind ear and shoulder blades.
What are your favorite essential oils for energy? Do you have any other great essential oil recipes for boosting energy?