Essential oils are potent substances full of healing properties but can they be used with all pets? Find out more about using safely essential oils for ferrets.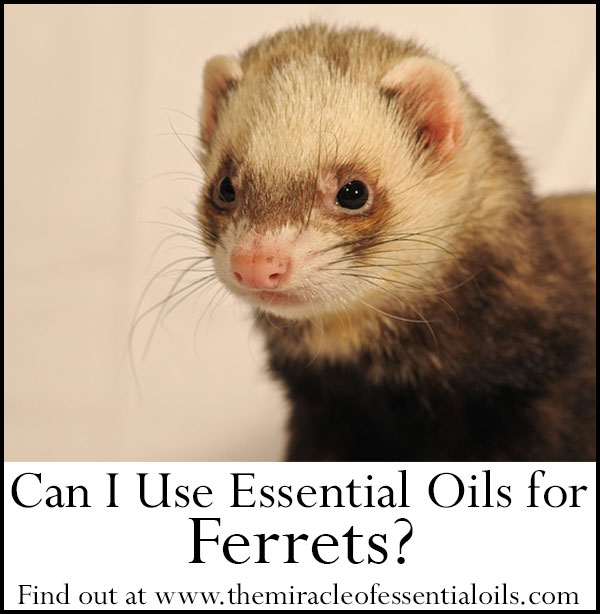 Can You Use Essential Oils for Ferrets?
Ferrets are long, slender weasel-like creatures that are the domesticated versions of polecats.
Ferrets were actually domesticated to be used in rabbit hunting, but more recently they are being kept only as pets.
Unlike other common pets, ferrets suffer from some unique health problems. Some of the conditions they suffer from include:
Influenza
Hair balls
Cancers of the adrenal glands, pancreas and lymphatic system
Canine distemper
They often have to be kept in cages and cages can quickly get dirty and smelly if not cleaned and aerated properly.
Essential oils may be able to be of use for some of these problems ferrets face, but there is little or no research on the effect of essential oils on these furry friends.
Caution When Using Essential Oils for Ferrets
Ferrets are sensitive creatures and essential oils, being concentrated, volatile and highly aromatic, can be irritating to them. Here are some basic guidelines to follow when using essential oils for ferrets:
If using essential oils at all, make sure you use them appropriately diluted at a rate of 0.5%. This means 1 drop in 2 teaspoons of oil.
Do not use essential oils containing phenols such as oregano, peppermint, thyme.
Trust your ferret. If they act restless when diffusing certain essential oils, it may mean they don't like it so stop.
Never apply essential oils to your ferret's fur.
Never give your ferrets essential oils for ingestion.
Do not diffuse essential oils in your ferret's room if there is no proper ventilation.
Diffuse only 1 – 2 drops of essential oils for no more than 1 hour at a time, provided the room is large and well-aerated.
Top 5 Essential Oils for Ferrets
Essential Oils NOT safe for ferrets
Complete avoid using the following essential oils:
Oregano
Peppermint
Thyme
Clove
Basil
Bay
Cinnamon
Rose
Ylang ylang
How to Use Essential Oils for Ferrets
» Diffusing : Diffuse a ferret-safe essential oil using 1 -2 drops for not more than 1 hour per day. Use a high quality non-plastic diffuser.
» Cage Cleaning : Use a mix of ½ cup of white vinegar, ½ cup of water and 5 drops of a ferret-safe essential oil. Pour in a spray bottle, spritz and wipe the cage or use after cleaning litter.
» Petting : Dilute 1 drop of ferret-safe essential oil in 2 drops of carrier oil such as coconut oil. Rub some of this mix onto your palms and gently stroke your ferret in a soothing massage.
Have you tried using essential oils with your ferrets? How did they react? Share in the comments below!