One of the most common types of physical pain there is, foot pain can be unbearable especially if it restricts movement due to intense pain. The good news is, using essential oils for foot pain can actually give you relief if used consistently!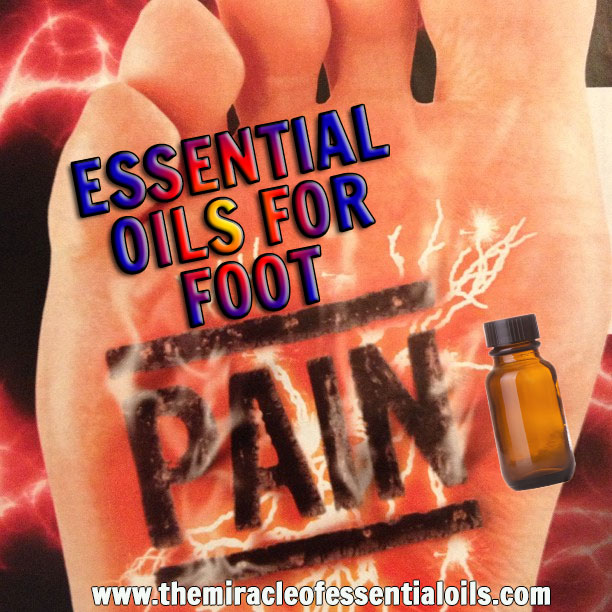 Foot pain is a condition characterized by sharp, throbbing or aching pains in one foot or both feet. Some of the causes of foot pain include prolonged wearing high heels and uncomfortable shows, running long distances, heavy weight lifting, pregnancy and others.
Painful and aching feet can also arise due to health conditions especially those that affect the feet in particular, such as plantar fasciitis, heel spur, mettarsalgia, tarsal tunnel syndrome, foot drop, Achilles tendonitis and arthritis, among others.
How do Essential Oils Help Relieve Foot Pain?
Obtained through steam distillation and cold pressing of aromatic plant material, essential oils are highly concentrated and potent liquid substances that have healing properties. They contain natural chemical compounds such as terpenes and alcohols that make them medicinal and therapeutic.
Essential oils help relieve foot pain because of their analgesic, stimulant, anti – inflammatory and antispasmodic properties. These properties reduce inflammation, which is the root cause of pain, numb down pain due to their high menthol content, in the cause of peppermint and promote flow of more oxygen and nutrients to the painful site, which promotes speedy healing. In the case of plantar faciistis, essential oils also help by boosting collagen production, which there's a lack of or is damaged.
Below, find out ten essential oils you can use for natural foot pain relief:
10 Essential Oils for Foot Pain Relief and Management
Before using essential oils, please ensure that you purchase only 100% pure high quality therapeutic grade essential oils from a reputed seller.
3 Essential Oil Remedies for Foot Pain Relief
Below are 3 effective essential oil remedies for foot pain relief:
1. Pain Relieving Foot Soak
What you need
Method
Collect hot water to fill the foot soak tub halfway full.
Add the Epsom salts, baking soda and essential oils.
Sit on a stool in front of the basin, place your feet inside and stir the ingredients together using your feet.
Soak them for at least 15 minutes for relief.
2. Foot Kneading Therapy
What you need
10 drops peppermint
10 drops birch
10 drops helichrysum
10 drops vetiver
3 tbsp grapeseed oil (where to get it)
4 oz amber glass dropper bottle (where to get it)

Method
Combine all the oils in a glass dropper bottle. Shake gently to combine.
Place about 5 – 7 drops in one palm, rub both your palms together and deeply massage your foot, kneading and squeezing all areas. You can get someone to do this for you if possible but self-massage is very good too! Or, you can use a foot massage roller.
Repeat with the other foot then cover both feet with a pair of comfortable socks and go to bed.
3. Powerful Oil Blend
*The blend below is at a 5% dilution rate. You can reduce it to a 4%, 3% or 2% dilution. See more: How to Dilute Essential Oils
What you need
20 drops basil
20 drops marjoram
20 drops cypress
5 drops wintergreen
10 drops frankincense
10 drops helichrysum
Fractionated coconut oil (where to get it)
4 oz amber glass dropper bottle (where to get it)

Method
In an empty dropper bottle, add all the oils then top with fractionated coconut oil.
Massage the affected area or whole foot as needed (preferably once or twice a day) on feet.

Do you use essential oils for foot pain relief? Please share which oils have been most effective for you below!