Did you know that you can actually use essential oils to forestall gray hairs? In this article we talk about essential oils for gray hair and how you can use them in your hair care routine.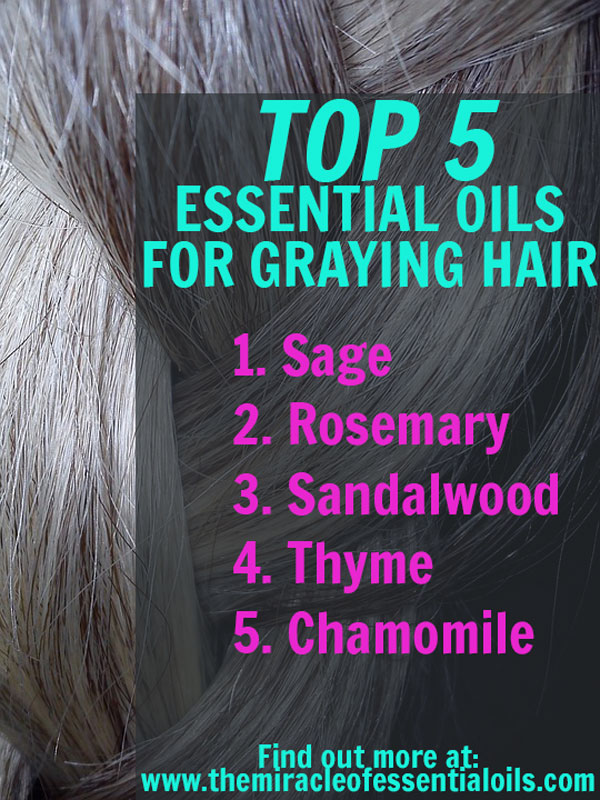 How Do Essential Oils Help Gray Hair?
Essential oils are pure plant extracts obtained from aromatic botanicals such as the tree bark, leaves, roots, flowers, fruit rinds and resin of plants. They are made up of various chemical compounds including terpenes, ketones, ethanols, aldehydes and more that have healing and therapeutic properties. Some of the ways essential oils are good for gray hair include:
They help darken gray hair overtime
Reduce stress which contributes to premature and further gray hairs.
Strengthen the hair follicles
Nourish the hair follicles
Are powerful antioxidants that fight off free radicals which lead to premature graying
Below are the top 5 essential oils that have a lot of anecdotal evidence for preventing and even reversing gray hairs:
Top 5 Essential Oils for Gray Hair
2 Essential Oil Recipes for Gray Hair
Some of the ways you can use essential oils for gray hair is by adding a few drops to your shampoo/conditioner (6 drops of essential oil in 1 tbsp of shampoo/conditioner) as well as making your own gray hair blend and hair rinse.
Below are two essential oil recipes for gray hair that you can use consistently to see results!
1. Hair Rinse
What you need
1 cup of boiling water
One fresh sprig of rosemary or 1 chamomile tea bag for blonde hair
3 drops of rosemary oil or thyme oil
2 drops of sage oil or chamomile oil for blonde hair
A mason jar or bottle for storage
Method
Steep a fresh sprig of rosemary in a cup of boiling water for at least 25 minutes.
Let it cool down completely before pouring it into a mason jar.
Stir in the essential oils drop by drop.
Pour the hair rinse slowly on your scalp and hair as the final hair rinse.
Do this every after washing your hair to mask those grays.
2. Scalp Massage Oil

What you need
Method
Add the oils to a glass dropper bottle and shake well to combine.
Place about 5 drops on one palm, rub both palms together and vigorously massage this blend on your scalp.
You can do this one hour before showering to give time for the oils penetrate into your hair follicles.
Repeat once or twice a week.
Will you try using essential oils for gray hair? It's all natural and said to actually do an effective job!