Can you use essential oils for headaches? You bet! You don't even need to look at studies concerning essential oils for headaches to know that they work. Try applying diluted peppermint to your temples and feel the cooling pain relief in a matter of seconds!

What Causes Headaches?
There are many types of headaches including stress headaches, migraines, tension headaches and cluster headaches. These have different causes and symptoms but what they all have in common is the sharp pounding pain they bring.
The most common causes of headaches include:
Stress
Anxiety and depression
Skipping meals
Poor sleep
Eye strain
Strong smells
Certain medications
Food sensitivities
Allergies
Too much alcohol
And more
Some types of headaches are a symptom of another medical condition such as influenza, sinusitis, lupus, ear infection and more. In this case, essential oils can help decrease or take away the headache but you still must visit a health professional to get medication for the real health problem your facing.
How Do Essential Oils Help Headaches?
When inhaled or applied topically, essential oils have proven to help numb headache pain and solve a host of other problems that lead to headaches in the first place, including stress, poor sleep, allergies and more. Essential oils help ease headaches by:
Providing a pleasant cooling sensation that numbs down the ache
Reducing inflammation
Relieving pain due to their strong analgesic (pain relieving) properties
Promoting deep and peaceful sleep
Relieving stress
Quelling anxiety and nervousness
Improving mood and fighting depression
Alleviating allergies
And others
Research on Essential Oils for Headaches
Below are important studies that show how essential oils help alleviate headaches:
Study One: Inhaling the fresh scent of lavender is a safe and effective way of managing headaches and in particular, migraine headaches (1)
Study Two: Peppermint essential oil eases headaches by cooling and relaxing the muscles in the forehead, temples and jaw (2)
Study Three: Chamomile oil has powerful anti-inflammatory effects that make it effective for the treatment of migraines and headaches (3)
Top 8 Essential Oils for Headaches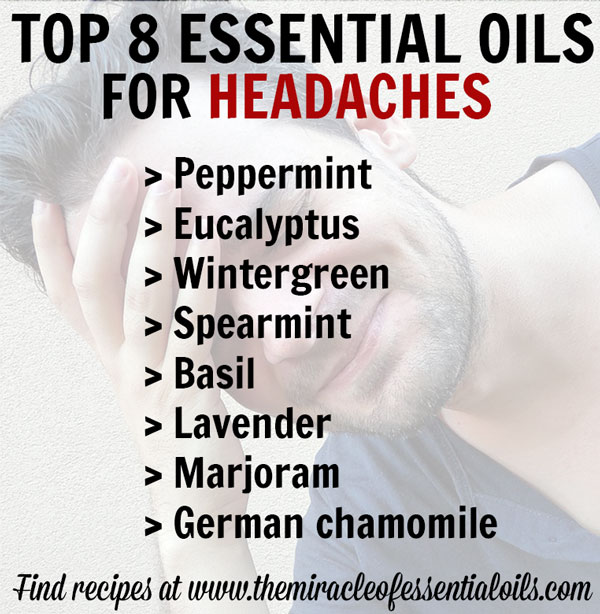 How to Use Essential Oils for Headaches
There are numerous ways of using essential oils for headaches including diffusing them, inhaling a few drops placed on a hanky or cotton ball, applying them topically by mixing 1 – 2 drops of oil in 1 tsp of carrier oil or placing drops of a combination of oils in a roller bottle filled with carrier oil. Below is a good recipes for a headache salve that is handy to keep in your bag or purse to use wherever you are.
Headache Salve

What you need
Method
Place the coconut oil and shea butter in a heatproof bowl.
Fill a pot with ½ cup of water and place it on the stove over a medium low heat.
Rest the heatproof bowl on top of the pot and allow the oil and butter to gently melt to liquid form.
Once melted, leave it to cool off for a couple of minutes then stir in the essential oils.
Pour into a salve tin and leave it in the refrigerator to set.
To use, rub a little on your forehead, temples, shoulders and base of spine.
References
(1) Sasannejad P1, Saeedi M, Shoeibi A, Gorji A, Abbasi M, Foroughipour M. Eur Neurol. Lavender essential oil in the treatment of migraine headache: a placebo-controlled clinical trial. 2012;67(5):288-91. doi: 10.1159/000335249. Epub 2012 Apr 17.
(2) http://laszlo.ind.br/admin/artigos/arquivos/Oleodeeucaliptoehortelanadordecabeca.pdf
(3) Zargaran A1, Borhani-Haghighi A2, Faridi P3, Daneshamouz S4, Kordafshari G5, Mohagheghzadeh A3. Potential effect and mechanism of action of topical chamomile (Matricaria chammomila L.) oil on migraine headache: A medical hypothesis. Med Hypotheses. 2014 Nov;83(5):566-9. doi: 10.1016/j.mehy.2014.08.023. Epub 2014 Sep 6.