Heart burn is a very uncomfortable condition that affects many people at a daily basis. Learn how you can use essential oils for heart burn relief in this article.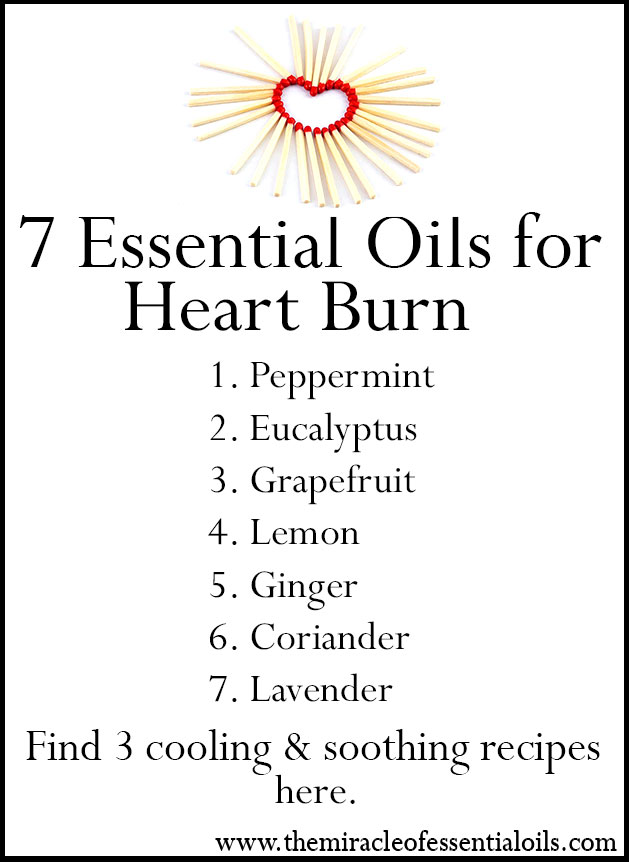 What is Heart Burn?
Also known as acid indigestion, heart burn is a burning sensation that rises from the chest and travels up the throat and may reach the mouth. It mainly affects the central chest and upper abdomen area. The cause of heart burn is regurgitation of gastric acid into the esophagus.
Heart burn affects a lot of people at a daily basis and statistics show that about 42% of people in the US have had heartburn at some point of their lives. Some of the causes of heart burn are eating food then immediately lying down, smoking & alcohol consumption, pregnancy, overeating, eating certain foods such as chocolate, bananas, chocolate, spicy foods especially near bed time, being overweight, drinking certain beverages including caffeinated drinks, coffee, tea and carbonated drinks, etc.
How Do Essential Oils Help Heart Burn?
Essential oils can help ease the symptoms of a heart burn and make it go away faster if it is persistent, especially even after trying out natural remedies such as taking a glass of baking soda water, drinking lots of water and taking milk, among others. Below are some of the ways essential oils help heart burn:
Cooling the esophagus and chest
Promoting digestion
Preventing overeating, which is one of the major causes of heart burn
Relieving burning pain in chest and throat
Reducing acidity in the body
Reducing inflammation
And more
Which essential oils are the best for heart burn? Find out below:
Top 7 Essential Oils for Heart Burn
3 Essential Oil Recipes for Heart Burn
Before using these recipes, note that some people may have the opposite effect with minty oils like peppermint and eucalyptus because those can relax the esophageal sphincter and cause the acid to travel up easier.
Personally, just a little quantity of peppermint or eucalyptus works wonders for my very frequent heart burns. You just have to be careful with the amount you use. The essential oil heart burn recipes below can be safely used for quick relief:
1. Eucalyptus Throat and Chest Rub

What you need
Method
Add the eucalyptus oil to a roll – on bottle.
Fill the rest of the bottle with fractionated coconut oil.
Roll it along your esophagus on your throat and chest
2. Digestive Blend

What you need
Method
Add the oils into the glass dropper bottle and shake gently to combine.
Place about 5 – 7 drops of this blend onto your palm, rub your palms together and apply it to your feet and abdomen in gentle circular motions.
This blend is said to improve digestion and prevent heart burn.
3. Peppermint Capsules
Ingesting essential oils should be done at the last resort and under careful supervision by a naturopathy doctor. Before ingesting essential oils, it is imperative that you ensure the oil you're using is USDA certified organic, non–GMO, heavy metal–free and is GRAS (Generally Recognized As Safe) by the FDA. If your oil doesn't meet these requirements, it's best to avoid ingestion.

What you need
Method
Fill an 00 capsule with organic peppermint oil – just one drop then top up with coconut oil.
Take just one capsule after dinner with a glass of baking soda water (1 tsp baking soda in 1 glass of warm water).

Do you suffer from frequent heart burns? Which essential oils for heart burn are you willing to try?