Hormonal imbalances play a big role in causing acne for many people, from teenagers to adults. Find out how to use essential oils for hormonal acne and how they work.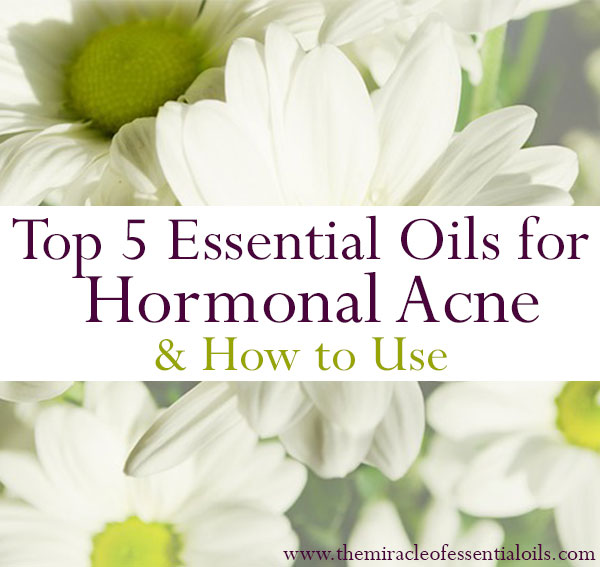 What Does Hormonal Acne Mean?
Hormonal acne is a term used to describe acne caused by hormonal imbalances. Hormonal imbalances can occur to a wide variety of factors including puberty, pregnancy, thyroid issues, PMS or during the menstrual cycle and so on. Here are the major ways how you can tell if your acne is caused by hormones:
► Location of your acne – Jawline acne and acne located just under the cheekbones, whether it's those super tiny rash-like cysts or a huge pimple, is commonly associated with hormonal imbalances.
► Timing of your acne – If you never get acne but your skin tends to breakout with a pimple or two the week before your period, then your acne may be due to hormones. During the entire menstrual cycle, the hormonal levels keep fluctuating and changing which can cause breakouts, bloating, body aches and more. Some people also end up with acne during ovulation time, especially those with reproductive issues such as PCOS.
► Appearance of your acne – Many women get deep, painful and cystic (pus-filled) acne that feels tingly and painful. Hormonal acne has a tendency to be huge and consists of a single pimple or two, which have a sensation of pressure and pain even when you're not touching it. Some kinds of hormonal acne such as those in pregnancy can be tiny rash-like and pus-filled dots on the skin especially the chin area.
Is Adult Acne Caused by Hormones?
Acne is a common ailment that not only affects teenagers but adults as well: about 4% of adults continue to have acne prone skin well into their forties! What causes adult acne? Hormonal imbalance maybe the culprit in many cases. Hormonal acne in adults may be due to chronic stress, anxiety, onset of menopause, switching or stopping birth control pills and more.
How do Essential Oils Help Hormonal Acne?
There are certain essential oils that are actually known to be female hormone balancers, the top two being clary sage and geranium. They regulate hormonal function, support the hormonal glands and correct hormonal imbalances.
When applied topically to reflexology key points such as the ankles, which are the reflexology points for the ovaries, they can help improve hormonal imbalances and improve fertility. Other ways essential oils help hormonal acne include:
By reducing stress, especially chronic stress, with throws the hormones out of balance
By reducing food cravings that promote excess weight gain
By promoting deep and good quality sleep
By helping detoxify the body and eliminate toxins
By eliminating negativity and promoting feelings of joy, happiness and contentment
By reducing inflammation
By regulating sebum production
And more
Top 5 Essential Oils for Hormonal Acne
Below, find 2 essential oil recipes for hormonal acne that work!
Essential Oil Recipes for Hormonal Acne
When using natural oils for acne, ensure to use those that are non-comedogenic (those with a pore clogging rate of zero). Such oils include:
» Hemp seed oil (where to get it) – Hemp oil is high in linoleic acid (about 60%), which is a good ingredient for acne-prone skin. It also balances sebum production and has a light consistency. When consumed, hemp oil also delivers anti-acne benefits.
» Argan oil (where to get it) – A exquisite oil extracted from Argan nuts only found in Morocco, argan oil has a light consistency, is rich in nutrients and is a prized ingredient for acne.
» Safflower oil (where to get it) – A common oil, safflower oil is popular for cooking but it can be used for oily and acne prone skin because of its non-pore clogging ability.
» Sunflower oil (where to get it)– Just like safflower oil, sunflower oil is a common cooking oil but it also exhibits anti-acne properties with its comedogenic rating of zero.
» Shea butter (where to get it) – A plant butter that's a great emollient, shea butter is surprisingly non-pore clogging! It can be used on its own as a moisturizer for acne prone skin but adding a few essential oils to it boosts its anti-acne value.
Here are two essential oil blends helpful for hormonal acne:
1. Anti-Acne Serum
What you need
Method
Place the essential oils drop by drop into a glass dropper bottle.
Top with hemp seed oil.
Shake the bottle gently to combine all the oils.
To use, place about 2 – 3 drops of this blend on your palm and gently apply it all over your skin.
Use it as a night serum or even daily moisturizer.
2. Spot Treatment

What you need
Method
Mix up the oils in the dropper bottle and shake well to combine.
To use, place a drop on a q-tip or clean index finger and dab on huge acne. Leave it on for at least 15 minutes then you may wash your face.