Are your hormones driving you crazy? While doctors may suggest MORE hormones to make up for bodily imbalances, why not use essential oils for hormone support to naturally stimulate and help your hormonal glands to perform their functions as they naturally should.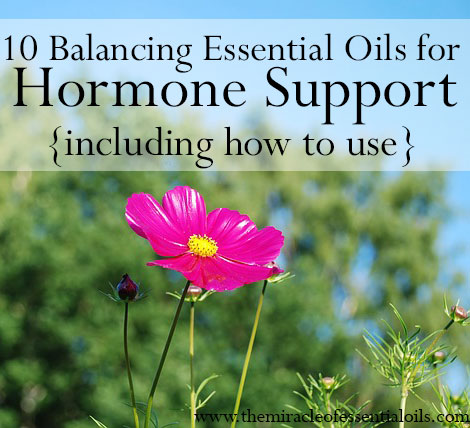 Are Your Hormones Driving You Crazy?
Hormones are the body's chemical messengers that are vital for many essential bodily functions. There are over 50 unique hormones produced in the human body.
Signs of hormonal imbalance include:
Mood swings
Depression and axiety
Weight gain
Sugar cravings
Slow metabolism
Low libido
Infertility
Menstrual problems and cystic fibroids (in women)
Sleep trouble
Hair loss and thinning
The good news is: hormones can be balanced using naturally remedies such as diet, exercise, herbs and of course, essential oils.
How Aromatherapy Can Balance Hormones
You may be surprised to know that essential oils are not just some new and trendy modern advancement – they have actually been used since ancient times as potent healing substances!
Essential oils are concentrated plant extracts rich in hydrophobic, volatile plant oils (known as terpenes) and have strong, sometimes overpowering aromas. These aromas are actually really small molecules of the plant terpines travelling from the oils via your nostrils into your lungs, where they are promptly absorbed into the bloodstream.
That's right, the extremely small size of the essential oil molecules (broken down as a result of distillation) have the ability to cross the blood-brain barrier. This forms the basis for aromatherapy.
Picture this – there are over 50 million smell receptors that connect directly to the brain. These smell receptors can influence many areas in the brain, not limited to the memory, emotions, motor system, and even sexual arousal. Through this simple concept of aromatherapy, essential oils can directly reach the brain and help support the production and regulation of hormones in the body.
How Do Essential Oils Help Hormone Support?
Regulates hormones – Isn't nature amazing? Out of hundreds of essential oils, there are few that are designed to actually regulate hormonal function, support the hormonal glands in the body and correct hormonal imbalances. Such essential oils include clary sage, geranium and more.
Reduce stress, which wreaks havoc on hormones – Chronic stress is the main downfall of 21st century man, where long working hours can take a toll on one's mental health. Stress also leads to cortisol levels going out of balance, which creates many problems in the body, including depression, anxiety, acne and weight gain. . Further reading: Essential Oils for Stress
Helps reduce cravings that cause excess weight gain – Excessive weight gain is one of the factors that can throw off your hormones. Essential oils can not only help your reduce weight but also help maintain your weight through their aromatherapeutic effects that help curb appetite as well as detoxify the body. Such essential oils include grapefruit, lemon and peppermint. Further reading: Essential Oils for Weight Loss.
Promotes deep, uninterrupted sleep – essential oils such as lavender can help promote deep, REM sleep which is required for body cell regeneration, detoxification and hormone regulation. Further reading: Essential Oils for Insomnia
Research on Essential Oils for Hormone Support
There are a number of studies which show that essential oils can help directly or indirectly balance and support hormone production in the body. Some of these include:
A recent study found that inhalation of clary sage helped decrease cortisol levels and improve thyroid hormone levels (read more)
In a study researching the effects of the inhalation of neroli oil on on menopausal symptoms, stress, and estrogen. The results found were that inhalation of neroli oil by postmenopausal women improved their quality of life related to menopausal symptoms, increased sexual desire, and reduced blood pressure. In addition, inhalation of neroli oil may reduce stress levels and stimulate the endocrine system (read more)
Top 10 Essential Oils for Hormone Support
How to Use Essential Oils for Hormone Support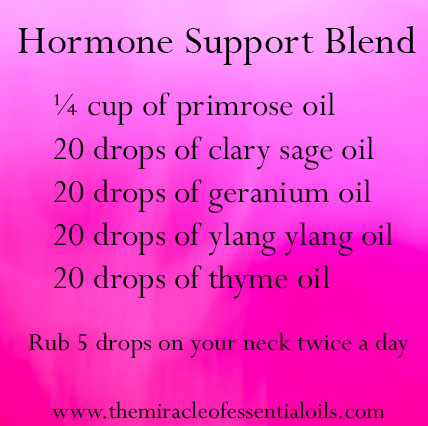 1. Hormone Support Blend Recipe

What you need:
Method:
Measure out all the ingredients and drop them carefully into your amber glass bottle.
Close the lid and shake gently to mix all the ingredients.
Twice a day, preferably in the morning and night, rub 5 drops of this blend into your neck.
2. Diffusion
One of the best ways to enjoy the aromatherapy benefits of hormone balancing benefits of essential oils is through diffusion.
What you need:
Method:
Once a day, diffuse the essential oils mentioned above for 1 hour.
3. Detoxifying Bath for Hormone Balance
A detoxifying bath can be a great opportunity for you to unwind, relax and rebalance – just the thing you need to offer your hormonal glands the valuable support they need.
What you need:
Method:
Add all the above ingredients to your bath.
Soak in your bath for at least 15 minutes.
Aside from the essential oils helping to support your hormones, your skin will also absorb magnesium from the Epsom salts, which also plays a vital role in balancing hormones. The clay will help draw out toxins from your body, which may also be contributing to wacked out hormones.
Hormone Supporting Diet
Remember bad food habits can throw your hormones out of order. The top 10 foods you must incorporate in your diet to balance hormones are:
How are you using essential oils for hormone support? What are your favorite oils? Please share helpful hormone balancing info in the comments below so others can benefit.