Below, discover 7 essential oils for hyperactivity and more further below, find great recipes to use to reduce hyperactivity!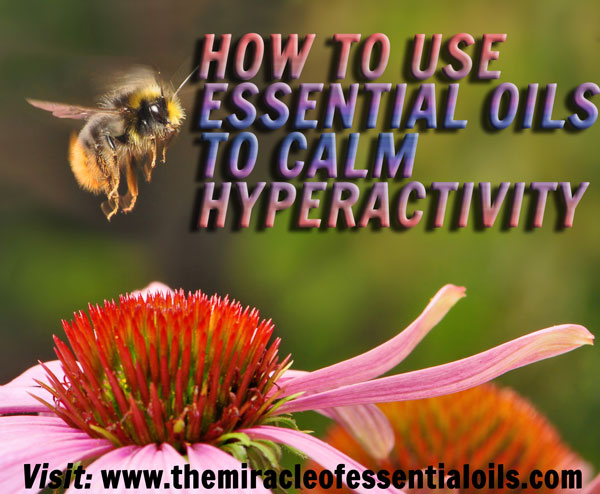 Hyperactivity is just what its name suggests – being hyperactive. It is a condition characterized by increased movement, never staying in one place for too much, fidgeting around, impulsive actions, short attention span, low focus or concentration on the task at hand and easy distraction.
Hyperactivity can be due to a wide variety of factors such as a racing brain, ADD/ADHD as well as mental problems and brain and central nervous issues.
7 Essential Oils for Hyperactivity
Below are some of the best essential oils for hyperactivity to promote peace and calm as well as balance emotions and moods:
1. Lavender Essential Oil
Lavender (where to get it) is well known for its soothing properties – whether it's to soothe skin irritations or a hyperactive mind, lavender is your oil. It reduces anxiety and stress as well as promotes quality sleep due to its two main chemical constituents: linalool and linalyl acetate. It's especially good to diffuse or use in a spray (recipes below) to prepare a hyperactive child for bed.
2. Cedarwood Essential Oil
Just like lavender, cedarwood (where to get it) has sleep – promoting qualities and it doesn't just make you sleepy when diffused before bed time but also ensures you get a deep good quality sleep.
3. Vetiver Essential Oil
Extracted from the steam distillation of the fragrant vetiver or khus khus roots, vetiver oil (where to get it) is a gem for promoting peace and calm. It has a sedative quality that calms emotional outbursts such as anxiety, anger, panicking and hysteria.
4. Ylang Ylang Essential Oil
Ylang ylang oil (where to get it) is obtained from the curly yellow flowers native to Malaysia, Singapore and Indonesia. It has a beautiful exotic scent that promotes calmness and tranquility. When inhaled, it was shown to decrease pulse rates and blood pressure as well as significantly increase attentiveness and alertness.
5. Chamomile Essential Oil
Chamomile (where to get it) is calming in natural and sedates wild and changing emotions experienced by hyperactive children or adults. It can be diffused, used in a bath or applied to skin.
6. Sandalwood Essential Oil
Warm and woody, sandalwood's scent is grounding and helps release negativity as well as reduce anxiety and stress. The best way to use sandalwood oil (where to get it) is by massaging it on the body or feet, combined with a carrier like coconut or almond oil.
7. Frankincense Essential Oil
Frankincense oil (where to get it) is an effective sedative that lowers bad emotions of anxiety, anger and stress. It also relaxes an aggravated and overactive mind as well as promotes deep breathing and meditation.
How to Use Essential Oils for Hyperactivity
1. Grounding Diffuser Blend
What you need
6 drops sandalwood or any of the above oils
Non – plastic cold air diffuser (where to get it)

Method
Add the oil to your diffuser, following the manufacturer's instructions.
2. Pillow Mist
What you need
Method
Shake up the oils and distilled water in the spray bottle to combine them together.
Spray on pillow, bed sheets and around the room to promote peaceful sleep.
3. Peaceful Roll – on Blend
What you need
Method
Add essential oils and grapeseed oil to roll – on bottle.
Roll on back of neck, behind ears, neck and shoulders.
4. Foot Massage Oil
What you need
Method
Mix up the ingredients and massage the blend on the feet deeply.
Cover feet with a pair of comfortable socks.
5. Bath Blend
What you need
Method
When the bath is running, disperse the Epsom salts.
Next mix the carrier oil and essential oils and stir it into the bath.
Soak in it before bed to promote good sleep.
6. Essential Oil Jewelry
Get yourself some amazing essential oil necklaces and bracelets that keep diffusing the essential oils everywhere you go! Check out this beautiful essential oil diffuser pendant, this cute lava bead bracelet or this leather bracelet!
7. Inhaling Direct from the Bottle
Every time you feel hyperactive, go sniff a bottle of any of the following essential oils directly.
8. Personal Inhaler
What you need
Method
Combine the essential oils in a small dish.
Remove the wick from your personal inhaler and soak up the essential oils with it.
Place the wick back in. Enjoy breathing deeply from your personal inhaler to calm impulsiveness and hyperactivity.

Essential oils can greatly help calm hyperactive persons! Will you try any of the above recipes? Share your thoughts below.