Ancient medicine has long proposed that inflammation is the cause of all disease. By using essential oils for inflammation, you can significantly reduce swelling from the cellular level to its physical manifestation on the body.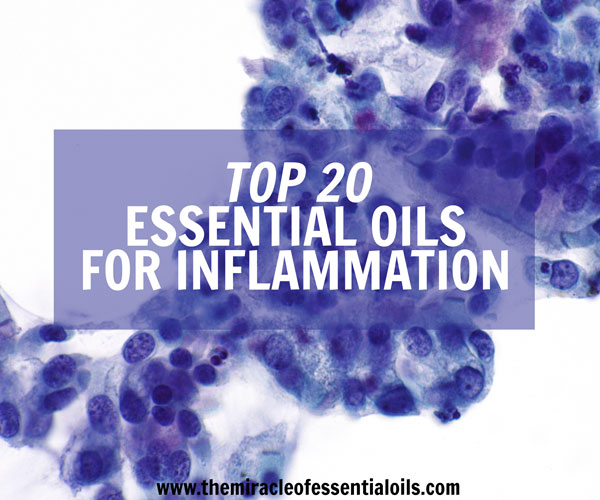 Inflammation is the Root of All Disease
From ancient Indian medicine to the Chinese arts of healing, the case for inflammation being the root of all disease is certainly not a new concept.
In fact, today scientists are looking further into the connection between inflammation and chronic diseases such as arthritis, and autoimmune conditions such as psoriasis.
It has been found that all diseases, ranging from the common cold to terminal cancer have one thing in common – inflammation.
This gives rise to an important question – can getting rid of inflammation help us get rid of disease altogether?
Inflammation is Good – to a Certain Extent
Inflammation is actually good. Without it, we wouldn't be alive. When your body is attacked by foreign microbes or foreign substances, your body sends different blood cells to the area to find out what's going on. It then proceeds to address the foreign invasion according to the best of its ability.
Good inflammation is short term and is characterized by pain, redness, swelling at the spot and heat in the area. For example, inflammation at the site of a bee sting is a sign of good inflammation, where your body is trying to counteract the bee venom.
But when this type of inflammation goes on for many days and weeks, it becomes what is known as chronic inflammation and this is not good for you at all.
Chronic inflammation is often characterized by:
Long term pains and aches in the bones, joints and nerves
Random pain that occurs in different parts of the body
Hormonal imbalances
Constant fatigue, tiredness and lethargy
Ongoing migraines and headaches
Blood pressure and blood sugar problems
Premature aging, gray hairs and hair loss
Ulcers and long term digestive issues such as IBS, constipation, bloating
Everyone reacts to chronic inflammation differently. For some, they end up experiencing digestive issues such as Crohn's disease. Others experience bone-related problems such as rheumatoid arthritis. Yet for some, chronic inflammation shows up on their skin, as psoriasis or eczema.
The bottom line is clear though – inflammation is at the root of it all.
Do Essential Oils Work to Reduce for Inflammation?
In order to battle inflammation, and consequently, all the diseases stemming from inflammation, a holistic healing protocol is needed. This protocol involves dietary and lifestyle changes, at the least.
However, there's no denying that essential oils can play a huge supportive role in healing inflammation in a safe and natural way.
Essential oils are potent natural plant oils, extracted via distillation or cold pressing of various plant materials. To put it simply, essential oils capture the very essence of the therapeutic properties and healing vibrations of a plant in a single, potent drop of oil.
The main therapeutic property contained within essential oils that make them potent against inflammation and pain is their:
Anti-oxidant properties
If oxidation refers to inflammation, then anti-oxidation refers to anti-inflammation. Oxidative stress, caused by free radicals from poor food choices, polluted air and toxic personal hygiene products, occurs daily in our bodies.
Our bodies produce their own anti-oxidants to neutralize these free radicals. But today, with a huge bombardment of toxins in our environment, our bodies could use the extra help of anti-oxidants from natural sources like fresh foods and essential oils.
Top 10 Essential Oils for Inflammation
How to Use Essential Oils for Inflammation
Now let's have a look at 3 ways you can use any of these essential oils for inflammation
1. Make an inflammation busting massage oil
This is the best way to go about treating inflammation that manifests as joint pain, arthritis, skin issues and more. It is also a great way to unwind and de-stress, which is very important in getting rid of chronic inflammation caused by constant stress. Simply add anti-inflammatory essential oils to your usual massage cream, or make your own as follows:
Ingredients
1/2 cup of jojoba oil (where to get it)
1/2 cup of shea butter (where to get it)
10 drops of clove oil
10 drops of eucalyptus oil
5 drops of ginger oil
5 drops of thyme oil
5 drops of roman chamomile oil
Directions
Using a double boiler, heat the shea butter to completely melt it.
Take off heat and pour the cooled shea butter into a large jar, while it is still in melted form.
Now add in the jojoba oil, along with all the other essential oils
Use a glass rod, or the back of a long spoon and stir the oils to get them evenly distributed.
Allow your massage cream to set overnight in the refrigerator.
Use this cream to massage your joints, limbs and other areas of your body. You can get your partner to massage you, or carry out self-massage, at least once a day.
2. Indulge in an anti-inflammatory bath
Every 1 – 2 times a week, indulge in a healing anti-inflammatory bath. Here's what you'll need:
Ingredients
1 cup of Epsom salts (where to get it)
20 drops of fennel oil
10 drops of eucalyptus oil
10 drops of helichrysum
10 drops of patchouli
Directions
Run a warm bath then mix up the Epsom salts and the essential oils together. Don't mind if you are lacking any essential oils. Use the ones you have on hand for this purpose.
Add the mixture into the bath as the tap runs in order to get the salt crystals fully dissolved.
When the bath is full, immediately soak in for at least 20 minutes for a relaxing, detoxifying anti-inflammatory treatment.
3. Diffuse anti-inflammatory essential oils
Diffusing is the easiest way to enjoy anti-inflammatory essential oils. Simply diffuse 4 -6 drops of any inflammation reducing oil that you have for 1 hour every day. A lovely blend to try is bergamot – patchouli – rose. Remember to use a high quality non-plastic diffuser.
Careful consumption of essential oils
Consumption of essential oils is not highly recommended in the American society, although in France, it is more well-known and mainstream.
Essential oils can be consumed under the careful supervision of a qualified health profession for the purpose of inflammation treatment.
Some of the ways essential oils are ingested include in capsule form, or along with a fatty medium like yogurt or coconut milk. Ensure to only consume essential oils under the supervision of a trained aroma therapist or naturopathy doctor.
Other Ways to Get Rid of Inflammation
Drink enough filtered, alkaline water – Most of those suffering from inflammation are also in a state of chronic dehydration. Inflammation and pain can be aggravated by lack of adequate water intake. Make sure your water is fluoride and chloride free and is alkaline water.
Cut off inflammation-inducing foods – Junk foods, processed foods and highly refined foods all create and aggravate inflammation in the body. Cut down on these foods, or quit them altogether if you are serious about getting rid of inflammation for good. Replace them with fresh fruits and vegetables and wholesome foods like bone broth, vegetable soups and whole grains.
Drink herbal teas – Herbs such as turmeric, ginger and Ceylon cinnamon are highly anti-inflammatory. Make herbal teas out of these herbs by simply boiling water and steeping the herb of choice for 10 minutes. Drink up to 4 cups of herbal tea throughout the day to naturally treat inflammation.
Up your vitamin D intake – There has been a strong correlation made between having healthy vitamin D levels and inflammation. Those getting adequate sunshine tend to have stronger immune systems and less pain and inflammation. If you can't get outside most of the year, then invest in a good vitamin D supplement that you only need to take once a week.
Reduce stress – Stress is the main cause of inflammation and disease in the modern world today. Most of us are working long hours and getting little sleep and this is a perfect brew for stress. Make sure you add a few minutes of meditation into your daily routine and aim to get at least 6 hours of quality sleep each night.
Move your body – Another quality of the modern civilization is that we have become so sedentary. We spend most of our time sitting – sitting at work, sitting on the couch at home, sitting on the way to work and more. To alleviate inflammation and pain, you must add physical exercise, stretching or yoga into your life. Aim for at least 5 days of exercise per week.