Improve relaxation during the flight and arrive at the airport fresh and alert using these essential oils for jet lag! Also find 5 bonus recipes to use for jet lag prevention and cure!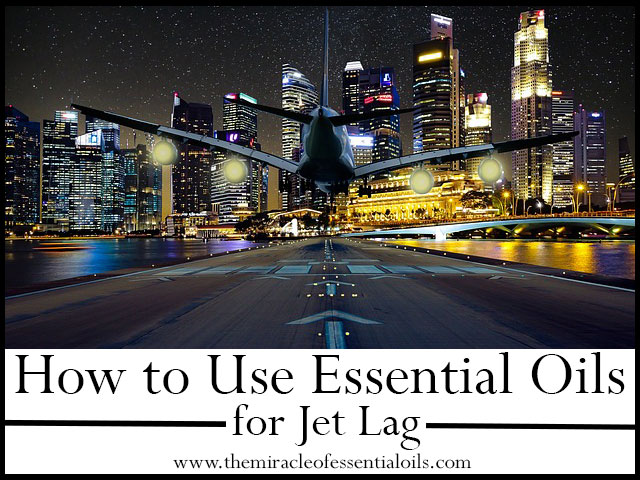 What is Jet Lag?
Jet lag is a term used to describe a psychological condition which is brought about by sudden changes in the body's circadian rhythms. Circadian rhythms can simply be described as the 'body's clock'. It basically tells the body what to do at what time – like when to go to sleep & when to eat by sending signals of sleepiness and hunger. Jet lags result from long distance travel across continents or multiple time zones on a high-speed aircraft.
The condition of jet lag may last for several days until the traveler is fully adjusted to the new time zone. Some of the symptoms of jet lag include sleep disturbance, trouble falling sleep when flying east, early awakening when traveling wet, increased fatigue, headaches, irritability, indigestion, dehydration, lack of appetite, etc.
Top 9 Essential Oils for Jet Lag
1. Cedarwood (where to get it) – A tranquilizing oil, cedarwood can help reduce restlessness and feelings of unease. It enables you to relax and get enough sleep which helps reduce fatigue which is one of the most popular jet lag symptoms. Cedarwood also has a high content of sesquirterpenes. These are one of its chemical constituents that oxygenates the brain cells which will enable you arrive at the airport fresh, calm and alert!
2. Lavender (where to get it) – Always a good oil for relaxation and serenity, lavender oil helps reduce anxiety as well as promote a sense of peace and calm.
3. Geranium (where to get it) – An essential oil known for its hormone – balancing properties, geranium helps re-balance hormones such as melatonin (the sleep hormone which works by following the change of day to night and night to day cycle) and other hormones that get released according to the body's biological clock thereby lessening the severity of disrupted sleep patterns and other bodily functions such as hunger, immune response, mood, etc.
4. Lemongrass (where to get it) – Just like geranium, lemongrass is also good for the hormones. It helps stabilize and rest the body's biological clock to overcome jet lag quickly.
5. Grapefruit (where to get it) – A citrus oil with a perky scent, grapefruit awakens you from the groggy state long plane rides can leave you in. It also boosts mood and makes you happy.
6. Bergamot  (where to get it)  – Another citrus oil just like grapefruit, bergamot can be used to stop negative emotions, rejuvenate yourself and improve mood. It has a good wake-up citrusy aroma that can alert your senses.
7. Roman chamomile  (where to get it)  – This is a calming oil that helps reduce anxiety and settle an upset stomach. It helps bring tranquility and peace.
8. Peppermint (where to get it) – Increases mental alertness & focus which is useful to beat a sluggish mind during afternoon, late night and early morning plane rides and during the first days of your new destination. The scent also curbs nausea and settles the stomach.
9. Rosemary (where to get it) – Well known for sharpening the senses and improving memory, rosemary is a stimulant that increases mental focus & energy.
5 Essential Oil Recipes for Jet Lag
You can take all these essential oil products on the plane with you. Remember the liquids rule is limited to 100ml travel-sized containers
1. Jet Lag Prevention Roller Blend

What you need
Method
Remove the roller ball from the roll – on bottle and add the drops of essential oils one by one.
Top with grapeseed oil, and put back the roller ball firmly and close the cap.
Shake the bottle gently to combine the oils.
Roll onto back of ears, back of neck and shoulder blades for peace and calm during the flight.
2. Perk – Up Blend

What you need
Method
Add all the oils to the roller bottle and shake gently to mix them up.
Roll on key areas including back of ears, base of skull, shoulder blades for instant energy and alertness.
3. Refreshing Facial & Neck Mist
This freshening spray doubles up as a skin perking and brightening mist that will breathe a new life into your skin cells in case you're someone whose face gets all puffed up and weird looking when arriving at the airport.

What you need
Method
Mix up all the ingredients in the spray bottle. Mist on your face and neck a couple of minutes before landing to freshen up and get brisk.
4. Personal Inhaler Recipe

What you need
3 – 5 drops geranium or peppermint
3 – 5 drops lemongrass or rosemary
Aromatherapy personal inhaler (where to get it)

Method
Place the oils in a small dish.
Remove the wick of the inhaler and use it to soak up the oils.
Place the wick back in.
Use during the flight and during the first few days after landing to bring balance back to your body.
Will you try using essential oils for jet lag? Which essential oil recipe appeals to you most?