Find out how to help manage painful kidney stones and pass them out easily and without excruciating pain using these 6 essential oils for kidney stones.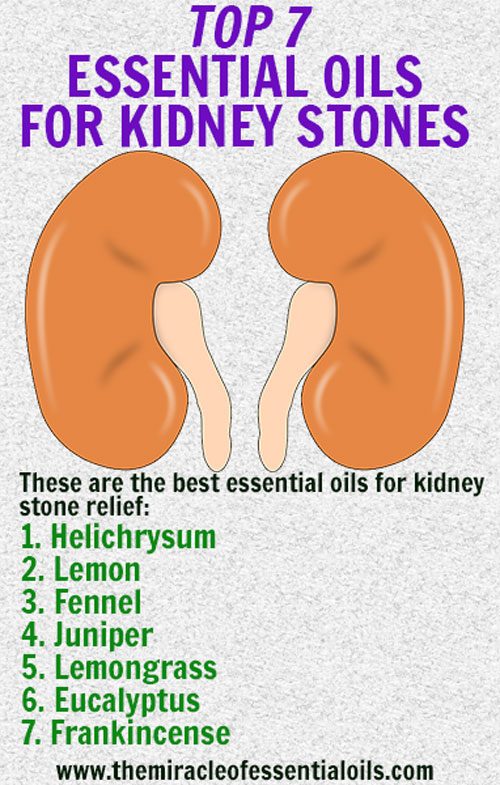 What are Kidney Stones?
Kidney stones are solid pieces of material that form when there is a decrease in the volume of urine and an excess in the stone-forming substances including oxalates, calcium and uric acid in urine. There are many types of kidney stones including calcium stones, uric acid stones, struvite stones, cysteine stones and other less known rare types.
Although the exact cause of kidney stones isn't clear, an obvious cause and high risk factor of kidney stones is dehydration. Other risk factors of kidney stones include:
Heredity
You have experienced one or more kidney stones before
A high sodium diet
Obesity
Digestive diseases and surgery which can lead to changes in the digestive process including malabsorption of water.
Other medical conditions including a severe urinary tract infection, hyperparathyroidism, renal tubular acidiosis, etc.
Research on Essential Oils for Kidneys
A study carried out by three researchers Bong-Hyun Kim, Dong-Uk Cho and Ssang-Hee Seo showed that aromatherapy fennel was effective in improving and maintaining kidney function (source)
How Do Essential Oils Help Kidney Stones?
Essential oils are volatile and highly concentrated pure plant extracts extracted from aromatic botanicals such as the roots, tree bark, flowers, seeds and resin of plants. They are powerful antioxidants and are made up of chemical compounds such as terpenes, ketones, alcohols, phenols and more which have healing properties. Below are some of the ways essential oils help kidney stones:
By aiding in detoxification of the body
By stimulating circulation in the body
Helping in the removal of toxins and wastes
Alleviating painful kidney stones
Below, find top 7 essential oils for kidney stones:
Top 7 Essential Oils for Kidney Stones
Below, find out two recipes that are helpful for kidney stones:
2 Helpful Essential Oil Recipes for Kidney Stones
1. Pain Relieving Blend Recipe

What you need
Method
Add the essential oils to the roller bottle then top off with fractionated coconut oil.
Shake well to mix.
Roll the blend over kidneys and lower back.
2. Detoxifying Lemon Capsules
Before ingesting essential oils, please make sure the oil you're using is: 100% pure oil without any additives, USDA organic, GMO-free, GRAS (Generally Recommended As Safe) to ingest and heavy-metal free.
What you need
Method
Add 2 drops of food grade lemon oil to a capsule and fill the capsule with olive oil.
Take a capsule two times a day with lots of water.
References
(1) Bong-Hyun Kim, 1 Dong-Uk Cho, 1 , * and Ssang-Hee Seo 2 Biosignals Analysis for Kidney Function Effect Analysis of Fennel Aromatherapy, Evid Based Complement Alternat Med. 2015; 2015: 267612.