Find out the top 10 essential oils for laryngitis for natural relief.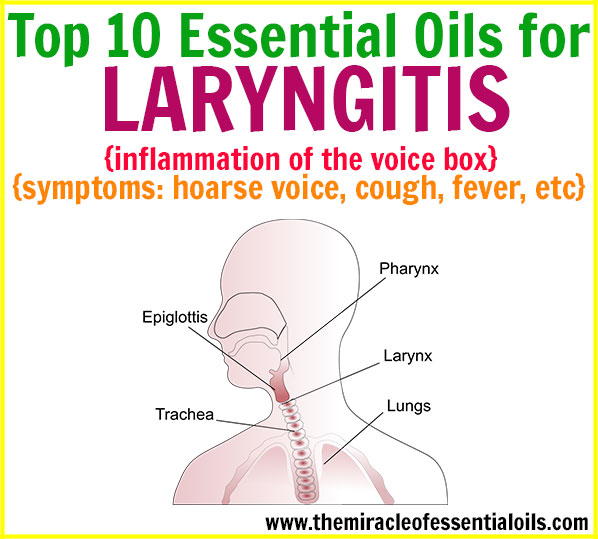 What is Laryngitis?
Laryngitis is inflammation of the larynx (voice box). Among the major symptoms of laryngitis include hoarse voice, difficulty speaking or disappearance of the voice. Other symptoms are fever, cough, pain in the throat and difficulty swallowing. Laryngitis can occur as a symptom of a cough, strep throat, cold or tonsillitis.
It is categorized into acute and chronic. Acute laryngitis lasts for less than three weeks while chronic laryngitis lasts for more than three weeks. The acute cases may be due to an viral upper respiratory tract infection such as tonsillitis or strep throat. Chronic laryngitis is caused by smoking, tuberculosis, avid reflux, rheumatoid arthritis and sarcoidosis.
Laryngitis may come with the following:
Swollen lymph nodes
Feeling like there's a lump stuck in the throat
Shortness of breath
Difficulty swallowing
Fever
Dry or sore throat
Flu-like symptoms
Muscle pain
And others
Top 10 Essential Oils for Laryngitis
How to Use Essential Oils for Laryngitis
Below are three effective ways to use essential oils for laryngitis:
1. Gargling
What you need
Directions
Dissolve the salt in the warm water and gargle with it. Take care not to swallow the mixture. Repeat as many times as necessary throughout the day.
2. Steam inhalation
What you need
Directions
Bring 3 cups of water to a boil for 10 minutes.
When the water is boiling and very steamy, turn off the heat.
Carefully place the pot on a flat surface over a place mat.
Sit down with your face right over the pot and use a towel over your head and the pot to trap steam. Keep your mouth open to allow the essential oil-infused steam to reach deep inside. Breathe with your mouth open.
Remain there for 15 minutes. Do this 3-4 times a day for relief.
3. Cooling Throat & Chest Rub
What you need
Directions
Mix the essential oils in the coconut oil. If your coconut oil is very hard at room temperature then use fractionated coconut oil, which remains in liquid form always.
Rub it on your throat, chest and also back to fight inflammation, promote easy breathing & swallowing and cool down your system if suffering from fever.
What other natural remedies have you used to treat laryngitis?