One great natural remedy for painful menstrual cramps is using essential oils! Find out 7 most effective essential oils for menstrual cramps and 3 tried and true recipes that will work!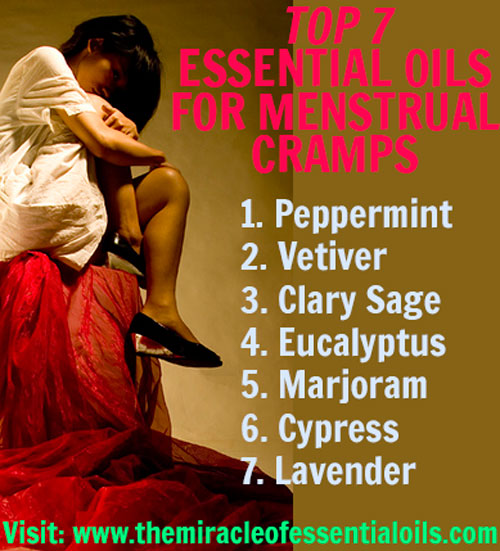 Extremely painful menstrual cramps? I've been there. Sometimes my cramps got so bad that I became very nauseous & light headed, going without eating anything the whole day. I also couldn't function normally with debilitating cramps so I almost always ended up calling my mom to take me home from school. All I wanted to do was curl up in bed in a dark room and force myself to fall into a deep slumber wishing everything would be just dandy again when I woke up.
Things changed when I began implementing healthy lifestyle choices including reducing stress, taking iron supplements, eating probiotic-rich foods and keeping myself hydrated. I also used essential oils for menstrual cramps, though I was skeptical on whether they would work but guess what? They actually worked!
Menstrual cramps can either be nauseating dull pains that seem to go on and on continuously like a faraway drum beat or sharp piercing pains that can have you doubled over or lying in bed in agony. Some of the causes of menstrual cramps include dehydration and lack of enough nutrients such as magnesium and iron, among others.
The severest form of menstrual cramps, known as dysmenorrhea, can be managed using long term essential oil remedies such as the ones listed further below. Right now, check out this quick list of the best essential oils to have in handy for menstrual cramps:
7 Essential Oils for Menstrual Cramps
3 Effective Essential Oil Recipes for Menstrual Cramps
Topical use of essential oils can greatly reduce or take away menstrual cramps in a matter of minutes! Seriously, if you soak in a hot bath with essential oils, you'll feel like as if you didn't even have cramps in the first place – that's how effective they are. Below, find three tried and true essential oil recipes for menstrual cramps:
» My Favorite Pain Prevention Blend
Don't let cramps keep you curled up in bed! Use this pain prevention blend in advance to have a less painful or pain-free period. This recipe is a cream that is non-messy, smells amazing plus helps me have literally no pain during my period. It can also be used as a pain relieving blend if you already started your period and have cramps.

What you need
Method
Place the shea butter in the amber glass jar followed by the essential oils.
Now mix them thoroughly using a disposable spoon until you get a well combined mixture.
Apply the creamy blend over your uterus during the week before you expect your period and on the first days of your period to prevent painful cramps.
» Soothing Bath Salts Recipe
Epsom salts are rich in minerals like magnesium that relieve cramps on the external level. They help soothe painful muscle contractions and relieve body aches and fatigue which usually shows up with menstrual cramps.

What you need
Method
When your hot or warm bath is running, throw in a handful of Epsom salts and let them disperse and dissolve.
After drawing the bath, mix up the essential oils in the whole milk and pour it into the bath.
Stir the bath water with your hand to mix everything up.
Have a long soothing soak, taking time to breathe deeply and relax your body.
» Cramp Relieving Blend
Massage this cramp relieving blend over your uterus to help reduce the severity of menstrual cramps and sleep better at night, when cramps may tend to be worse.

What you need
Method
Combine all the oils in the glass dropper bottle and shake well to mix.
To use it, simply place 5 drops on your palm, rub your palms together and massage the cramped up area.
Caution
Always do a patch test before using essential oils on your body to check for any allergic reactions.
Keep essential oils away from children and pets.
Dilute essential oils properly before application. (for adults, the recommended dilution rate is 2% which is 2 drops of essential oil in 1 tsp of carrier oil or base ingredient).
Refrain from using essential oils while pregnant.

Have you used essential oils for menstrual cramps? Please share how you used them and which oils worked best for you down in the comments below!