Nasal congestion comes with breathing problems, which makes it an extremely frustrating condition. In this article, find out how to use essential oils for nasal congestion with one effective remedy that works wonders!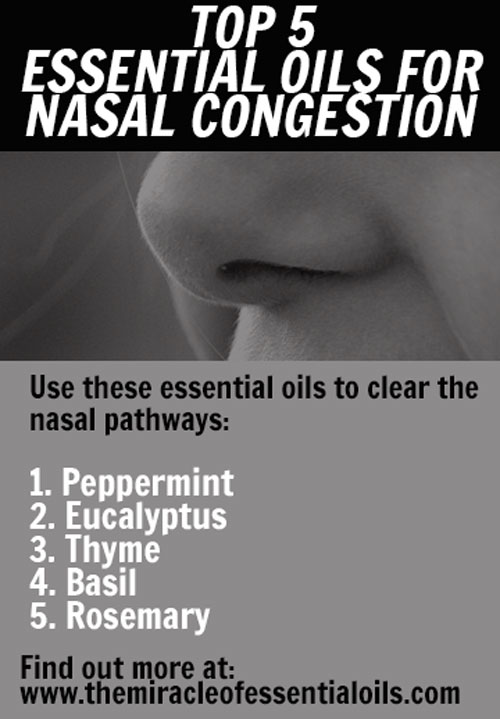 Also known as nasal blockage, blocked nose and stuffy nose, nasal congestion is the blockage of the nasal pathways due to inflammation of the membranes lining the nose. Though uncomfortable and irritating, nasal congestion is usually mild and a symptom of colds and cough. However, if it affects newborns and babies, then it is a serious condition that can lead to respiratory illnesses and must be addressed quickly. Some of the causes of nasal congestion include:
Common cold
Cough
Allergies
Sinus infection
Reaction to certain medications
Influenza
And more
5 Essential Oils for Nasal Congestion
Below are 5 of the most effective essential oils for nasal congestion and further below, find three recipes you can use to relieve nasal congestion naturally:
Peppermint oil is obtained from steam distillation of fresh mint leaves. It has a very high content of menthol, which gives it its characteristic cooling feel. This high menthol content also opens blocked nasal pathways and helps with clear and easy breathing.
Just like peppermint, eucalyptus is minty and fresh as well as has a high menthol content. When inhaled, it soothes the nasal passages, reduces inflammation and promotes deep and easy breathing. Eucalyptus is also known to relieve pain and alleviate allergies.
A warming essential oil, thyme oil is obtained from the beautiful small leaves of the herb thyme. It warms up the body thereby alleviating colds, cough and sinus infections that normally occur and worsen due to cold temperatures.
Basil is another essential oil good for relieving nasal congestion. It is derived from fresh basil leaves and is of two types: holy basil and sweet basil, both of which are good for respiratory problems. Basil oil clears the nasal congestion and reduces inflammation, swelling and pain in the nasal pathways.
Apart from aiding in hair loss and sharpening memory, rosemary is a good oil for relieving colds, cough, bronchitis, pneumonia, nasal congestion and other respiratory issues. It has a fresh clean and invigorating scent and reduces inflammation in the nasal region facilitating easy respiration.
Effective Essential Oil Recipe for Nasal Congestion
There are quite a number of essential oil recipes for nasal congestion including: steam inhalation, chest rub blend, steamy baths, hot showers, vapor rubs, personal inhalers and more. Personally, the best recipe that work wonders in relieving nasal congestion is the steam inhalation method. Here's how to go about it:
» Steam Inhalation

What you need
1 drop peppermint
1 drop eucalyptus
1 drop thyme
A pot of 3 – 4 cups water
A towel

Method
Boil a pot of water till it gets very steamy.
Then remove from heat and carefully set it on a table over a place mat.
Sit in front of the pot and add the drops of essential oil.
Now making a tent by placing the towel over your head and the pot to trap the steam.
Inhale the essential oil – infused steam and benefit from its respiratory relieving properties.

Have you ever used essential oils for nasal congestion or respiratory problems? Leave your comments below!