It's time to start using essential oils for natural hair! Incorporate them in your natural hair regimen and see your beautiful hair flourish!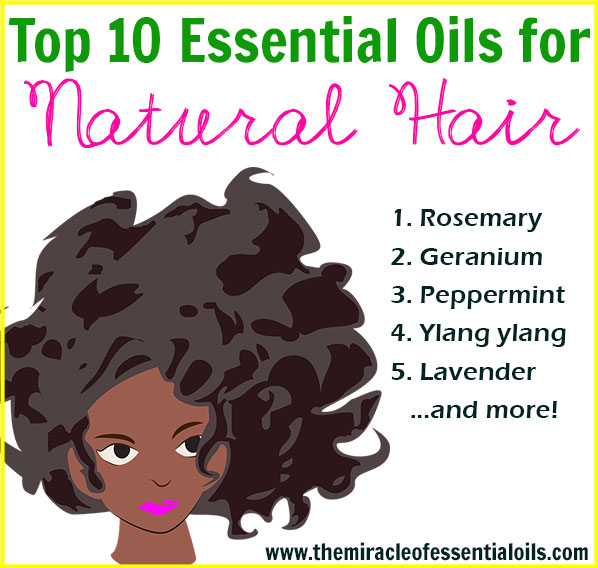 More and more naturalistas are turning to Nature to solve their hair care problems. And you know what that means – DIY hair care! Gals who once relied on a ton of products a.k.a product junkies are now making their own cheap, chemical-free, effective, incredibly easy and fun DIY hair care products.
Essential oils are important ingredients when it comes to making DIY natural hair products. They are highly concentrated liquid plant extracts obtained through steam distillation or mechanical expression of aromatic parts of plants. For example, peppermint oil is got from the leaves of the mint plant, rose oil is got from fresh rose petals, lemon oil is got from lemon rinds and so on!
Even if you don't make your own hair care products, you can still add essential oils to your existing products. This will improve your hair by miles! Essential oils have numerous benefits for natural hair. Check them out below!
Benefits of Essential Oils for Natural Hair
Seal moisture into hair
Nourish hair roots
Stimulate hair growth & thickness
Balance scalp oils
Soothe the scalp
Reduce inflammation
Relieve scalp itch
Fight dandruff
Kill scalp fungal infections
Condition hair
Natural hair perfume
And more!
Top 10 Essential Oils for Natural Hair
How to Use Essential Oils for Natural Hair
Add to your Shampoo & Conditioner: To an 8 oz bottle of shampoo or conditioner, add 20 drops of your essential oil of choice.
In Hair Masks: When making hair masks, add essential oils to boost the mask's nourishing effect! Puree 1-2 very ripe avocado(s), 1 tbsp coconut oil and 10 drops of any essential oil of choice. Apply on your scalp and hair. Put on a shower cap. Wash off well after 30 minutes.
In Hair Rinses: Make a hair rinse by combining 3 cups of cooled rosemary tea, 1 tsp apple cider vinegar and 7 drops an essential oil of your choice. Make rosemary tea by steeping 2 tbsp of dried rosemary in 3 cups of boiling hot water for 20 minutes.
Clay Treatments: Natural hair loves clay treatments! You can do them once a month. Simply mix up ½ cup of bentonite clay with enough water to create a medium-thick paste. Now add 12 drops of your essential oil of choice. Slather onto your scalp and hair. Rinse off after 10 minutes.
Pre-Poo: Pre-pooing is an amazing way to preserve moisture and natural oils in your hair without stripping it of its natural oils. It's a method of applying oil/cream/conditioner to your hair before shampooing or washing it. The best way to pre-poo your hair is using coconut oil or olive oil. Just get 1-2 tbsp of coconut oil or olive oil in a bowl and add 5 drops of essential oil. Apply on your scalp and hair then put on a shower cap. Wash your hair after 30 minutes.
Hot Oil Treatments: I love hot oil treatments. You can definitely add essential oils to these kind of treatments. Warm up 2 tbsp of  coconut oil and 1 tbsp Jamaican Black castor oil. Now add 5 drops of your essential oil of choice. Massage the warm oil on your scalp. Throw on a shower cap and allow it to penetrate for 30 minutes. Wash your hair very well when the time is up.
Conditioner: Melt 1 cup of shea butter in a double boiler. Now add ¼ cup of organic rose water, 10 drops of geranium oil, 10 drops tea tree oil and 10 drops lavender oil. Also add 1 tsp of raw honey. Pull out your immersion blender and beat the liquid mixture for 10 minutes until you see a white emulsion forming. Pour the emulsion into a wide mouth jar and let it set into a soft cream. Use as conditioner.
Do you use essential oils for natural hair? In what ways do you use them? Please share in the comments!