Did you know that you could use essential oils to relieve eye infections such as conjunctivitis? Find out the safest and best ways to use essential oils for pink eye.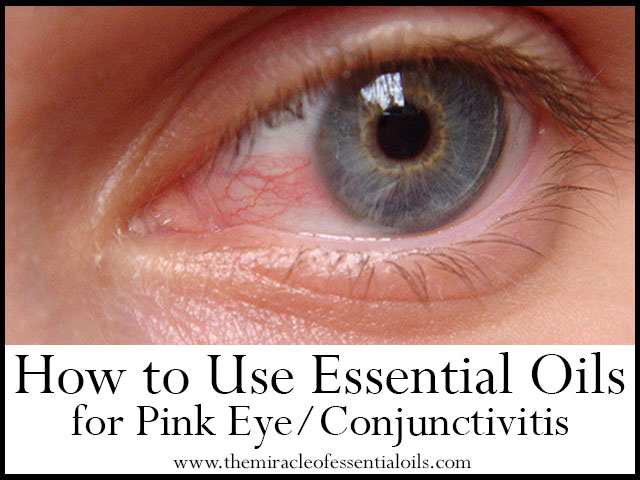 What is Pink Eye?
Pink eye, medically known as conjunctivitis, is an inflammation of the conjunctiva (the whites of the eye) and the eye lid. It usually affects one eye, although both eyes may be affected, as well. It is a contagious but treatable condition.
More than 3 million children and adults suffer from pink eye every year in the United States.
Some of the signs of pink eye include:
Redness
Itchiness
Swelling
Discharge
Burning
Scratchiness
Sensitivity to bright light
Bumps formed under the eye lid
Sensation of a foreign object in the eye
They main causes of conjunctivitis are:
Viruses, such as the herpes virus and adeno virus
Bacteria, such as Staphylococcus aureus, Streptococcus pneumonia, or Haemophilus
Allergies, such as seasonal allergies, dust, dander from animal fur and mold
Irritants such as contact lenses, eye drops or eye makeup
The conventional treatment for pink eye is the prescription of eye drops that can ease the dryness. Pink eye usually heals without treatment in 3 – 7 days.
How Do Essential Oils Help Pink Eye?
While essential oils are not the mainstream treatment for eye conditions, there is no doubt that the proper use of essential oils for pink eye can give a lot of relief.
Essential oils are potent and concentrated hydrophobic liquids extracted from various plant material. Being so concentrated, they can irritate, harm and chemically burn the delicate membranes of your eye.
This is why essential oils must not be directly applied into the eye, whether diluted or undiluted. Instead you can harness the healing power of essential oils by applying them around the eye, as shown in the techniques below.
How to Use Essential Oils for Pink Eye
Here are the 3 best ways to use essential oils for pink eye treatment:
1. Steam Inhalation
The reason why essential oils are called, 'volatile oils' is because of the ease in which they can be turned into vapors when heated. Without a doubt, steam inhalation is one of the best ways to enjoy the benefits of essential oils, especially to treat pink eye.
What you need:
A large bowl
4 cups of hot, steaming water
A thick towel
2 drops of tea tree oil  (where to get it)
Method:
Bring 4 cups (1 liter) of water to a boil and transfer it carefully into a large bowl.
Sit comfortably on a chair and place your head above the steaming water such that the vapor are touching your face.
Place a thick towel over your head and the bowl so that the vapors do not escape.
Try to keep your eyes open such that the highly antibacterial, antiviral and disinfecting properties of the tea tree oil can reach your eyes. Take breaks if you need to. Continue for at least 5 minutes.
Repeat this treatment at least 2 times a day and you'll be surprised how quick you can clear pink eye!
2. Pink Eye Gel
By using two natural cooling substances; aloe vera gel and rose water, we can make a gel that cool the eyes and remove the sensation of heat, irritation and discomfort from the eye. This gel will also stimulate blood flow to the eye area so that vital nutrients, oxygen and white blood cells (fighter cells) are delivered to the eye such that it can heal faster.
What you need:
Method:
In the Pyrex measuring cup, scoop in the aloe vera gel and pour to this the rose water.
Now using your whisk, briskly stir the two ingredients until they are well combined.
Now apply the essential oils and briskly whisk them again.
Transfer to your glass jar or any other recycled container.
To use, apply a small thumbnail-sized amount all around your eyes and on top of your eye lid. Make sure that it does not get into your eyes because it may irritate the already inflamed membranes.
Relax and allow the cooling sensation to penetrate and heal your eyes. Wash off after 10 – 15 minutes. Apply this gel 2 – 3 times a day.
3. Milk Compress for Pink Eye
By diluting essential oils in milk, we can make sure that all the oil particles are dissolved and are safe to apply near the eye. Traditionally, milk has been used to treat eye infections thanks to its high fat content that lubricates the eyes and its alkaline nature that balances acidity in the eye due to conjunctivitis.
What you need:
Method:
Dilute the essential oils in the milk. The fatty molecules found in the milk will dissolve the essential oils so that they won't remain in clumps that can get into your eye.
Now dip the cotton pads in the milk and apply them over your closed eye lids, while in a sleeping or reclining position.
Rest in this manner for at least 10 minutes. This will help completely relax your eyes and make them feel rejuvenated and soothed.
Have you successfully used essential oils for pink eye? Share your story in the comments below!