Eczema is a very itchy and dry skin predicament that can affect anyone: from babies to the elderly. For many people, eczema can be managed effectively with conventional medicine or simple homemade remedies like slathering a generous amount of shea butter, for example. Another potent home remedy is to use specific essential oils for severe eczema relief. That's what we shall be covering today.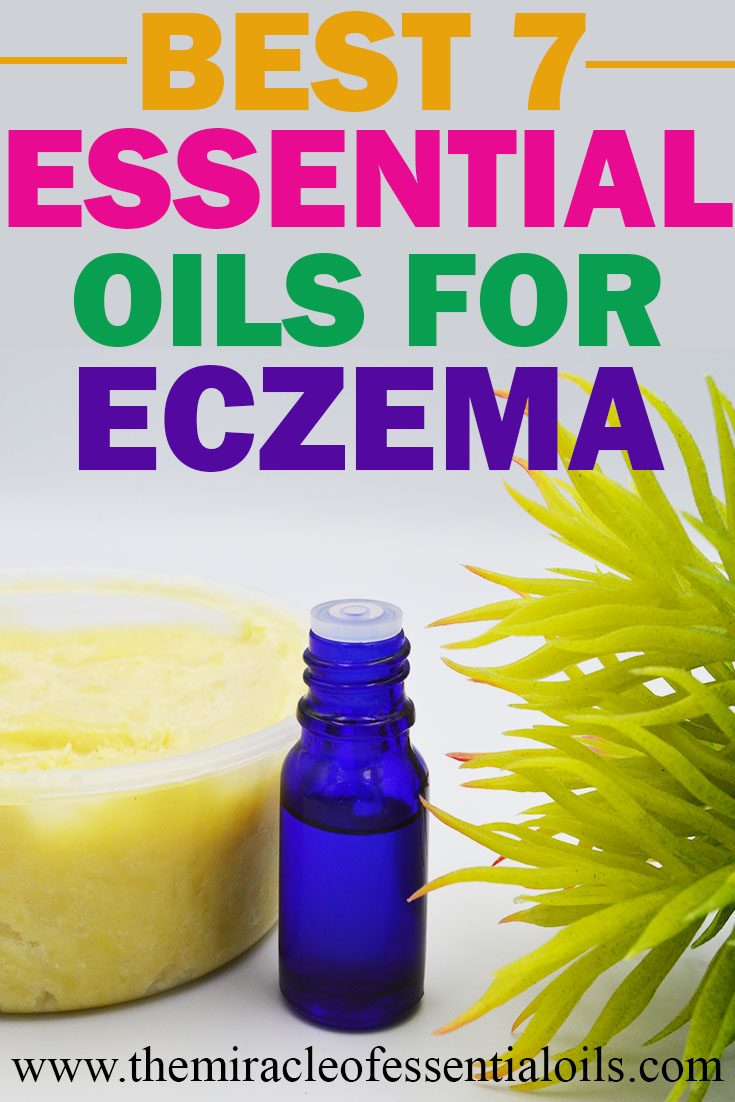 Unfortunately, some people endure a harsh and severe form of eczema that is very stubborn and keeps recurring even after treatment with potent modern medicines. This severe eczema is characterized by:
Uncontrollable itching that draws blood
Weeping eczema (when the skin becomes infected, giving eczema patches a 'wet' look)
Dry scaly flaky and leathery patches of skin
Fine red bumps and rashes
Oozing and crusting blisters
Red inflamed skin
Rough discolored skin
Severe irritation at night time
Did you know that severe eczema affects a majority of children and babies? This makes many parents very worried about consistently using prescription strength creams that can have serious side effects which include more skin irritation. In such a case, it's very helpful to turn to natural remedies to help soothe and heal severe eczema without aggravating the sensitive skin or causing further flare-ups.
Essential oils are among such natural remedies and they have powerful natural healing effects for a myriad of ailments including inflammatory skin problems like eczema. While natural substances such as shea butter or coconut oil on their own can be applied to calm normal eczema, for severe eczema, something stronger but at the same time all-natural and safe to use such as essential oils work more effectively.
7 Valuable Essential Oils for Severe Eczema
There are thousands of essential oils available to us today. But let's focus on the 7 most helpful essential oils for severe eczema:
1. Tea Tree Essential Oil
A powerful disinfectant, tea tree essential oil can be used to disinfect skin. As well, it is useful in preventing infected and cracked eczema skin from harboring germs and other microbes that lead to extra skin distress and future recurrence of eczema.
Edens Garden Tea Tree Essential Oil, 100% Pure Therapeutic Grade (Allergies & Inflammation) 10 ml

2. Lavender Essential Oil
The most commonly known essential oil in the world of aroma therapy, lavender has a multitude of purposes. Also,  since it's an oil that can be used directly on skin without dilution. Meaning, it's safe to use for severe eczema without irritating it more. Moreover, lavender oil is anti-inflammatory, anti-microbial and extremely soothing for skin conditions that involve rashes, itching, inflammation and dryness.
Edens Garden Lavender Essential Oil, 100% Pure Therapeutic Grade (Skin Care & Stress) 10 ml

3. Frankincense Essential Oil
Best known for its biblical reference as a gift to baby Jesus from the three wise men, frankincense is an ancient substance that has been used for centuries in the Middle East. It obtained from the gum resin of the Boswellia sacra or frankincense tree by steam distillation. Furthermore, frankincense is beneficial in treating severe eczema because it has outstanding anti-inflammatory properties that also help reduce swellings and redness. Frankincense also increases the potency of the other oils it is blended with so it's a good addition to any eczema healing preparations you plan to make.
Edens Garden Frankincense Carterii Essential Oil, 100% Pure Therapeutic Grade (Inflammation & Skin Care) 10 ml
4. Peppermint Essential Oil
Peppermint oil is an incredible pain reliever so if you're suffering with painful eczema, you should get a bottle of this precious liquid! The reason it significantly reduces the pain related to severe eczema is because of its high menthol content that numbs down pains & aches. Also, it gives a pleasant tingling sensation that can take your or your child's mind off the constant scratching at itchy eczema patches.
Edens Garden Peppermint Essential Oil, 100% Pure Therapeutic Grade (Digestion & Energy) 10 ml
5. Helichrysum Essential Oil
Obtained from the bright and fiery helichrysum flowers, helichrysum is a precious oil that is quite expensive but rigorous in its healing action. It's excellent for sun burned skin, mature skin and inflammatory skin conditions like eczema and psoriasis because of its cell renewal properties. However, if the eczema is infected and blistering, helichrysum oil will be of great help in healing it because of its powerful wound healing effects.
Edens Garden Virginia Cedarwood Essential Oil, 100% Pure Therapeutic Grade, 10 ml

6. Roman Chamomile Essential Oil
Known in the essential oils world as a soothing and calming agent, chamomile is very effective in getting angry red eczema to calm down and stop weeping. In addition, roman chamomile soothes inflamed skin and helps minimize the development of flaky and dehydrated patches of skin.
Edens Garden Helichrysum Italicum Essential Oil, 100% Pure Therapeutic Grade (& Skin Care) 10 ml

7. Cedarwood Essential Oil
Cedarwood oil greatly reduces the inflammation associated with seborrheic eczema. Also, also balances the skin's sebum production, which helps treat dry, itchy, flaky and scaly eczema patches. Moreover, cedarwood oil also improves infected skin and heals it up nicely.
Edens Garden Chamomile Roman Essential Oil, 100% Pure Therapeutic Grade (Pain & Menstrual Cramps) 10 ml

Good Carrier Oils or Base Ingredients to Use for Diluting the Above Essential Oils
3 Treatment Recipes that Work Wonders for Severe Eczema
1. Roll-On Blend for Scaly & Itchy Patches (Also very effective for scalp eczema)
What you need
Method
Firstly, add the essential oils to the roll-on bottle and fill it to the top with sweet almond oil.
Next, shake well to mix up.
Roll onto eczema patches after a shower or bath and every night on the soles of feet.
2. Fluffy Eczema Cream for Cooling Relief
What you need
Method
To begin with, melt the shea butter and coconut oil in your double boiler. Consider setting up your own double boiler by placing a small pot containing the ingredients over a large pot filled ¼ way with water. Heat over medium low flame till the ingredients gently liquefy.
Next, place the melted ingredients in the refrigerator for 15 minutes.
Then, get it out and add your essential oils and start whipping with a hand mixer until well-incorporated. Now add the honey and whip again until stiff peaks are formed and the mixture is a fluffy cream.
Scoop it up into a clean glass jar, preferably dark colored (since light shortens the shelf-life of the cream).
Now, apply liberally on severe eczema after a shower or bath.
3. Instant Soothing Bath Blend
What you need
Roman chamomile essential oil – 4 drops
Peppermint essential oil – 4 drops
Lavender essential oil – 4 drops
3 oz olive oil (where to get it)
A handful of colloidal oatmeal (where to get it)
4 oz amber glass dropper bottle (where to get it)
Method
Mix up the oils in the amber glass dropper bottle.
Add 15 – 20 drops to a warm bath.
Next, throw in a handful of colloidal oatmeal.
Finally, soak for 20 minutes.
Have you tried essential oils to help manage severe eczema?
More Eczema Help