Want shiny and luscious hair? Look no further than essential oils! Below are 7 essential oils for shiny hair and how to use them in your everyday hair care routine.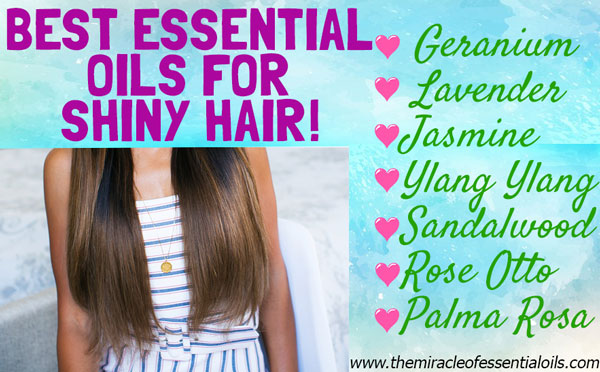 7 Essential Oils for Shiny Hair
When looking for essential oils for shiny hair, look for those that are moisturizing and help retain moisture in your strands to give your hair that natural sheen. Avoid citrus and astringent oils as they have a tendency to make hair appear frizzy and textured, rather than glossy and silky. Below are the top 7 essential oils for shiny hair:
Ways to Use Essential Oils for Shiny Hair
» Add a few drops to your hair brush. One of the best and easiest ways of using the above essential oils is by adding 2 – 4 drops of it on your hair brush then brushing your hair. Many of the above oils condition hair in addition to moisturizing it which promotes shiny hair!

» Mix some oils in your conditioner. Add just 6 drops of essential oil in 1 tbsp of conditioner and apply it like usual. Your hair will be softer, silkier and shinier!

» Whip up a luscious hair serum. For this, you will need 2 tbsp of sweet almond oil, 5 drops of jasmine, 5 drops of rose and 5 drops of palma rosa essential oils. Mix them up well and add it to a 2 oz amber glass dropper bottle. To use, place just 3 drops on your palm and smooth it over your tresses to make them appear shiny.

» Create a glossy hair spritz. Combine ½ cup of distilled water with 5 drops of ylang ylang, 5 drops of sandalwood and 3 drops of geranium oil in a 4 oz amber spray bottle. Also add a tsp of witch hazel and shake well before spraying on hair. Style your hair and spray again.

» Do hair rinses. Hair rinses are another way of increasing your hair shine! Make a tea by steeping a tea bag of peppermint, chamomile or a tsp of other dried herb such as stinging nettle in 1 cup of boiling water. When it has completely cooled down, add a few drops (2 – 3 drops) of essential oil and shake it to combine. Pour this on your hair after washing it as your final rinse. Say hello to shiny hair!
Other Natural Ways to Promote Shiny Hair
► Drink Enough Water. It's not just dry parched lips that indicate dehydration but also dry skin, dry hair and also brittle dry nails. Drinking enough water throughout the day ensures your whole body is well watered which helps in optimum functioning of many bodily processes. Not taking enough water creates lack-luster hair that is dehydrated and tends to be rough and brittle.
► Snack on Almonds. Almonds and other nuts like pistachios, cashews and more are rich in omega 3 fatty acids and vitamin E that promote luscious and glossy hair. Soaking your almonds before munching on them makes them more bioavailable and aids in digestion. Did you know that almonds also boost hair growth? That's another great reason to snack on almonds!
► Avoid Chlorine and Hard Water. Your shower water contains chlorine and other chemicals and might even be hard water that makes hair look weathered, dull, damaged and brittle. Chlorine and hard water also cause product build-up on the scalp and hair, which is a thin white layer of scum that's barely visible to the naked eye. This build-up not only makes hair feel and look limp and icky but also blocks the hair follicles which promotes hair loss! Invest in a good quality shower filter that removes chlorine and softens hard water before it hits your hair.
► Use Wooden or Sheep Horn Combs. It's time to stop combing your hair with plastic combs because they cause static in hair, scratch up the scalp and prevent more hair breakage and damage compared to wooden or sheep horn combs. Get yourself a wooden comb or sheep horn comb for healthier and shinier hair.