Stomach aches are very common in all age groups  but they can be treated naturally. Select from 6 essential oils for stomach ache relief for faster and safer healing.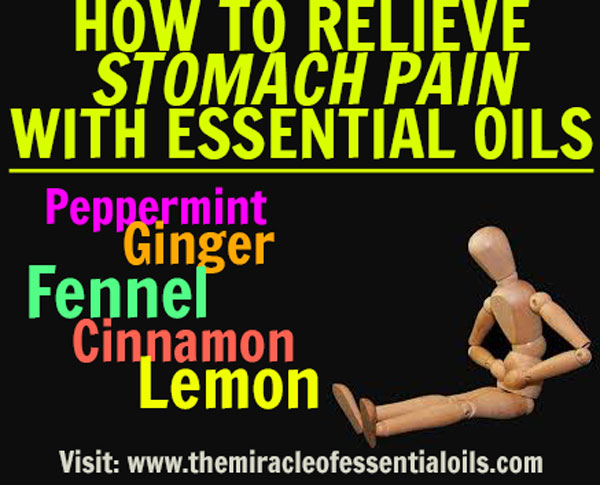 Why Would You Get a Stomach Ache?
From terrible stomach flu to painful gas, there are many reasons why anyone can end up with stomach aches and pains! Below are the various causes of stomach aches:
Gas – Gas can be extremely embarrassing not to mention uncomfortable and painful sometimes.
Bloating – Feeling bloated is a common ailment that everyone nowadays has been affected with in their lives. Bloating can be due to excessive consumption of
Constipation – If things aren't moving along down there, that means you're constipated and constipation can gas abdominal pain and stomach aches of varying intensities.
Food Poisoning – Sometimes when you eat something stale, rotten or spoiled & contaminated, your body will instantly react violently, causing diarrhea and vomiting to help expel the toxins and wastes created by the bad food. Together with these symptoms, you may experience mild to severe stomachaches.
Stomach Flu – Scientifically known as gastroenteritis, stomach flu is commonly contracted through eating contaminated food or water. It's the most common food borne illness in the world and its symptoms include headaches, sore muscles, fever, vomiting, nausea and diarrhea.
Poor Digestion – Ever eaten something in a rush and ended up with aching pains in your belly? That's because you didn't chew your food well which caused poor digestion.
Other Digestive Problems – People with IBS or irritable bowel syndrome can also suffer from stomachaches and pain that need immediate relief.
Motion Sickness – If you're car sick or have trouble keeping your food down in a bumpy airplane or rocky boat ride, then you know how crazy motion sickness is! It can make you lightheaded, bring on a headache, make you nauseated and cause stomach upsets and tummy aches.
6 Best Essential Oils for Stomach Aches and How to Use them
1. Peppermint Essential Oil
Peppermint is one of the best essential oils to have around the house. It's safe to use for children, pets and pregnant mamas beyond the first trimester. Peppermint reduces nausea when inhaled and has medicinal value when consumed in tiny amounts. It can also be massaged on the stomach diluted in a stable oil like coconut oil for a cooling & numbing effect on stomach ache.
Note: Before ingesting an essential oil, make sure you are using one that's 100% pure high quality and organic of food grade. Peppermint is considered as a GRAS (Generally Recognized As Safe) oil to ingest so it is safe to ingest in very tiny quantities. Always consult your doctor before ingesting essential oils.
Peppermint Capsules: Purchase these very effective peppermint capsules that are ready-made for consumption to instantly suppress stomach aches or make your own capsules by placing 2 drops of peppermint oil in a 00-vegetable capsule and filling it with enough drops of olive oil. Take one immediately for relief. Do not take more than 2 capsules a day.
2. Eucalyptus Essential Oil
Harvested by steam distillation from the succulent leaves of the eucalyptus or Blue Gum trees native to Australia, eucalyptus oil is a cooling essential oil that is extremely versatile in the world of aroma therapy. It is similar to peppermint with its high menthol content, cooling effect, nausea pain alleviating qualities that help alleviate stomach aches. Some people even say eucalyptus works better and faster than peppermint in getting rid of stomach aches!
Breathe in Eucalyptus: Place 2-3 drops of eucalyptus oil in a hanky and breathe deeply.
3. Ginger Essential Oil
Ginger essential oil is warming in nature and has analgesic properties that makes it effective in reducing stomach aches. It is also interesting to note that ginger oil suppresses appetite which can help avoid future stomach aches due to over consumption of food or rushed eating. Remember to consult your doctor before ingesting essential oils.
Ginger – Honey Medicinal Treat: The combination of ginger and honey has been used for centuries to alleviate nausea and get rid of digestive problems. To make your medicinal treat, mix in 2 drops of organic food grade ginger oil in 1 tsp of raw honey. Using a clean index finger, slowly lick up the ginger – honey mix for relief in a few minutes.
4. Fennel Essential Oil
Fennel oil is extracted from the aromatic fennel seeds that have long been chewed on for their breath freshening and appetite suppressing powers. This essential oil also helps improve digestion when inhaled or rubbed on the tummy so if you're stomach ache is due to poor digestion, you can inhale a couple of drops of fennel oil from a hanky or mix it in a vegetable oil like olive oil and rub it deeply on your tummy.
Fight Pain with Fennel: On the palm of your hand, add 2 tsp of shea butter, 3 drops fennel oil and 3 drops peppermint oil. Carefully mix it up with your other hand to create a creamy mashed paste on your hands. Now deeply massage this mixture all over your belly. Lie down and let the mixture sink deep for about 15 minutes.
5. Cinnamon Essential Oil
This spicy essential oil is great for stomachaches because of its pain easing properties. When applied over the aching area, a warm sensation is experienced and the severity of the ache is dulled down. It can also be taken internally to help with aches caused by digestive problems or bloating. Below is a remedy using cinnamon and yogurt, which is also a natural stomach soother and can help relieve the ache. Consult your doctor before ingesting essential oils.
Cinnamon Yogurt Shake: Simply blitz ½ cup of yogurt in a mini blender or Ninja food processor together with just a drop of food grade cinnamon oil. Sip this up slowly to feel the relieving effects.
6. Lemon Essential Oil
A sweet and fruity smelling oil, lemon is good for fighting nausea and diarrhea that accompanies stomach ache. It can be rubbed on the belly with other oils and a carrier like grapeseed oil to control stomachaches or inhaled to benefit from its aroma therapeutic properties of quelling nausea.
Diffuse Lemon: Place about 5 drops of lemon oil in your non-plastic cold-air diffuser and rest while breathing in its mood uplifting aroma.
What to Eat when You Suffer from Stomach Aches
When you're suffering from stomachache whether mild or severe, you can be unsure of what to eat that won't cause more pain or other violent reactions like diarrhea. It's true that your food choices are limited and you shouldn't eat anything without first confirming if it's okay to eat, but generally, stick to drinks, mono-meals and one-ingredient foods such as these:
Yogurt: Though it's commonly said that dairy is bad to consume when you're doubled over with pain in your gut, yogurt is surprisingly one soothing food to take. It's rich in live bacteria that help heal the gut and reduce digestion problems.
Bone broth: A nutrient-dense watery food, bone broth is rich in numerous minerals and vitamins that are necessary for boosting your immune system to prevent further stomachaches especially if yours is caused by a virus or infection, and it also provides you with wholesome nutrition at this time when you can't eat proper meals.
Herbal teas: My favorites are ginger tea, chamomile and peppermint teas. These are olden day remedies that are proven to help calm the stomach and alleviate pain and other symptoms like nausea and diarrhea.
White rice: Cook up some white jasmine rice and enjoy it plain (without any accompaniments or side dishes) to alleviate hunger while being cautious of your stomach pain.
Mashed potatoes: Boil your potatoes, mash them up and enjoy. You can add salt for taste but to be on the safe side and prevent more water loss if you're also suffering from diarrhea, don't add it.
White Bread: White bread (not the brown one as it can be hard to digest for your already sensitive stomach) is another good food to have when your stomach is aching. Wow, when the world is against white bread, hearing someone say white bread is the one you should eat sure sounds amazing ;). White bread is a high binding food and some people say it helps 'soak up' the stomachache or pain. Sinking your fangs into a slice of fresh white bread while sipping on some herbal tea doesn't sound so bad. It can make a good meal for your delicate stomach.
Fruits: Fruits can cleanse your stomach and keep you full as well. You can have pineapple, oranges, bananas or papaya. Don't make a fruit salad: rather eat them like mono-meals – chop up a whole pineapple and eat it alone instead of combining and eating it with oranges, bananas and other fruits.
Have you ever used essential oils for stomach ache relief? Share your experience in the comments below!