Strep throat is a common condition among children and adults alike. It's painful and makes one feel fatigued and feverish. Find out how to use essential oils for strep throat in this article!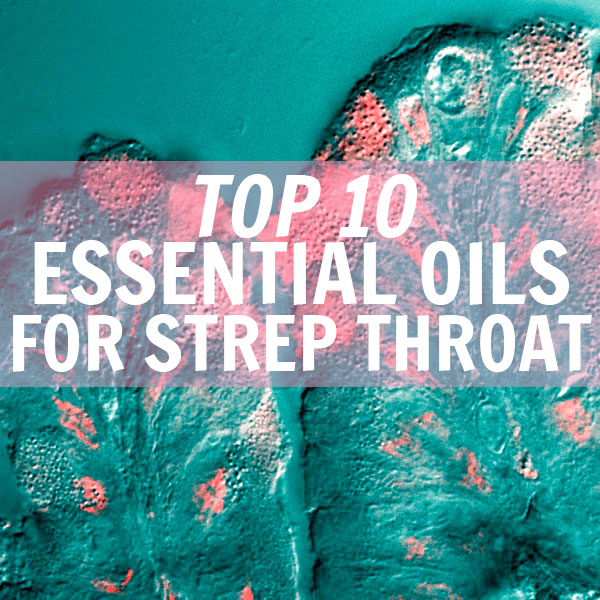 What is Strep Throat?
Strep throat is an infection of the back of the mouth, involving the tonsils. It is caused by group A streptococcus bacteria and is contagious. It usually spreads through an individual coming into contact with respiratory droplets from an infected person. Among the signs and symptoms of strep throat include:
Swollen tonsils with pus
Fever
Sore throat
Large cervical lymph nodes
Headaches
Nausea
Vomiting
Muscle pain
And others
Strep throat usually resolves itself in a matter of a few days on its own without treatment. However, symptoms can leave you feeling sick, sluggish and not in the mood to do anything. With home remedies and treatments you can not only speed up recovery but also reduce the severity of the symptoms. Below, find out how essential oils can help strep throat.
How Do Essential Oils Help Strep Throat?
Essential oils help relieve strep throat by:
Destroying bacteria and germs
Strengthening the immune system
Relieving pain
Reducing fever
Soothing sore throat
Reducing inflammation
Warming the throat
Speeding up healing
Curbing nausea and vomiting
Alleviating colds and cough
And more
Top 10 Essential Oils for Strep Throat

4 Essential Oil Recipes for Strep Throat
Below are four effective essential oil recipes for strep throat:
1. Steam Inhalation

What you need
2 drops thyme
2 drops tea tree
A pot of 3 – 4 cups of water
A towel
Method
Boil the pot of water till it gets steamy the remove from heat and place it on a table.
Add the drops of essential oil.
Cover your head with a towel to create a tent over and around the bowl.
Inhaled the essential oil – infused steam for at least 10 minutes while allowing it to reach into your mouth. You can keep your mouth open for this purpose.
When the time is up, wash your face well with warm water and soap and pat dry with a towel.
2. Oil of Oregano Capsules
Please consult your doctor before consuming essential oils. Always use 100% pure, organic, non-GMO, GRAS and heavy metal – free essential oils for ingestion. For children, don't give them oregano capsules, instead make them a tea using oregano leaves and a bit of honey to drink at least 3 times a day – it truly works wonders!
What you need
Method
Fill an 00 capsule with one drop of oil of oregano and enough olive oil.
Take one capsule twice a day after food for 3 days.
3. Salt Water Gargle

What you need
2 tsp salt
1 cup hot water (not too hot)
2 drops lemon
2 drops ginger
Method
In a cup, add the essential oils to the salt and mix well.
Pour in warm water and stir well to combine.
Now gargle with this water and be careful not to ingest it.
Repeat 2 – 3 times a day.
4. Warming & Healing Throat Rub

What you need
1 tsp coconut oil (where to get it)
2 drops frankincense
1 drop clove
1 drop tea tree
1 drop ginger
Method
Combine the oils and rub onto throat and tonsils for relief.
Try using essential oils for strep throat – they really do work wonders in providing quick relief!