Discover 10 essential oils for stress to help you relax your mind and body after a long day's work and promote peace and calm!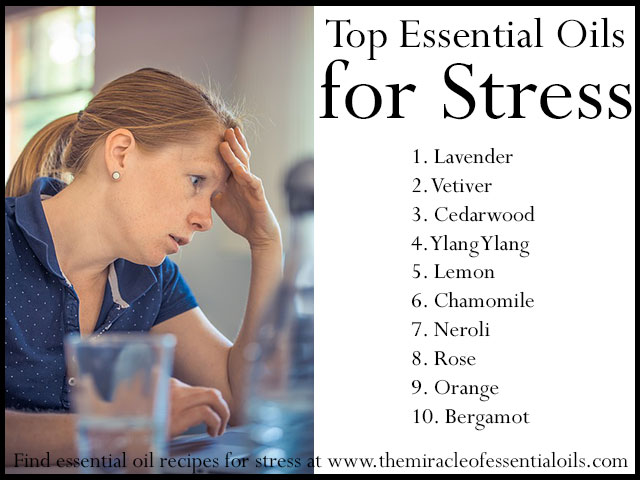 What is Stress?
Stress is the body's response to a stress-inducing factor, also known as a stressor, in the environment. Examples of stressors include too much work load, debt, bad boss, family problems and more. Stress is a negative condition that can affect a person's physical and mental well-being.
A little to moderate stress may be good for you because it helps you focus and finish on the task at hand – whether it's the assignment you need to hand in or tidying up the dishes over flowing in the sink. Stress can also enable you to perform well in situations since the stress is caused by wanting to excel or do well in the first place.
Below, let's take a look at some of the symptoms of stress:
Low energy
Lack of sleep
Muscle aches and pains
Weak immune system
Low libido
Rapid heartbeat and chest pain
Upset stomach which includes constipation, diarrhea or nausea
Hair loss
Headaches
Easily attacked by colds and infections
Dark circles
Depression
And more
How Do Essential Oils Help Stress?
Stress is one of the leading causes of illnesses and disease in the body. A happy and stress-free mind and body is a healthy mind and body. Stress lowers the immunity, accelerates aging, promotes hair loss, leads to constipation and does more things that gradually make the body fall apart, giving an open invitation to bacteria and microbes that cause disease.
Essential oils are natural stress-busters that work like a charm in helping manage negative physical and mental issues. Here are some of the ways essential oils help stress:
Relaxing the mind and body
Promoting peace and tranquility
Strengthening the immune system
Dispelling negative emotions and thoughts
Creating feeling of happiness
Promoting good quality sleep
Restoring libido
Reducing inflammation in the body
Soothing aches and pains
And more
Let's take a look at a list of studies that prove essential oils work for stress relief:
Research on Essential Oils for Stress
► Study One: Lavender oil, with its constituents of linalool and linalyl acetate, potentiated the GABAA receptor response caused by a low concentration of GABA, suggesting the anxiolytic, anticonvulsant and sedative activity (1)
► Study Two: A study showed that bergamot improves mood as well as mild symptoms of stress-induced disorders and facilitates sleep induction. (2)
► Study Three: Essential oils for lavender, clary sage, sweet orange and sandalwood have been reported to be both efficacious and safe for the relief of anxiety disorder, which is helpful in the case of anxiety-related stress. (3)
Top 10 Essential Oils for Stress
3 Essential Oil Recipes for Stress
1. So-Long-Stress Personal Inhaler

What you need
5 drops sweet orange
3 drops frankincense
2 drops cedarwood
Aroma therapy inhaler (where to get it)

Method
Remove the wick from the personal inhaler and add the drops into it one by one.
Put the wick back.
Inhale the relaxing scent every time you feel stressed and tensed.
2. Stress Buster Diffuser Blend
What you need
3 drops lavender
1 drop vetiver
1 drop clary sage
1 drop lemon
Non–plastic cold air diffuser (where to get it)

Method
Add the oils to your cold air diffuser, adding the required amount of water according to the manufacturer's directions.
Breathe in deeply with your eyes closed and try to relax for at least 15 minutes.
3. Temple Massage to Relax the Mind

What you need
2 drops peppermint
1 drop lavender
1 drop eucalyptus
1 tsp coconut oil (where to get it)
Small bowl

Method
Mix the essential oils in a small bowl.
Using your fingers, gently scoop some up and deeply massage it on your forehead and temples, taking care not to get it into your eyes.
Also rub it on the base of your skull and back of ears.
After the massage, lie down for a while and let the blend work its magic for at least 15 minutes.
Then wash your face with warm water and soap to remove the excess oils.
References
(1) https://www.ncbi.nlm.nih.gov/pmc/articles/PMC3440318/
(2) https://www.ncbi.nlm.nih.gov/pmc/articles/PMC4345801/
(3) https://www.ncbi.nlm.nih.gov/pmc/articles/PMC3440318/

In which ways are you planning on using essential oils for stress? I love the temples massage best because it gives a pleasant tingling feeling which relieves anxiety, calms a raging mind and numbs stress headaches!