Sunburn is a term used to describe huge inflammation on the skin caused by ultra violet sun rays. The symptoms of sunburn including pain, burning sensations, peeling, swelling, redness and irritation can all be gently healed using essential oils which are a natural alternative to treat mild sunburn. Out of all the essential oils, there are a few valuable essential oils which contain soothing, cooling, anti-inflammatory & antiseptic and other benefits to give you immediate sunburn relief. Naturally heal, soothe, cool & calm with these 5 essential oils for sunburn & sun damaged skin:
Note: If you have severely sunburned skin please immediately seek medical help. Essential oils are very concentrated & potent and may be toxic if used in the wrong way. Do not apply essential oils 'neat' onto your sun damaged skin. Always dilute essential oils with carrier oils before use. Please make sure to purchase high quality and 100% pure essential oils for your body. If you are pregnant or nursing and would like to treat your sunburn with essential oils, please consult with your health care practitioner first. Most essential oils are not recommended to be used by pregnant/lactating women.
5 Effective Essential Oils for Sunburn Relief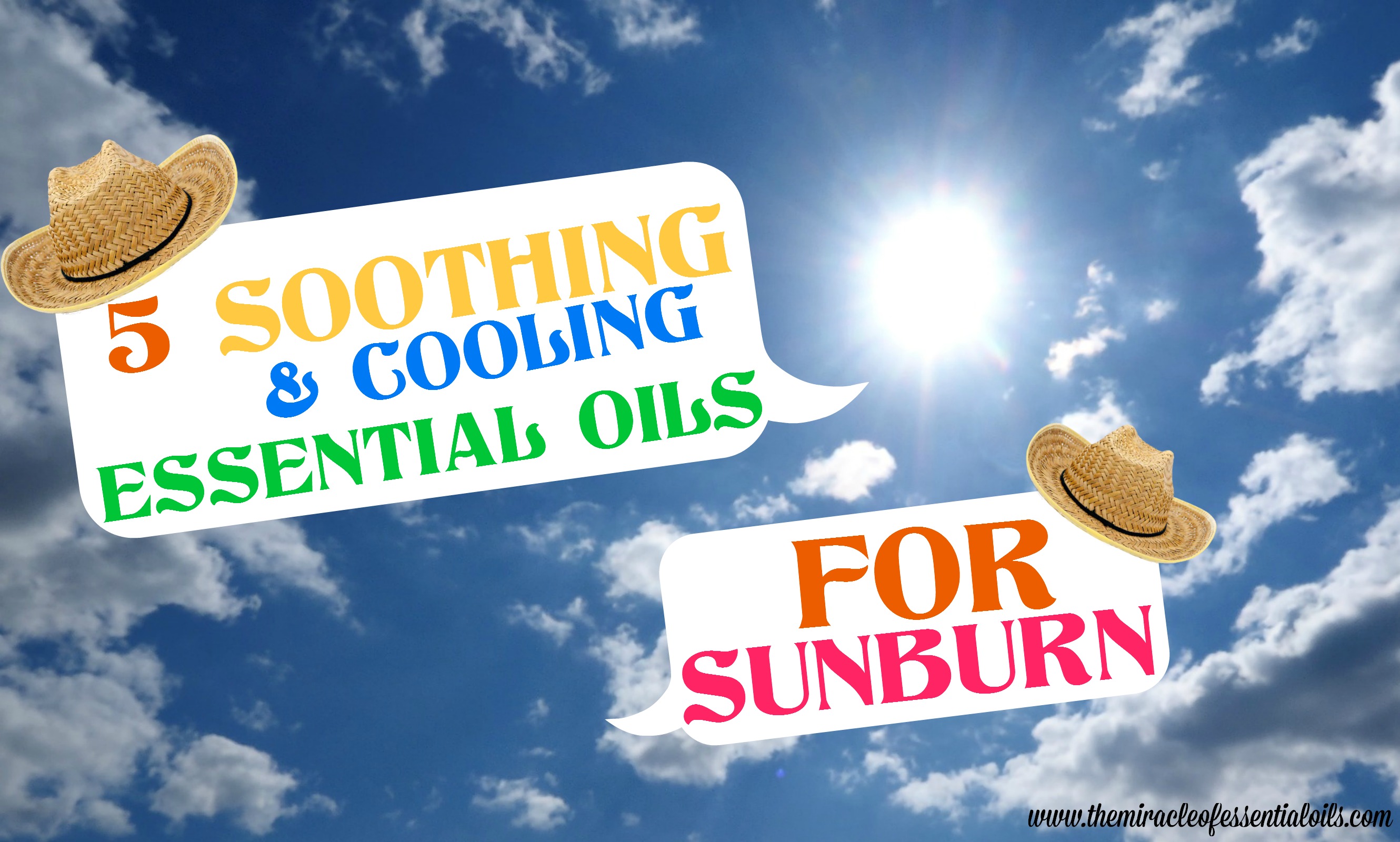 1. Lavender Essential Oil
If it's your first time using essential oils for sunburns then your first pick should definitely be lavender essential oil (where to get it). Using lavender essential oil will give you instant relief from painful sunburn. Its anti-inflammatory properties reduce inflammation and help take away the redness from your skin. The adaptogenic compounds found in lavender essential oil naturally speed up the rate at which a sunburn heals. Lavender essential oil also promotes new skin growth & cell regeneration thereby healing the sunburn quicker.
» Soothing Bath for Sunburns: If your sunburn covers a large area of your skin, jump into an oatmeal lavender bath to soothe and relax your sun damaged skin. All you need to do is throw in a handful of colloidal oatmeal into a tub of tepid to warm water and add 5 to 7 drops of lavender essential oil. Gently stir the bath with your hand and get in. This bath has soothing and healing properties that will alleviate the sunburn.
2. Peppermint Essential Oil
Peppermint essential (where to get it) contains a natural cooling and numbing agent: menthol, that helps numb the pain brought about by sunburn. It also helps hydrate the burned skin and release heat. Be sure to add only a few drops of peppermint essential oil when using it because it is very potent and using too much will worsen your sensitive sunburn.
» Gentle Sunburn Gel: Mix 1 to 2 drops of peppermint essential oil in a tablespoon of pure aloe vera gel and smooth it gently over your sunburn.
3. Eucalyptus Essential Oil
Cooling and soothing with mentholated goodness, eucalyptus essential oil (where to get it) works just like peppermint essential oil in alleviating sunburns. It helps cool down the sunburn and numb the pain thereby providing the best relief. Because of its antibacterial properties, it also disinfects the sunburned skin to prevent infection due to blisters.
» Cooling Eucalyptus Mist: Fill a two ounce spray bottle with pure water and add 2 to 4 drops of eucalyptus essential oil. Now add 1 tsp of pure aloe vera gel to act as a natural emulsifier. Shake very well and spray on burning skin for immediate relief.
4. Sandalwood Essential Oil
In Ayurveda, sandalwood is renowned for its skin cooling properties which helps relieve a myriad of ailments including excess body heat. Sandalwood essential oil (where to get it) calms sunburn inflammation, fights germs that can cause infection, soothes & cools burns and also gets rid of uneven tans.
» Antiseptic Blend for Sunburns: Mix 2 drops of sandalwood essential oil and 1 drop of turmeric essential oil in 1 ounce of coconut oil. Apply it gently onto sunburned skin. The turmeric essential oil also acts as an antiseptic and skin brightener.
Bonus Oil for Rapid Sunburn Healing:
5. Sea Buckthorn Berry Oil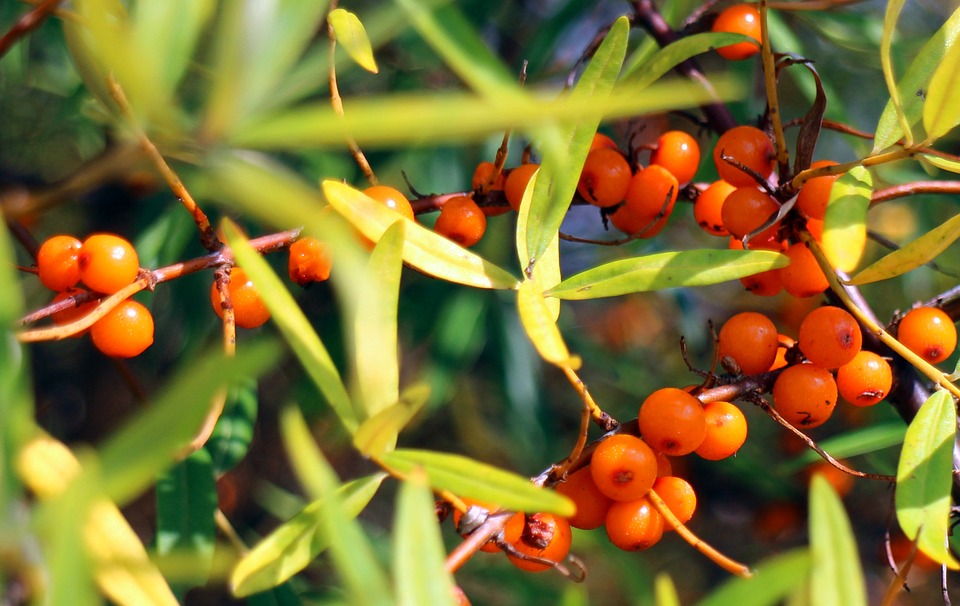 Not exactly an essential oil but a powerful skin healer for sun burn and damaged skin, I just had to add sea buck thorn oil (where to get it) to this list! Sea buckthorn (the berries, berry concentrate, berry/seed oil) has been used since ancient times in Greece and China for its restorative, regenerative and healing properties. When applied topically, it can treat a variety of skin issues including eczema, acne, skin ulcers, dry skin and more. Using sea buckthorn berry essential oil before going out in the sun helps prevent sunburn and using it on a sunburn/sun damaged skin helps heal radiation damage from the sun rays.
» Healing Sunburn Serum: Buckthorn berry oil is very rich in beta carotene which may stain skin slightly orange so in this serum, I'll be using only 3 to 5 drops of buckthorn essential oil in 1 ounce of jojoba oil. In a glass dropper bottle, mix 3 to 5 drops of buckthorn berry essential oil in 1 ounce of jojoba oil. Gently spread a little amount over your sunburn for relief. Apply at night and throw an old towel/sheets over your pillow/bed to prevent staining.