Is teeth whitening with essential oils possible? Yes it is! Find out how to use essential oils for teeth whitening in this post!
Teeth whitening is something everyone wants to do to keep a white bright smile. However, having a daily cup of coffee plus tons of sugary and spicy foods can stain teeth yellow and brown, making them lose their shiny white look.
Remedies such as teeth whitening strips almost always make teeth sensitive and wear out the enamels. At the same time, professional teeth whitening at the dentist also gives the same side-effects but breaks your bank too. What's one to do? Try essential oils! Below are ways how essential oils promote teeth whitening:
How Essential Oils Help Teeth Whitening
Essential oils are pure plant extracts obtained from aromatic plant material such as the leaves, tree bark, roots, fruit rinds, flowers and resin. They are highly concentrated and made up of various natural chemicals that give each oil its characteristic scent and therapeutic properties.
Essential oils help teeth whitening because they are potent enough, due to their chemical makeup, to remove stains such as yellow or brown stains on teeth. They are rich in compounds such as limonene that are whitening and brightening agents, whether it's for skin or teeth.
Not just for teeth whitening, essential oils also promote good oral health by fighting off bacteria that causes tooth decay. They also freshen breath with their strong fresh and pleasant scents.
4 Essential Oils for Teeth Whitening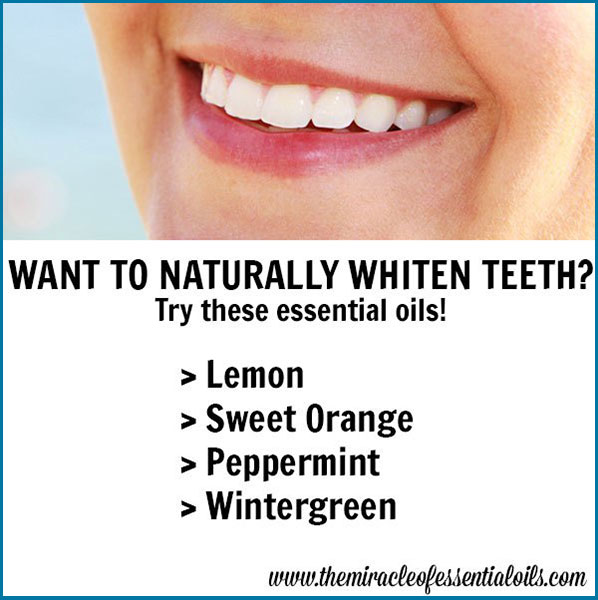 Quick Ways to Use Essential Oils for Teeth Whitening
To your toothpaste. Once a day for a week, try adding a single drop of orange/lemon oil to your toothpaste and brush away for a brighter smile!
Baking soda paste. Brush your teeth with a mix of 1 tsp baking soda, 1 drop orange oil and enough water to create a paste. Behold white teeth!
Tooth whitening mouthwash. Add 4 drops of essential oil to 1 cup of warm water, 2 tsp tsp xylitol and 1 tsp baking soda. Shake well and use every after meals.
Honey mint teeth rub. Add a drop of peppermint oil to ½ tsp of honey. Dry your teeth with a paper towel to remove excess saliva then rub the honey mint mixture on your teeth. Keep it on for at least 2 minutes then rinse your mouth.
2 Essential Oil Recipes for Teeth Whitening
Note: Before using any of these recipes, first make sure to remove excess saliva on your teeth by wiping them with a paper towel. Do not overuse these recipes because they can wear down your enamel and make your teeth sensitive. Try just one recipe once a week.
1. Whitening Tooth Mask

What you need
1 tsp baking soda (where to get it)
1 drop lemon oil
Enough water to form a paste
Small dish

Method
Mix the ingredients in a small dish to form a smooth paste.
Dip your clean toothbrush into the mixture and brush it on your teeth.
Wait for a couple of minutes then rinse your mouth.
Your teeth will be much whiter!
2. Stain Removing Recipe

What you need
½ tsp bentonite clay (where to get it)
1 capsule activated charcoal (where to get it)
Water to make a paste
1 drop peppermint oil
1 drop sweet orange oil
Small dish and spoon for mixing

Method
Mix up the ingredients in a small dish then use your toothbrush to apply the mixture on your teeth.
Leave it on for a couple of minutes then spit and brush your teeth.
Say hello to your pearly whites!

What do you think? Are you ready to try essential oils for teeth whitening?