Using essential oils for tinnitus can help relieve pain and discomfort . They also provide a few other benefits that are immensely beneficial in providing much needed relief! In this post, you will find three recipes on how to use essential oils for tinnitus!
What is Tinnitus?
Tinnitus is a condition whereby an individual hears a ringing sound in their ears when no external sound is present. The sound may come from only one or both ears and can be soft or loud.
It is a symptom that may occur due to various underlying causes including age-related hearing loss, hearing loss caused by extremely loud noises, ear infection, buildup of ear wax, previous head injury, certain medications, cardiovascular diseases, emotional stress and more.
Tinnitus affects about 10 – 15% of the world's population and although most get used to it and tolerate it well, for about 1 – 2 %, it is a problem that can cause emotional stress and clinical depression.
How Do Essential Oils Help Tinnitus?
Essential oil are pure and potent liquid plant extracts obtained from aromatic botanicals such as the roots, leaves, flowers, seeds, tree bark and resin of plants. They can be extracted through two processes: steam distillation and cold pressing (this is for the extraction of citrus oils). Essential oils are useful in treating tinnitus because of their numerous therapeutic properties:
Improving circulation of both air and blood throughout the body. This provides relief from pain as earaches usually happen when there is an unbalance of air in the ears.
Decreasing congestion in the respiratory airways. Especially the eustachian tube which is connected to the middle ear.
Relieving ear pain and discomfort because of their analgesic properties
Reducing stress and depression that affects people with tinnitus
Soothing inflammation that causes tinnitus due to ear infections
Helping to increase focus and concentration which is disrupted by tinnitus
And more
Below, find the 5 best essential oils for tinnitus: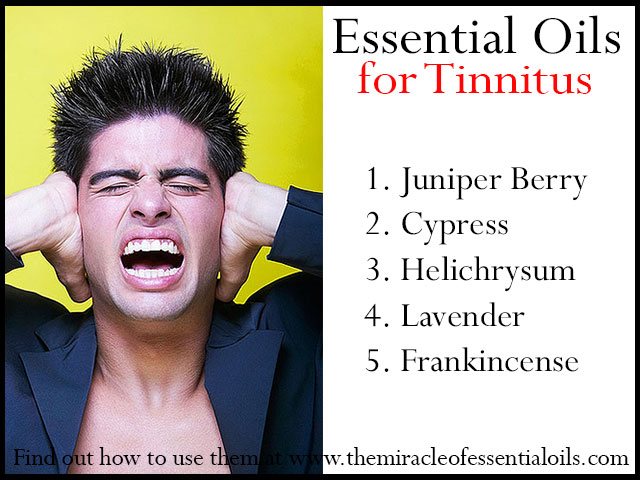 Top 5 Essential Oils for Tinnitus
3 Effective Essential Oil Recipes for Tinnitus
Here are three valuable essential oil recipes for tinnitus. They are good natural treatment options that have worked well for those with tinnitus especially in relieving pain, reducing discomfort, relaxing the mind, increasing focus, soothing inflammation and increasing blood circulation, among others.
1. Tinnitus Topical Treatment Blend

What you need
Method
Combine all the oils in the glass dropper bottle and shake gently to mix.
To use, place about 1 – 3 drops of the blend on a clean cotton ball and rub this on the rim of your ears, behind ears, along the eustachian tube, ear lobes, sides of neck and temples.
Let it sit for at least 15 minutes then if you want, you can dab it off with a paper towel. Or leave it to penetrate for as long as you want.
2. Cotton Ball Application

What you need
Method
Add a drop of your essential oil of choice on a clean cotton ball then soak up 1/4 tsp of olive oil.
Let it soak deep into the cotton ball so you can hold it over the ground and no oil drips – this is to ensure the oil won't go into your ear which can be dangerous since the purpose of cotton ball application is to allow the healing vapors of the essential oils (not the oil itself) to reach within the ear.
Insert the cotton ball gently in the ear lobe. Do NOT push it into the ear canal. You want to simply place the cotton as a sort of plug in your ear and not make it go inside.
Keep it on overnight.
3. Steam Inhalation

What you need
A pot of 2 cups of water
1 drop cypress
1 drop frankincense
1 drop lavender
A towel

Method
Boil the pot of water till it gets very steamy.
Carefully remove from heat and place the pot on a table over a place mat.
Now sit in front of the pot and create a tent by putting the towel over your head and enclosing the pot to trap steam.
Allow the essential oil-infused steam to penetrate deep into your ears. If it's only one ear that's affected, then let that ear face directly over the steam.
Stop steaming when there's little to no steam.
You can do this once a day for relief.

Which essential oils for tinnitus are you going to try out?