Vertigo is not a pleasant sensation to have. Fortunately, there is a way to stabilize yourself before the spinning gets bad! Use these top 10 essential oils for vertigo and learn how to make your own DIY blends that curb nausea, stop dizziness and more!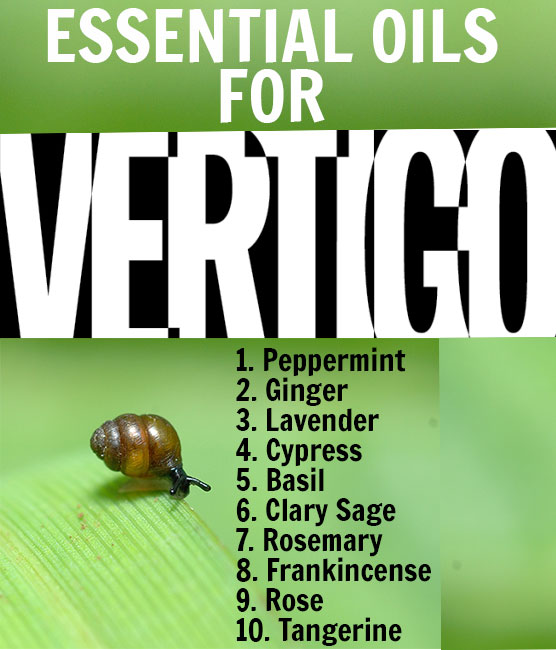 What is Vertigo?
Vertigo is described as a condition whereby a person feels like the objects around him/her are moving when they are not. It is associated with a feeling of lightheadedness, spinning surroundings, swaying movement, nausea, dizziness, profuse sweating, blurry vision, headaches and difficulty walking properly.
The most common causes of vertigo include benign paroxysmal positional vertigo, Ménière's disease, and labyrinthitis.
How Do Essential Oils Help Vertigo?
Essential oils are immensely helpful for vertigo because of their therapeutic scents and medicinal properties. They are highly concentrated liquid plant extracts that are made up of numerous natural chemicals. These chemicals include terpenes, oxides, ketones and others that give each oil its unique scent and properties. Below are some of the ways essential oils help vertigo:
Stabilizing the mind and body
Reducing dizziness & feeling lightheaded
Curbing nausea
Improving brain function
Clearing brain fog
Calming the mind and body
Promoting deep and peaceful sleep
Dispelling feelings of negativity
Improving blood flow to the brain
Oxygenating the brain
Promoting clear and easy breathing
And more
Top 10 Essential Oils for Vertigo
How to Use Essential Oils for Vertigo
Below are 3 essential oil recipes for vertigo:
1. Roller Bottle Recipe

What you need
Method
Remove the roller ball from the bottle and add the essential oils drop by drop.
Top with fractionated coconut oil.
Firmly push back the roller ball, screw on the cap and shake well to combine the oils.
Roll on the temples, behind ears and base of skull.
2. 'Steady There!' Personal Inhaler Blend

What you need
5 drops peppermint
3 drops rosemary
3 drops lavender
Aromatherapy inhaler (where to get it)
Method
Remove the cotton wick from the inhaler and add the essential oils, drop by drop.
Put the wick back inside the inhaler and snap the plug on its bottom.
Take deep breaths from the inhaler when needed.
3. Dizziness Duo Blend

What you need
Method
Mix the two essential oils in the coconut oil and gently rub on temples, base of skull and behind ears.
Are you ready to try essential oils for vertigo?