Essential oils and weight loss is a popular topic in aroma therapy and there are so many recipes out there that promise to help you shed a few pounds. But the question is, do essential oils work for weight loss? And how do they work? This article will show you proof that essential oils do work for weight loss and are a must-have for those who want to lose weight naturally!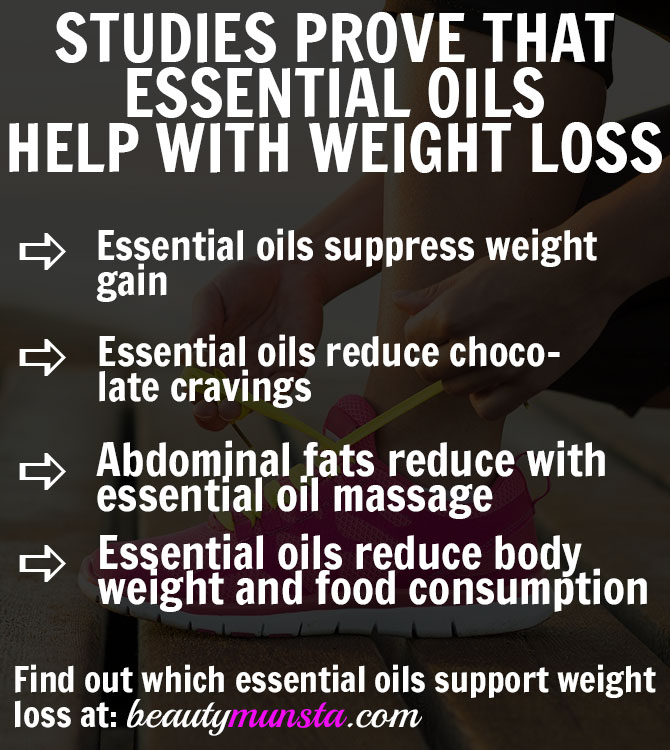 The Top 15 Essential Oils for Weight Loss
Find out the top 15 essential oils for weight loss in this article on the blog: Top 15 Essential Oils for Weight Loss
Research on Essential Oils for Weight Loss
►Study One:
Grapefruit & Lemon Oils Suppress Body Weight Gain
A study conducted by Japanese researchers, Niijima A. and Nagai K. experimented on the effect of olfactory stimulation of the scent of grapefruit oil and lemon oil on the efferent nerve activity in the sympathetic branch of the White Adipose Tissue (WAT) of the epididymis in an anesthetized rat. The final results showed that the flavor of both of the citrus oils increased sympathetic nerve activity to WAT in the rat, which suggests an increase in lipolysis and a suppression in body weight gain. (1)

►Study Two:
Smelling Essential Oils Having Fresh Scents Reduces Chocolate Cravings
A study was conducted to find out the effect of the olfactory sense on chocolate craving in college females. In the experiment, the participants were told to rate their craving levels after viewing images of chocolate while inhaling essential oils: one with a fresh scent and one with a sweet scent (vanilla). The results showed that inhaling a fresh scent reduced the females' craving levels and the sweet scent increased their chocolate craving levels! Therefore, the fresh scents of peppermint, eucalyptus, cypress, spearmint and more can be used as appetite suppressants to stave off sugar cravings. (2)

►Study Three:
Abdominal Fat Significantly Decreases After Essential Oil Massage
A Korean study by Kim HJ was conducted to examine the effect of aromatherapy massage on abdominal fat and body image in post-menopausal women. Participants were divided into two groups: the experimental group which used essential oils of 3% grapefruit, cypress and three other kinds of oil while the control group only used grapeseed oil.
All participants received one hour of whole body massage as treatment by the same researcher every week for 6 weeks. The participants also massaged themselves on the abdomen two times every day for 5 days each week for 6 weeks. Data was collected before and after the treatment using Siemens Somatom Sensation 4, a tape measure and MBSRQ and it was analyzed by ANCOVA using the SPSS/PC+Win 12 Version.
The results of the experiment revealed that abdominal subcutaneous fat and waist circumference in the experimental group significantly decreased after aromatherapy massage compared to the control group. Body image in the experimental group was significantly better after aromatherapy massage than in the control group. (3)
►Study Four:
The Scent of Patchouli and Fennel Oils Help Consume Fewer Calories
Inhaling the scent of patchouli and fennel by experimental rats for 10 minutes two times a day over the course of 8 weeks lowered the food efficiency rate and lead to consumption of fewer calories (4)
►Study Five:
Lime Oil Helps Reduce Body Weight & Food Consumption
A study which showed that lime essential oil displayed a reduction in body weight and food consumption in mice suggested that lime essential oil plays an important role in weight loss and could be useful in the treatment of drug-induced obesity and related diseases. (5)
5 Essential Oil Recipes for Weight Loss
Discover how to use essential oils for weight loss in this article on the website: 5 DIY Essential Oil Recipes for Weight Loss
References
(1) Niijima A, Nagai K. Effect of olfactory stimulation with flavor of grapefruit oil and lemon oil on the activity of sympathetic branch in the white adipose tissue of the epididymis. Exp Biol Med (May¬wood). 2003 Nov;228(10):1190–2.
(2) Firmin MW1, Gillette AL2, Hobbs TE2, Wu D2. Effects of olfactory sense on chocolate craving. Appetite. 2016 Oct 1;105:700-4. doi: 10.1016/j.appet.2016.07.004. Epub 2016 Jul 6.
(3) Kim HJ1. Effect of aromatherapy massage on abdominal fat and body image in post-menopausal women. Taehan Kanho Hakhoe Chi. 2007 Jun;37(4):603-12.
(4) Hur MH1, Kim C, Kim CH, Ahn HC, Ahn HY. The effects of inhalation of essential oils on the body weight, food efficiency rate and serum leptin of growing SD rats. Taehan Kanho Hakhoe Chi. 2006 Apr;36(2):236-43.
(5) Asnaashari S1, Delazar A, Habibi B, Vasfi R, Nahar L, Hamedeyazdan S, Sarker SD.Phytother Res. Essential oil from Citrus aurantifolia prevents ketotifen-induced weight-gain in mice. 2010 Dec;24(12):1893-7. doi: 10.1002/ptr.3227.