Women's hair loss, characterized by abnormal loss of hair from the top and sides of the head, can be an embarrassing issue that affects self-confidence. While there are no sure-fire conventional treatments to reverse the condition, you can safely put to use some of the best essential oils for women's hair loss and start noticing changes within months.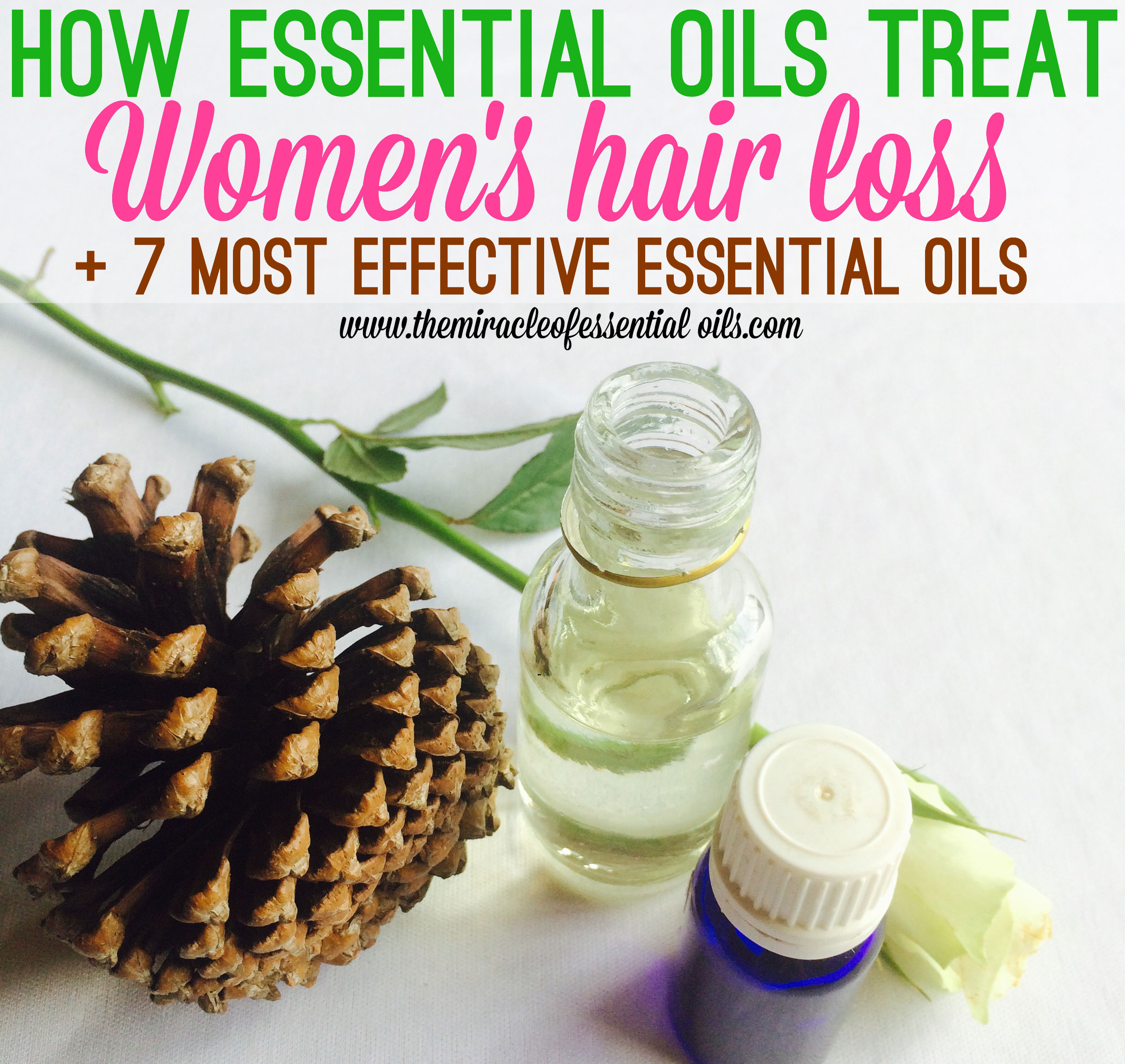 Causes of Women's Hair Loss
Also known as androgenetic alopecia, women's hair loss is characterized by thinning/loss of hair either at the top, center or sides of the head. This type of hair loss happens when there is an increased level of DHT (dihydrotestosterone), a derivative of the male hormone testosterone, in the scalp. DHT affects the receptors in the hair follicles of the scalp, causing them to weaken and inhibiting growth of new healthy hair.
Women's hair loss can be caused by a variety of factors but the most commonly known causes include the following:
high levels of stress and tension
hormonal imbalance
poor nutrition
thyroid problems
chemical and toxic exposure including chlorinated shower water and chemical-laden hair products
heat styling tools
Healthy Nutrition for Long, Strong & Thick Hair
Before we look at essential oils for women's hair loss and how they help, it is important to note that healthy hair stems from a healthy and nutritious diet. With a balanced diet rich in hair growth boosting foods, it is very possible to re-grow thinning hair as quick as 6-12 months, depending on your hair growth rate. So while using essential oils, also ensure to include organic and wholesome foods in your diet to strengthen your hair & promote hair growth from the inside-out.
Include foods rich in the nutrients below, to help naturally treat your hair loss and help re-grow thinning hair:
Foods rich in b-vitamins & biotin including free range eggs, peanuts, almonds, garbanzo beans, bananas, potatoes, free range chicken, shell fish, lentils, spinach, broccoli, oatmeal, wild salmon.
Foods rich in iron including lean meats, clams, oysters, egg yolks, shrimp, soy beans, tofu, tempeh, garbanzo beans.
Foods rich in Vitamin C including bell peppers, amla, guava, oranges, grapefruit, lemons, pineapple, strawberries.
Foods rich in beta carotene including sweet potatoes, carrots, kale, pumpkin, turnip greens, red peppers, watermelon, guava, spinach.
Foods rich in zinc including shell fish, lean meats, pumpkin seeds, yogurt and kefir, lentils, pine nuts, lima beans, peanuts, cashews, sunflower seeds, pecans, wheat germ.
How to Use Essential Oils For Women's Hair Loss
What makes essential oils an effective natural treatment for women's hair loss are their numerous medicinal and therapeutic properties. Some of these healing properties are particularly good for women's hair loss as you can see below:
Improve blood circulation in the scalp. When applied topically, certain essential oils increase the flow of blood to the surface of the skin/scalp. This ensures that each and every hair follicle receives the nutrient-rich blood that is necessary for it to support healthy and strong hair.
Stimulate the hair follicles. Essential oils such as rosemary, thyme and cedarwood, among others have hair follicle-stimulating properties. This is characterized by a pleasant tingling sensation when applied to the scalp, which is said to not only stimulate the hair follicles, thereby promoting hair growth but also awaken 'sleeping' hair follicles which are stuck in the telogen or dormant phase of the hair growth cycle.
Fight inflammation. The anti-inflammatory properties of many essential oils protect the scalp against inflammation, which is a major cause of women's hair loss. Inflammation in the scalp and hair follicles may be caused by inflammatory skin conditions such as eczema, psoriasis, etc or other factors such as scalp dryness or dehydrated hair follicles, among others.
Prevent fungal infections. Fungal infections damage the hair follicles and contribute to rapid hair loss. Some infections cause excessive itching such as ringworm, which leads to bald patches. Essential oils such as rosemary, oregano, thyme, etc have powerful anti-fungal properties that ward off and treat scalp infections.
Reduce stress. High stress levels are a well-known cause of women's hair loss. Essential oils such as lavender & vetiver have therapeutic properties that help calm the mind, reduce stress and promote deep sleep, which is necessary for healthy hair.
Balance hormones. Another major factor leading to women's hair loss is hormonal imbalances. Essential oils such as clary sage and geranium help naturally balance hormones when applied topically to the scalp (diluted in a carrier oil) or certain key reflex points in the body, such as the ball of both feet, which is the reflexology point for the thyroids.
Restore damaged hair. Damaged hair due to heat tools, sun's UV rays or chlorinated water can lead to women's hair loss. Helichrysum, carrot seed, sea buckthorn berry and rose essential oils have cell regenerating and other healing properties that restore damaged and lifeless hair back to its original luster. They also have powerful antioxidant properties that deflect oxygen-stealing free radicals, from UV rays and the general environment, that not only damage hair and cause hair loss but also lead to premature aging of hair.
7 Essential Oils for Women's Hair Loss
A few studies have been conducted on essential oils and hair loss. This study, in particular shows how patients using a scalp treatment consisting of lavender, thyme, rosemary and cedarwood essential oils in a mixture of jojoba and grapeseed oils successfully treated alopecia compared to those that used the carrier oil mixture alone without the essential oils.
Below, we shall look at 7 most effective essential oils for women's hair loss:
1. Rosemary Essential Oil
Highly touted as the most effective hair growth essential oil, rosemary essential oil (where to get it) has been used since long ago in the Mediterranean in hair rinses to promote strong, long and lustrous hair. It stimulates the hair follicles and strengthens them, preventing hair loss.
2. Cedarwood Essential Oil
Cedarwood essential oil (where to get it) promotes hair growth and reduces hair loss by stimulating the hair follicles as well as increasing blood circulation to the scalp. It also adds a shine to lifeless and lackluster hair! To me, cedarwood has to be one of the best essential oils for women's hair loss issues.
3. Thyme Essential Oil
Thyme essential oil (where to get it) is particularly good for women suffering from hair loss caused by dandruff, itchy scalp and scalp infections brought about by fungus and other microbes. It's a powerful anti-fungal and antimicrobial essential oil and is also very potent so be sure to use it in small amounts.
4. Lavender Essential Oil
Lavender essential oil (where to get it) is excellent for treating stress-related hair loss. It stimulates the hair follicles and refreshes the scalp when used as a hair treatment and also calms the mind, reduces stress and promotes a restful sleep at night. Yes, poor sleep also contributes to hair loss! Diffusing 3-6 drops 15 minutes before bedtime works wonders in reducing insomnia & emotional stress.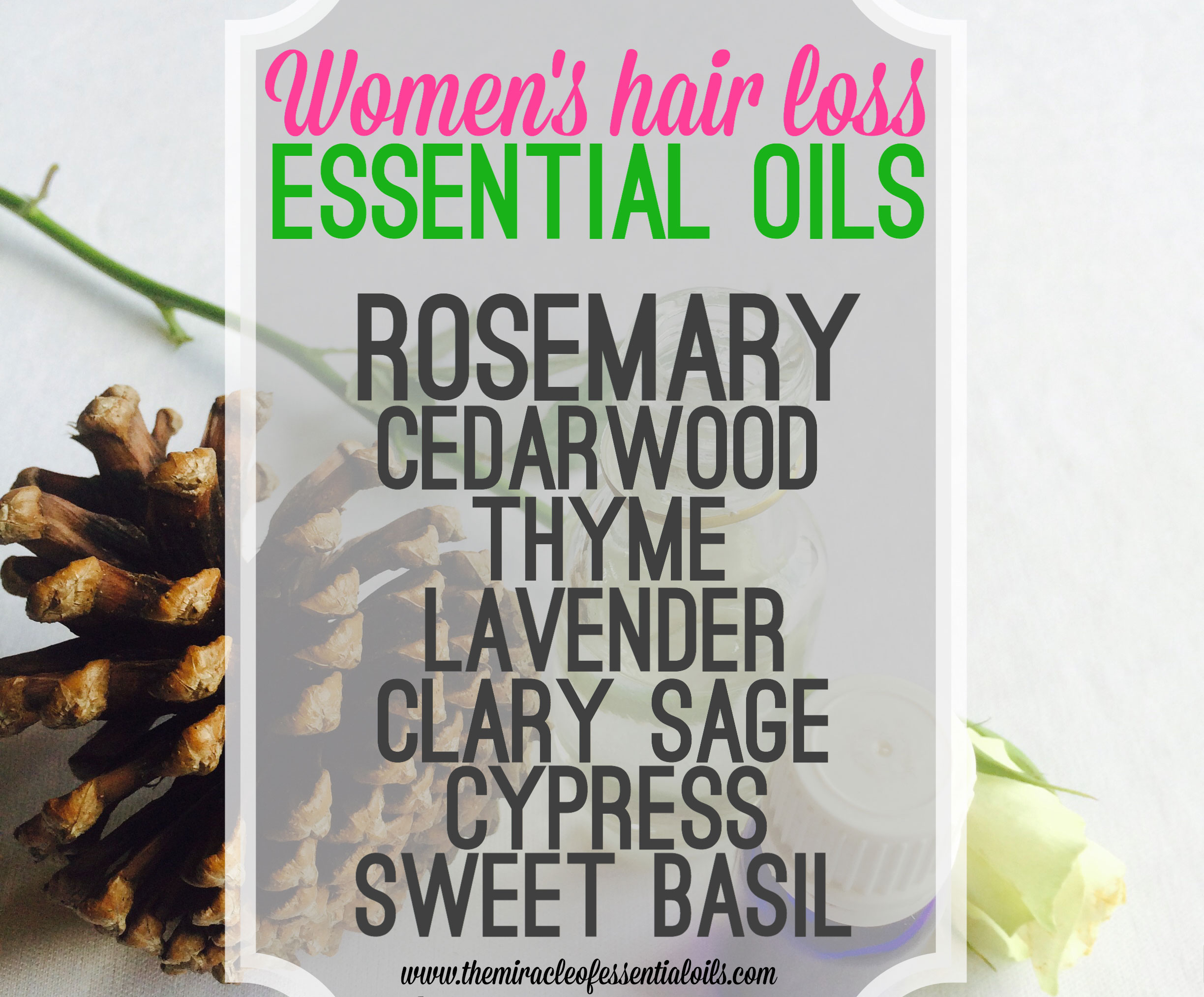 5. Cypress Essential Oil
Cypress essential oil (where to get it) stimulates and increases blood circulation to the hair follicles, which promotes hair growth. The astringent properties in cypress essential oil tighten the hair follicles, thereby strengthening and holding them in place, preventing hair fall. It's also good for reducing oily scalp and hair issues, which is another factor that leads to hair loss since too much oil (sebum) clogs the hair follicles, trapping dirt, dead cells, grime and other impurities, that causes hair to shed.
6. Clary Sage Essential Oil
Clary sage essential oil (where to get it) promotes hair growth by awakening sleeping hair follicles that lie dormant, causing hairs to weaken and fall off. It also has hormone balancing properties when massaged on key reflex points such as the inner ankles. Clary sage also fights dandruff, itchy scalp issues and fungal infections. Note that pregnant women should not use clary sage as it has emenagogue properties that promote uterine contractions.
7. Sweet Basil Essential Oil
An herb known for its powerful medicinal properties, sweet basil essential oil (where to get it) nourishes and strengthens the hair follicles as well as promotes longer and thicker hair. Mix 3-5 drops of sweet basil in 1 tbsp of coconut oil and massage this mixture onto thinning edges and bald patches every night. Wash your hair as usual the next morning.
Take Care
When using essential oils for the scalp, always dilute them first in a carrier oil or a base ingredient (e.g. natural butters like shea, cocoa, mango or unscented shampoo). As a rule of thumb, dilute 1-5 drops of essential oil for every 1 tbsp of carrier oil.
A little goes a long way when it comes to essential oils as they are very concentrated substances. Do not add more than the recommended amount thinking it will give you better results – you may instead get severe burning sensations & irritation on your scalp.
If you are pregnant or nursing, please consult your professional health care practitioner before using essential oils.
Keep essential oils away from children and pets.
People suffering from chronic and severe illnesses must first consult their doctors before using essential oils.