Yeast infections are so uncomfortable, irritating and can be unbearable yet conventional medicines usually antibiotics are always prescribed by doctors as treatment options. Did you know that candida can become resistant to these antibiotics? And that these antibiotics not only destroy candida but also the good bacteria on your body? This leads to unbalance of flora in the body, causing candida to show up again and again…and again! To give yourself a proper holistic long term cure for candida, consider using essential oils!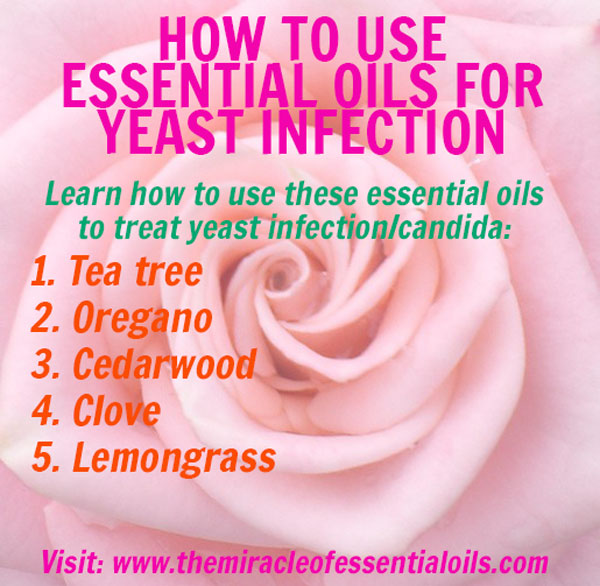 Yeast infection is caused by a type of yeast or fungi known candida albicans. Candida naturally occurs in the body especially in the mouth, gut and vagina but an overgrowth can lead to nasty yeast infections! In this article, find 5 powerful essential oils for yeast infection and the most effective tried and true ways to use them!
Types of Yeast Infection
Oral – This is when the oral cavity is affected by candida overgrowth causing thrush or oral rashes that can be painful.
Cutaneous – These are skin yeast infections and affect both women and men as the most common yeast infections. Yeast diaper rashes and sanitary napkin rashes are under this type of yeast infection.
Genital/Vaginal – For women, candida and other flora naturally exist in the vagina in addition to the mouth and gut. When there's an overgrowth of candida, it can cause a variety of unpleasant symptoms.
Essential oils are used to treat cutaneous and genital/vaginal yeast infections.
Yeast Infection or Candida in Women
Did you know that about 75% of women in the world have ever suffered from a yeast infection in their lifetime? That's a whopping high number! Although yeast infection or candida is a common and treatable ailment, it can be an extremely uncomfortable and painful condition to deal with, not to mention some women suffer from recurrent infections or chronic candida that can disrupt their normal lives. Some of the characteristics of yeast infection or candida in women include:
Uncontrollably intense itching
Redness
Hot sensation in affected area
Rashes
'Cottage cheese-like' discharge
Top 5 Essential Oils for Yeast Infection
Essential oils not only help fight off yeast infection or candida with their powerful anti-fungal properties but they have also been shown to penetrate and destroy the slimy biofilm candida hides behind. This biofilm is what enables it to multiply at an incredibly fast rate, making it very stealthy and difficult to eliminate. Below are 5 most powerful and effective essential oils you can use to treat yeast infections:
1. Tea Tree Essential Oil
Tea tree oil (where to get it) has been touted for its extremely potent antiseptic, antibacterial, antimicrobial and anti-fungal properties that easily wipe out germs, fungi, yeast and microbes. It also has disinfectant properties that help keep the affected area clean and germ-free. It's extremely soothing to apply on irritated and itchy rashes on that sensitive area and immediately gives relief so it's the number one oil to use for that horrible yeast infection itch.
2. Oregano Essential Oil
Numerous studies have been conducted on oregano oil (where to get it) and its anti-fungal qualities. It not only combats candida that causes yeast infections but also nail fungus and fungal and yeast skin infections. Don't go overboard with oregano oil as it is a hot hot oil that can cause severe burning sensations that can last for hours on end! Use about 1-3 drops in 1 tbsp of a thick carrier like shea butter or sesame, avocado and olive oils.
3. Cedarwood Essential Oil
Not just proven for promoting hair growth, cedarwood oil  (where to get it)  is also one of the top most anti-fungal oils on the planet. It can be used as a fungal treatment for scalp fungal infections, fungal skin infections, nail fungus and also yeast infections.
4. Clove Essential Oil
Known to be a powerful fungicide, clove oil (where to get it) helps inhibit candida formation and overgrowth. It also lessens the pain caused by the irritated candida rashes. Since clove oil is one of the 'hot' oils, use it with caution.
5. Lemongrass Essential Oil
A cheap and easily available oil, lemongrass oil (where to get it) not only smells pleasantly fresh but also has powerful anti-candida effects. A study published in the Journal of Ethnopharmacology in 2012 showed that the essential oils of lemongrass and clove are particularly effective at forcibly penetrating into the thick and tough exterior of the protective biofilm barrier created by candida.
Safety Information for Using Essential Oils for Yeast Infections & More
Always first apply a test patch of an essential oil you've never used before on your inner elbow using one drop of essential oil in 1 tsp of carrier oil. If you notice any negative reactions on the area of the patch test, please wash off immediately and don't use the essential oil for yeast infections or any other body application.
Use only 100% therapeutic grade high quality essential oils and if possible, get organic oils.
Do not ingest essential oils except under the supervision of a professional health advisor, doctor or aroma therapist.
Keep essential oils away from children and pets.
Please do not attempt to use essential oils for yeast infection during pregnancy – consult your doctor for professional medical help.
How to Use Essential Oils for Yeast Infection Treatment & Relief
Below are some of my best tried and true essential oi remedies for successfully managing a yeast infection naturally:
» Sitz Baths
I believe sitz baths are miracle workers in helping reduce the severity of a yeast infection. This special type of baths are very simply to setup – all you need is a tub of hot water and salt. Essential oils are immensely helpful additions that speed up the healing and provide quick relief.
What you need
A large tub that you can comfortably sit in or bathtub
Hot water (as hot as you can handle)
¼ cup salt (you can choose to use normal table salt, Epsom salts or sea salt)
5-7 drops tea tree oil or any of the above mentioned oils or a combination of all of them
Method
In your bathroom, fill the tub halfway with hot water: make it very hot that's when it works but don't get it hot enough to scald you! Just hot enough that your skin can handle.
Add the salt and essential oils then stir the water very well using your clean hand.
Immerse your bare lower half of the body by sitting in the tub.
Be in that position for about 10 minutes for soothing relief and instant cure for terrible itching.
» Anti-Fungal Cream
Another powerful natural remedy for yeast infection is making your own anti-fungal cream using powerful essential oils like tea tree & oregano that have been proven to be extremely potent anti-fungal agents!
What you need
Method
Fetch the mason jar where you'll be storing your anti-fungal cream and place the beeswax, shea butter, coconut oil and olive oil into it.
Next fill a pan or pot with ½ cup of water and place it on the stove over a low flame.
Place the mason jar inside the pot carefully, making sure no water goes inside. The water level should reach halfway up the outside of the jar.
Let the ingredients in the mason jar gently melt down completely over the low heat. You can help it melt faster by stirring it.
Once melted, turn off the heat, carefully get the mason jar out and let it cool down for about 2 minutes.
Add the essential oils and stir well with the back of a long spoon or a disposable chopstick.
It's ready! Now all you have to do is allow the cream to harden and set to solid form then scoop some out using clean fingers and apply liberally on the rashes outside of the vaginal area. Before applying, make sure the area is clean and dry. Remember, yeast thrive in moist areas so keep the area dry especially every after you use the toilet.
» Cooling & Soothing Gel
This gel treatment can bring the most amazing relief for hot red itchy and rashy yeast infections!
What you need
Method
Vigorously mix together the above ingredients in a clean bowl using a whisk or fork.
Transfer the gel to a sterilized 4 oz amber glass jar (protects the aloe vera gel from light degradation) or any other clean container of your choice.
Scoop up a generous amount and apply liberally whenever needed onto the clean and dry area.
Are these Popular Essential Oil Remedies for Yeast Infection Safe?
→  Vaginal Douching – I don't recommend doing douching as I believe the body's internal system should be corrected through internal remedies. So if you have to treat an internal problem, you'd best be taking something orally to help heal it from the inside-out. Other reasons why douching is considered harmful is because it disrupts the natural balance of vaginal flora, commonly uses ingredients like yogurt whose particles can get lodged in the uterus, and if you use douching equipment that's even a tiny bit unclean then you're greatly compromising your already weak immune system that has been trying hard to fight off candida by introducing new kinds of germs.
→  Essential Oil Soaked Tampon – This is something that makes me squirm in discomfort. Essential oils are VERY potent and have been warned against when using them on the rough and tough skin outside of the body since they can cause severe burning sensations. Now imagine applying essential oils on a sensitive area that's not even on the outside of your body such as the vagina?! You can experience the worst sensations ever and not know how to properly alleviate the situation. The damage (burns and scars) to this area are said to be permanent. So please, it's better to refrain from using the essential oil soaked tampon method for treating yeast infection (or any other feminine problem for that matter).
Great Lifestyle Things to Do to Prevent Yeast Infections
If you're someone who constantly suffers from yeast infections or candida, then it's high time you looked into lifestyle and dietary changes to help your body go back to its normal internal state. Here are some great working tips you need to start implementing right away:
» Probiotic Supplements – Fighting yeast infection or candida starts from the inside-out. Nourish your body and build up your supply of good bacteria to balance out the accumulated bad bacteria and yeast by taking daily probiotic supplements such as these ones. For me, I never fail to get my regular dose of homemade kefir using live kefir grains. Kefir is one of the best wholesome probiotic drinks that can amp up the good bacteria in your body and strengthen your immune system against candida overgrowth. However, making your own kefir requires a supply of fresh whole milk everyday, patience to let it ferment and a good memory to harvest the kefir before it turns too sour. So if you're a busy person, stick with daily probiotic supplements which are also very effective and easy to consume!
» Skip the Sugar – Been adding a little too much sugar in your morning coffee or tea? It's time to reduce it by a tsp or two. Sugary foods especially white sugar feed yeast or candida and make it grow out of control. Also, try substituting white sugar with raw honey, palm jaggery or a healthier version of regular sugar.
» No More Yeast – If you're in a constant battle with candida, try limiting your intake of bread, pizza and other yeasty foods that can fuel rapid growth of candida in your system.
» Stop Stress in Your Life – Stress is one of the major causes of candida overgrowth and yeast infections! Stress can wreck havoc on your immune system and emotional state. This gradually leads to the malfunctioning of many bodily processes including your body's ability to stave off bacteria, germs and yeast that can overpower your immune system and lead to various health issues, one of them being candida.
Don't Suffer – Get Medical Help
The above remedies are good for stopping a budding yeast infection in its tracks but if you have severe unpleasant and unbearable symptoms, please get yourself medical help. Or at least purchase a good over-the-counter anti-fungal cream like this one. Use it three times daily to rid yourself of the yeast infection in a mere couple of days – super fast relief is in your hands!