Using essential oils for hemorrhoids (piles) is one of the best natural remedies that you should consider. Essential oils are potent and can give you quick relief. For a complete treatment, other natural remedies should also be used along with essential oils.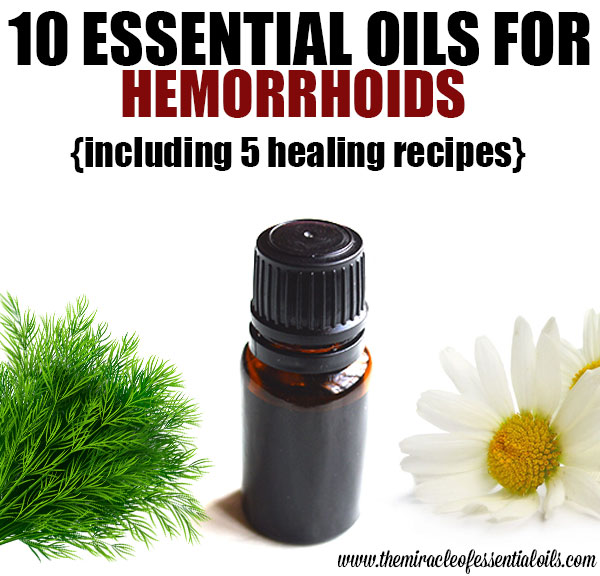 What are Hemorrhoids?
Hemorrhoids are a type of blood vessel that are found in the anal canal or rectum. Hemorrhoids actually have a function – they supply blood to the rectal region and act as a cushion for bowel movements.
But when hemorrhoids get inflamed, they can cause serious pain and discomfort. This condition is what is referred to as 'piles'.
What causes piles? There are a number of factors that can cause hemorrhoid inflammation or piles. Some of these include:
Old age
Genetics
Chronic constipation
Heavy lifting
Obesity
Pregnancy
Prolonged sitting or standing
How do you know you have hemorrhoids piles? Going to your doctor and getting proper diagnosis is the best way to confirm whether or not you have hemorrhoid trouble. Some of the signs of piles include:
Blood clots or lesions around the anus
Bleeding during bowel movements
Pain when passing stools or even sitting
Intermittent protrusions from the anal opening
Itchiness and discomfort
How Do Essential Oils Help Hemorrhoids/Piles?
Essential oils contain potent anti-inflammatory, regenerative, healing and disinfecting properties that can greatly help speed up healing, alleviate the symptoms and repair piles.
These are some of the ways essential oils can help hemorrhoids/piles:
Pain relieving: Essential oils contain analgesic compounds that can help relieve pain and soothe itching.
Reduce inflammation: Potent anti-inflammatory compounds help reduce the swelling and inflammation associated with piles
Reduce the chances of infection: Bleeding hemorrhoids are prone to infection due to the nature of their location. Essential oils are highly anti-bacterial and can disinfect the area and reduce chances of infection.
Promoting wound healing: The antioxidant properties in essential oils promote the repair and growth of cells. This promotes faster wound healing.
Promoting blood circulation: Essential oils have stimulatory effects that promote blood circulation to the area and foster the speedy healing of piles.
Top 10 Essential Oils for Hemorrhoids
These are the top 10 essential oils for hemorrhoids:
How to Use Essential Oils for Hemorrhoids
Here are some ways you can use essential oils for hemorrhoids:
1. Blend Recipe
This is a potent blend that can be applied to piles directly using cotton pads.
» What you need:
40 drops of lavender
30 drops of geranium
20 drops of chamomile
10 drops tea tree
2 ounces of evening primrose oil (where to get it)
4 ounces of fractionated coconut oil (where to get it)
» Method:
Using a pipette, pour all the essential oils into a 6oz glass jar.
Now top up with fractionated coconut oil and evening primrose oil
Using a cotton ball, apply this oil onto your anal region at least twice a day.
2. Sitz Bath
Sitz baths provide unbelievable relief for piles and are a must for faster healing and relief.
» What you need:
» Method:
In a sitz bath tub in your bathroom, fill up some reasonably hot water.
In a separate glass bowl, mix the Epsom salt crystals and essential oils thoroughly for about 5 minutes to get the essential oils absorbed into the salt. This is very important so that the oils will not separate and float on top of the water.
Now stir in the essential oil-epsom salt emulsion.
Gently sit in the sitz and soak for at least 15 minutes. This is the most relieving thing you can do for piles.
3. Cooling Bottom Gel
This cooling bottom gel is perfect for soothing protruding external hemorrhoids and relieving itchiness.
» What you need:
» Method:
In your container, combine all the ingredients by stirring for about 5 minutes. This will create an emulsion.
Apply this cooling gel during hemorrhoid flare-ups or to quell itching and irritation.
4. Sanitary Wipes
These cooling antibacterial wipes can help you cleanse your anal region, especially after visiting the bathroom, or when experiencing a case of bleeding. It will help stave off infections and keep the region hygienic.
» What you need:
» Method:
In a glass bowl, mix all the essential oils with the witch hazel and aloe vera gel until an emulsion is formed. This will prevent the essential oils from separating.
Now add the rest of the ingredients and mix to combine evenly.
Place your select-a-size paper towel roll into your container.
Evenly pour the mixture onto the paper towel roll.
You can keep these DIY healing bottom wipes in your bathroom for convenience. Use as and when required.
5. Healing Ointment
This healing ointment not only soothes piles, but will also act as a sealant to allow the essential oil goodness to work its magic on your skin for as long as possible.
» What you need:
» Method:
In a double boiler, melt both the shea butter and beeswax pastilles.
Once fully liquefied, take off heat.
Add the essential oils and stir.
Now pour into your container and place in the refrigerator to solidify. This may take 2 hours.
Use this ointment up to 5 times a day, as needed.
How NOT to Use Essential Oils for Hemorrhoids
Please, do not use essential oils as anal suppositories. So many sources around the internet are promoting the usage of essential oils inside the anorectal canal, which is downright dangerous.
If you have painful, bleeding hemorrhoids, and you haven't yet seen a doctor, please do so immediately. Treating hemorrhoids on time is crucial. If left unchecked, hemorrhoids can develop into tissue death and even cancer.
Share with us your natural remedies and favorite essential oils for hemorrhoids below!