If you are already worried about your hormonal function, you may want to stay away from essential oils that affect hormones. But do essential oils really disrupt normal hormonal function? Here are some answers.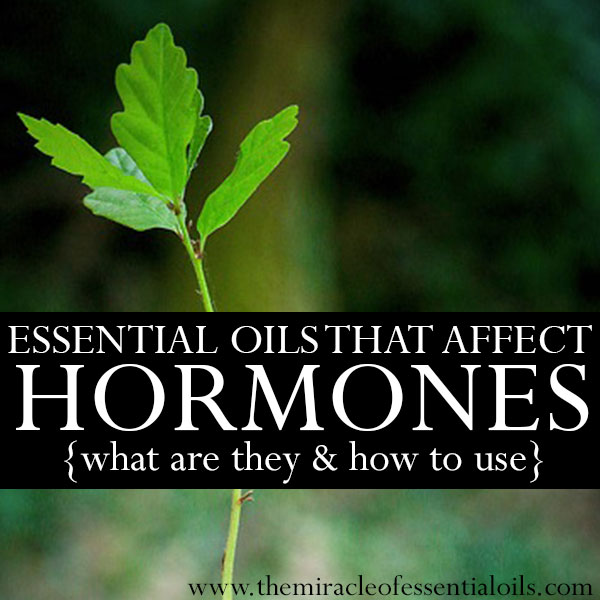 Over 50 Different Hormones in the Body
Our hormones, regulated by the endocrine system, are produced complex and delicate network of glands located in different areas of the body.
There are over 50 different hormones produced by the body. If any hormone is affected and imbalanced, this can cause disorders, diseases and other ailments in the body.
Signs of Hormonal Imbalance
Some of the signs that you might be having a hormonal imbalance include:
Acne
Mood swings
Insomnia and sleeping trouble
Fatigue
Low libido
Infertility
Weight gain
Edema or fluid retention
And others
The only sure way to find out if you have a hormonal imbalance is to get check with your medical doctor, who will run blood tests to confirm diagnosis.
Factors that Affect Hormones
Without knowing what factors affect hormones, it is difficult to fix the root cause of your hormonal imbalance. Here are some of the common factors that affect hormonal balance:
Aging
Genetics
Traumatic injuries, major surgeries, radiation treatment
Chronic stress
Farm raised livestock and poultry (which are injected with hormones)
Long term consumption of birth control pills
Insomnia and chronic lack of sleep
Endocrine disrupting chemicals (found in cosmetics, personal hygiene products etc)
And others
What are the Essential Oils that Affect Hormones?
Essential oils are pure plant extracts that are derived from pressing or distilling large amounts of plant material to gather the precious minuscule oils contained within them.
The resulting hydrophobic substance is highly aromatic and packed with medicinal, healing and therapeutic compounds.
Essential oils have the ability to heal many ailments from acne to arthritis and even cancer.
Yet some still think that essential oils can affect hormones and cause hormonal imbalances. This premise is based on one study that shows certain essential oils to cause estrogen disruptions.
Top 4 Essential Oils Suspected to Affect Hormones
Here are the top 4 essential oils that are making the rounds on the internet that they are bad for the hormones:
1. Lavender
2. Tea Tree
3. Clary Sage
4. Thyme
Please read: Are Essential Oils Hormone Disruptors? To find out how these essential oils actually do not affect the hormones in a negative way. Rather, some of them like lavender are actually incredibly helpful for relieving stress, which is a known cause for hormone imbalance.
Top 10 Essential Oils That Can Balance Hormones
Here are the top 10 essential oils that can help you balance your hormones:
How to Use Essential Oils for Hormonal Harmony
There are several easy ways to use essential oils for hormonal harmony and support. Some of these are:
» Diffusion – This is the easiest and safest way to use essential oils in your daily life. Diffuse up to 6 drops of any of the hormone balancing essential oils above for 1 hour daily. Ensure to use a high quality non-plastic diffuser.
» Topical Application – Dilute 3 drops of hormone-balancing essential oil in 1 teaspoon of carrier oil and use it in foot massage.
» Detox Baths – Detox baths are a great way of relaxing and unwinding the stress of a long day while also drawing out hormone-disrupting toxins from your body. For full instructions on how to carry out a detox bath, check out: Detox Bath with Essential Oils
In your experience, have you found any evidence on essential oils that affect hormones? Please comment below.