Looking for essential oils to diffuse for colds? Read on!
A cold is an infectious viral disease affecting the upper respiratory tract. It is the most common acute illness in the modern world. The average person gets about 2-3 colds a year while children can get about 6-8 colds a year. Colds are common during cold and rainy weather. Some of the symptoms of colds include runny nose, itchy watery eyes, congestion, sneezing and others.
In this article, we're going to look at the best essential oils to diffuse for colds. Check them out below!
7 Essential Oils to Diffuse for Colds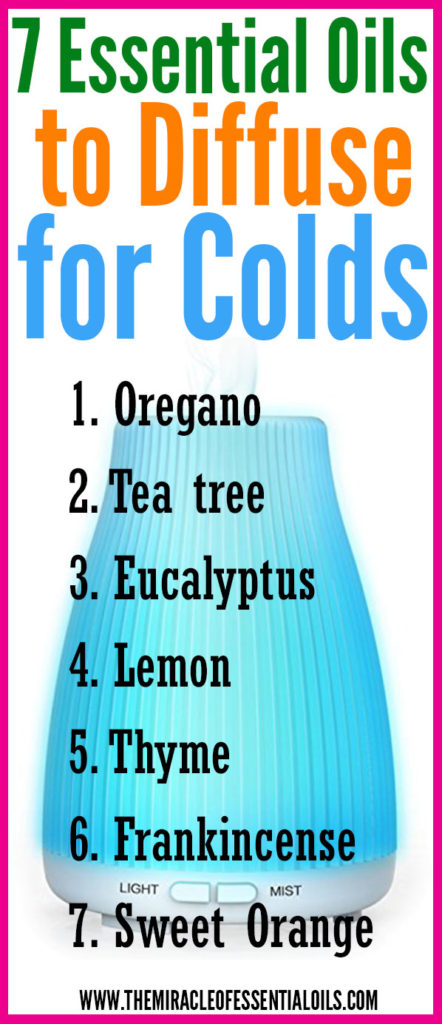 Diffusing essential oils destroys germs in the air, helps open up the airways for easy breathing, unblocks clogged sinuses, relieves headaches and soothes a sore throat. There are several essential oils good for colds but for diffusion purposes, here are the top 7:
1. Oregano
Oregano is amazing for getting rid of colds. Diffusing it destroys infectious germs in the air, purifies the air and relieves blocked noses and congested sinuses.
2. Tea tree
Tea tree is a powerful disinfectant. It has antibacterial, antiviral, antifungal and antimicrobial properties. It kills germs and relieves congestion. It's the best oil to diffuse to destroy germs in the air.
3. Eucalyptus
Eucalyptus oil is cooling in nature. It helps open up a blocked nose & congested air ways which promotes easy breathing. It also soothes a sore throat.
4. Lemon
Lemon also has disinfectant properties that kills off germs in the air. It also has an uplifting scent that boosts mood and gets rid of grogginess.
5. Thyme
Thyme essential oil is another powerful essential oil to diffuse for colds. When diffused, it kills off germs and purifies the air.
6. Frankincense
Frankincense essential oil is an all-round oil for optimum health. When diffused, it supports the respiratory system and fights infection.
7. Sweet Orange
Sweet orange oil has a fruity scent that has great antidepressant properties. It has also anti-inflammatory and antiseptic properties. Diffuse it to dispel grogginess, brighten your day and disinfect the air.
8 Essential Oil Diffuser Blends for Colds
Please check out our article on Top 8 Essential Oil Diffuser Blends for Colds!