Essential oils are concentrated substances that are extracted from plants using the steam distillation process. Different parts of plants like followers, leaves, bark, seeds, and roots are used to extract it. These oils not only they provide wonderful scent, they come with many protective benefits as well. Not many people know this but essential oils can also be used for treating various ailments. You can definitely use essential oils to promote healing after surgery, along with other natural remedies.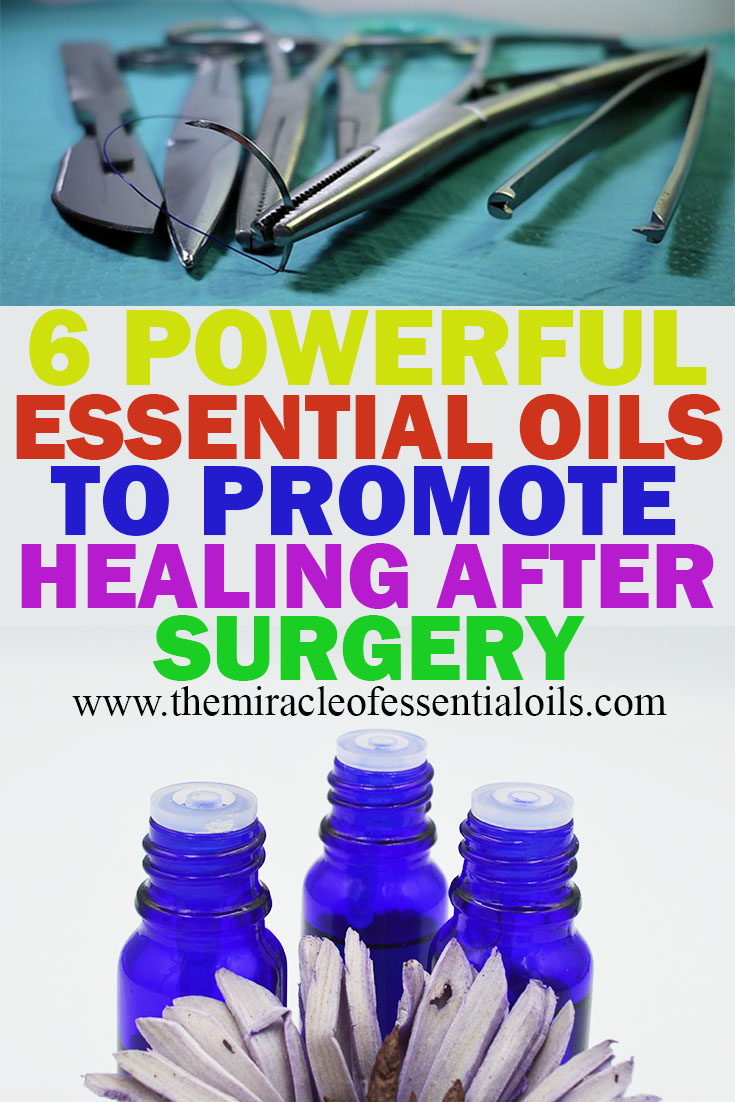 What care should be taken before applying essential oils for surgery after-care?
Follow some precautions before applying essential oils to promote healing after surgery:
Essential oils are extremely concentrated, so they must not be applied to your skin unless they have been diluted. The reason is certain essential oils leads to a reaction or cause irritation.
You must dilute an essential oil with an appropriate carrier oil like coconut or almond oil before use. Otherwise you will risk overdose and chemical burns.
Please consult your doctor surgeon before using any essential oils
Before use, you can carry out a patch test on the upper arm, in order to stay extra safe.
Wait till the time the surgery area has closed up a bit, in order to make sure that the essential oils are not applied to an open wound.
Wait for stitches to come out or make sure the steri strips have been removed before applying essential oils. At this instant, essential oils like lavender or helichrysum are beneficial.
6 Quick Ways to Use Essential Oils in Surgery Recovery:
Certain common methods of using these oils to promote healing include:
In massage oils
In wound cleaning
To apply on surgical scars
By diffusing them
For surgical pain
Pain relief blends
There are many essential oils to promote healing after surgery. But the best essential oils to promote healing after surgery are the ones that contain a complex network of molecules to influence healing effect. The power of the essential oils to cure surgery is effective to the level that there is no need for any drugs. You only need to follow the recommendations of a natural health expert and herbalist. With its use, you can be active in less time because the oils boost circulation and facilitate healing.
6 Essential Oils to Promote Healing After Surgery
Here are some of the best essential oils to promote healing after surgery:
1. Jasmine Essential Oil
Jasmine essential oil is capable to heal any type of skin irritation and it works to promote the healing of scars after surgery. Moreover, this essential oil is beneficial to relieve nervous tension prior to an operation. Don't miss: Top 10 Beauty Benefits of Jasmine Essential Oil
2. Ylang Ylang Oil
If in case the surgery lays an effect on your skin health, either due to an incision or due to bed sores while recovery, Ylang-ylang essential oil works to hydrate, nourish as well as heal the skin. This essential oil is capable to relieve anxiety before and after an operation.
3. Tea Tree Oil
Tea tree oil is recognized as the widely used essential oil. It is known as a potent antiseptic,  which could be applied for post-surgery minor cuts as well as wounds. It works to eliminate debris on the wound site.
4. Clove Essential Oil
When you have undergone any kind of oral surgeries, Clove essential oil works to promote healing on the wounded site. Generally, clove is extensively used as a useful antiseptic for oral infections, because it destroys infesting bacteria and an extensive variety of microbes.
5. Peppermint Essential Oil
Out of the different essential oils available in the market, Peppermint oil is one of the most versatile ones. After you have undergone surgery, peppermint oil is beneficial for improving physical as well as emotional healing. In short, this essential oil functions as a replacement for antibiotics.
6. Lavender Essential Oil
Lavender essential oil is one of the greatest popular natural oil which is extensively used as a relaxing agent. The oil is found to be a potent anti-microbe as well as natural antibiotics. Whenever you apply lavender oil, it will relax your nervous system, and this indirectly assists to balance the emotional state after undergoing a surgery.
Caution When Using Essential Oils to Promote Healing After Surgery
You can get relief after surgery with the proper use of essential oils. You need to follow the precautions discussed above before applying. Apart from these, there are many more essential oils which can be extensively used for healing. Finding your perfect essential oil for you is a case of trial and error. It is best to consult a doctor before applying any complementary therapy after surgery.