A fresh hydrosol you must get your hands on, eucalyptus hydrosol has so many benefits to offer! Below, we shall look at the top eucalyptus hydrosol benefits and how to use it.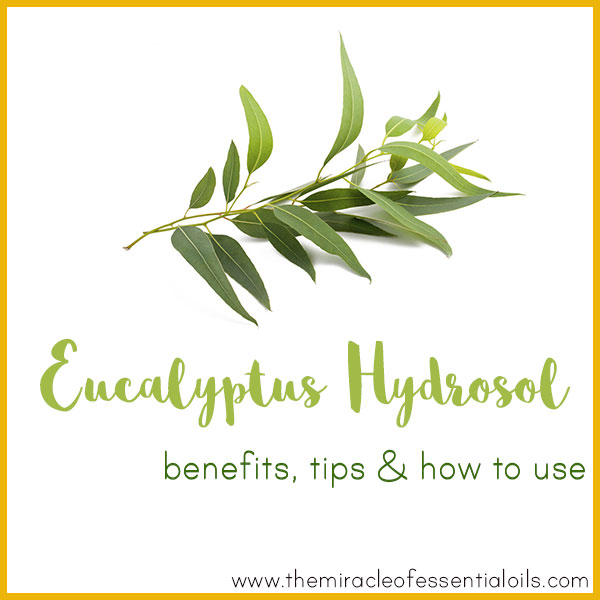 What is Eucalyptus Hydrosol?
Eucalyptus trees have been long revered for their medicinal qualities. They are also called Blue Gums and consist of over 700 species, many of which are native to Australia.
Two extracts are got from eucalyptus trees: an essential oil and hydrosol. Both have therapeutic effects and healing properties. Eucalyptus hydrosol is what we shall be exploring on this page! It is obtained from steam distillation of the fresh leaves of the tall evergreen eucalyptus trees.
Eucalyptus hydrosol has a menthol-cool fresh scent that's great for unclogging blocked noses and breathing problems. It's also good for freshening up rooms, clothes and skin. Find out more eucalyptus hydrosol benefits below!
Benefits of Eucalyptus Hydrosol
Here are the top benefits of eucalyptus hydrosol for health, wellness and beauty:
1. Expectorant
Eucalyptus is good for relieving congestion and treating cough and colds. You can take a tonic made with eucalyptus to unblock clogged respiratory airways and lungs. It can also be used as nasal drops or throat spray.
2. Analgesic
The cooling fresh sensation eucalyptus leaves on skin has an analgesic (pain relieving) or numbing effect. Spritz it on painful areas including painful acne, eczema and psoriasis for cooling pain relief.
3. Air Freshener
Eucalyptus has a clean and fresh scent that's perfect as a natural air freshener. It can be diffused in smelly or musty rooms or spritzed around in a spray bottle.
4. Facial Toner
Refresh tired and overheated skin, reduce oiliness and clear congested skin with eucalyptus hydrosol! It also tightens skin pores and firms skin. Simply spritz it on your face after cleansing and let it dry off before moisturizing.
5. Reduces Oily Hair
Got oily hair? Eucalyptus hydrosol can help! It removes excess sebum on the scalp and hair strands and keeps hair looking silky and shiny.
6. Deodorant
It not only acts as an air freshener but a deodorant too! Spray it on your underarms to neutralize bad odor. You can also make your own natural deodorant spray with eucalyptus hydrosol – recipe below.
How to Use Eucalyptus Hydrosol
» Cough and Cold Tonic
Take ½ or 1 tbsp of eucalyptus hydrosol 3-6 times a day for cough and cold relief.
» Foot Bath
Fill a small tub with hot water then dissolve ½ cup of sea salt and add 1 cup of eucalyptus hydrosol. Soak for 15 minutes to freshen tired feet and combat stinky feet odor.
» Purifying Diffuser Blend
Add 1 part eucalyptus hydrosol and 1 part tea tree hydrosol to a cold air diffuser. Diffuse in a musty room to clear the bad air and replace it with fresh and cool air.
»Body Mist for Hot Flashes & Sweaty Days
Store eucalyptus hydrosol in a fine mist bottle in the refrigerator. Mist it all over your body when you come from outside during the summer. It will instantly cool you down and refresh your skin.
» Oily Hair Degreaser
Combine in a spray bottle, 1 tbsp arrow root powder, 1 tbsp rubbing alcohol and 4 tbsp eucalyptus hydrosol. Spray on your scalp and hair when it gets greasy then brush. Goodbye, oily hair!
» Refreshing Deodorant
In a cobalt blue spray bottle, add 3 oz eucalyptus hydrosol, 2 tsp fine Himalayan pink salt, 1 oz witch hazel and 1 tsp baking soda (optional). Shake well to combine and spray on your underarms. The scent lasts and keep you clean and fresh for long.
For More Ideas on How to Use Eucalyptus Hydrosol, Read: 25 Ways to Use Hydrosols 
Where to Buy Eucalyptus Hydrosol
Get 100% pure organic eucalyptus hydrosol here.