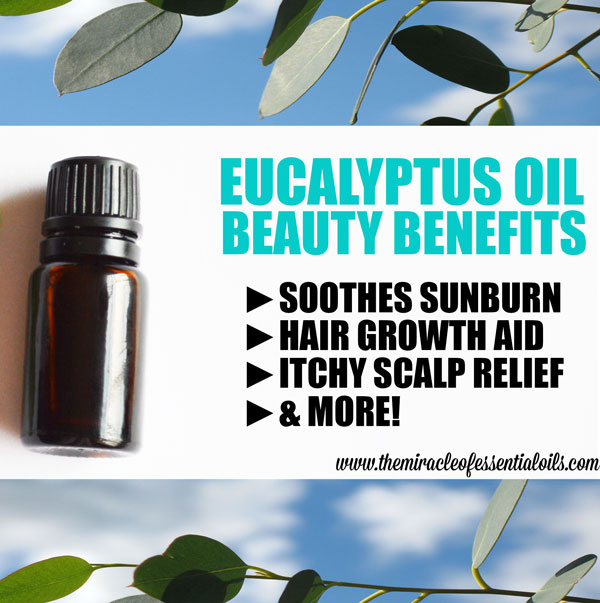 The fragrant eucalyptus trees, also known as Blue Gums, are used to produce a powerful essential oil. Discover 10 amazing beauty benefits of eucalyptus essential oil in this article.

Since 100 years, Australian Aboriginals have used eucalyptus, which they called 'mallee', to treat wounds, body pains, sinuses, fungal infections, fever & colds. Eucalyptus trees were thought to cleanse the environment and so, frail and sick people used to choose to live in an environment where the sweet-smelling trees grew so as to get healing for their ailments. In India, eucalyptus is used for its expectorating activity while in China it is utilized for its pain relieving ability.
Eucalyptus is an amazing medicinal tree – its extracts & essential oil (which the Aboriginals call 'kino') contain antibacterial, antiseptic, anti-inflammatory, antispasmodic, diuretic, stimulant, decongestant, astringent, antiviral, analgesic, anti-neuralgic, anti-rheumatic, balsamic, cicatrisant, deodorant, depurative, diuretic, expectorant, febrifuge, hypoglycaemic, rubefacient properties & more!
Benefits of Eucalyptus Oil for Hair, Skin & More
There are many benefits of eucalyptus oil for hair, skin & beauty including:
1. Sunburn Relief
Eucalyptus essential oil gives a cooling sensation when applied to skin because it contains menthol, which is a natural numbing agent that helps numb and reduce the pain caused by mild sunburns. For immediate sunburn relief, fill a clear two ounce spray bottle with pure/distilled water, 1 tsp aloe vera gel and 2 drops of eucalyptus essential oil. Shake well and spritz onto your skin. Note: If you have a severe sunburn/mild blisters, please seek professional help before using anything on your skin.
2. Kills Lice
Eucalyptus essential oil kills off lice and nits by suffocating them. Combine about 2 to 4 drops of eucalyptus essential oil in 1 ounce of coconut oil and massage it onto the scalp. Leave it on for two hours then wash off thoroughly with tepid water.
3. Treats Itchy Scalp
The cooling property of eucalyptus essential oil provides a soothing relief for itchy scalp issues. Eucalyptus essential oil also contains menthol that numbs the pain from over scratching and help reduce the urge to scratch. In a tablespoon of coconut oil, mix about 2 to 4 drops of eucalyptus essential oil and apply it onto your itchy scalp. Allow the mixture to sit for at least 30 minutes then rinse off thoroughly.
4. Stimulates Hair Growth
Eucalyptus essential oil can also be used to enhance hair growth by improving blood circulation in the scalp. Proper blood circulation enables each and every hair follicles gets nutrients which stimulates hair growth. Eucalyptus oil also gives a refreshing tingling sensation on the scalp which is said to invigorate the hair follicles and bring back to action the dormant hair follicles that are not functioning.
5. Promotes Good Dental Health
One of the amazing benefits of eucalyptus oil is its ability to freshen the breath naturally due to its menthol content. Eucalyptus essential oil is known to promote good dental health. It is shown to exhibit antibacterial activity against cariogenic and periodontopathic bacteria that are responsible for causing tooth decays. Make a breath freshening and antibacterial mouthwash by swishing about 2 teaspoons of coconut oil mixed with 2 drops of eucalyptus essential oil for about 3 to 5 minutes. Spit into the trash and rinse your mouth with water. Your mouth will be naturally fresh and minty for a long time!
6. Treats Dandruff
One amazing benefit of eucalyptus essential oil is that it has strong anti-fungal properties which wards off & get rid any fungal infections including dandruff caused by the yeast-like fungus, malassezia, which is the most common cause of dandruff. Apply a mixture of 2 to 4 drops of eucalyptus oil and 1 to 2 tablespoons of coconut oil onto your scalp. Wait for at least 20 minutes and then wash off thoroughly.
7. Helps Heal Acne
The antiseptic & anti-inflammatory properties of eucalyptus essential oil are helpful in preventing as well as healing acne and pimples. When applied to skin diluted, eucalyptus essential oil can help reduce oily acne prone skin & dry up pimples. Mix 1 drop of eucalyptus oil in 2 to 3 teaspoons of pure aloe vera gel and apply this onto your acne.
8. For Shiny Hair
Overtime, use of eucalyptus oil adds a natural shine to hair strands. This is because eucalyptus essential oil is known to increase the amount of ceramides in the scalp and hair. Ceramides are lipid molecules that are naturally found in hair strands and they help hold moisture in the strands as well as protect & smooth out hair cuticles. This enables light to bounce off of the strands thereby making hair look glossy and shiny.
9. Improves the Elasticity & Health of Hair
The University of Technology in Thailand conducted a research on the effects of eucalyptus extracts on the hair and scalp in 2005. The results showed that consistent application of a lotion solution containing 3% eucalyptus extract not only increased the amount of ceramides in hair by 120%, thereby making hair shinier & glossier, but also strengthened hair strands and improved their elasticity!
10. Controls Oily Skin
Eucalyptus essential oil has natural astringent properties that tones the skin and regulate sebum. A simple eucalyptus toner can be made to deep cleanse pores, control oiliness & refresh skin by mixing 1 to 2 drops of eucalyptus essential oil in 1 cup of pure/distilled water. Store in a clear spray bottle and shake very well before use.
Where to Get Eucalyptus Oil
Always purchase 100 % pure high quality organic eucalyptus essential oil and avoid the synthetic versions.
Caution
As with many essential oils, please dilute eucalyptus essential oil with a carrier oil such as coconut, olive, jojoba, avocado oil, etc before use. Don't go overboard – never add too many drops of an essential oil as it can be toxic; only use the recommended amount. Do not ingest eucalyptus oil as it's very potent and can cause severe health problems.
If you have asthma, please do not use eucalyptus oil as it is shown to trigger asthma attacks.
Pregnant and lactating women should avoid eucalyptus oil.
Keep eucalyptus oil away from children and pets.