You know about fennel oil, now discover fennel hydrosol! On this page are 7 fennel hydrosol benefits and how to use it!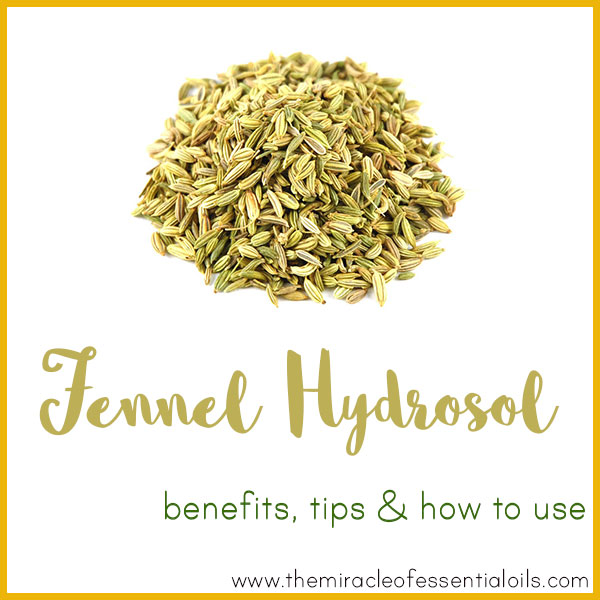 What is Fennel Hydrosol?
Fennel hydrosol is obtained from the steam distillation of fennel seeds (botanical name: Foeniculum vulgare). It has a strong licorice odor and leaves a sweet taste in the mouth.
Below, find out 7 benefits of fennel hydrosol and how to use it for everyday health and wellness:
Benefits of Fennel Hydrosol
1. Digestive Aid
Fennel is a natural digestive aid. In parts of Asia, some restaurants carry a bowl of fennel seeds to chew on after the meal to freshen breath and promote digestion. Take ½ to 1 tbsp of fennel hydrosol 3 to 6 times a day to help with indigestion, gas and stomach cramps.
For indigestion in cats/dogs, add 3 to 5 drops of fennel hydrosol to cat/dog food daily for three weeks.
2. Bad Breath
Use fennel hydrosol as a mouth wash to fight bad breath. It has deodorizing and mouth freshening effects and also fights oral bacteria. It also gets rid of bad breath due to digestive problems.
3. Diuretic
Fennel has diuretic properties that make it good for draining excess water from the body. It's great for cellulite and weight gain due to fluid retention. You can find a body wrap recipe with fennel hydrosol below. It's also effective in reducing puffy eyes.
4. Boosts Milk Production
Spray onto cotton rounds then dab on breasts, leaving out the nipples. Leave it on for 15 minutes then take a shower. Fennel seeds have long been used to boost milk production for lactating mothers. Instead of using fennel essential oil, fennel hydrosol is a much safer and gentler option.
5. Relieves Baby Constipation
On a tissue paper, spritz fennel hydrosol once or twice then place it near the baby. The subtle aroma will waft around the room and trigger bowel movement in the baby.
6. Decongestant & Expectorant
Fennel hydrosol helps with respiratory issues and may benefit smokers, bronchitis and allergy sufferers. You can use it to do steam inhalation or take it internally.
7. Treats Cystitis
Drink fennel hydrosol – about 5 ml in 100 ml of water to bring relief to cystitis in a short amount of time.
How to Use Fennel Hydrosol
» Digestive Tonic
Combine 5 ml cinnamon and 5 ml fennel hydrosols in 200 ml of water. Sip throughout the day for digestive support.
» Eye Compress
Spray fennel hydrosol from a mist bottle onto cotton rounds until soaked but not dripping. Lie down and place it gently over your eyes. Leave it on for at least 10 minutes.
» Body Wrap for Weight Loss & Cellulite
In stainless steel pot, combine 1 cup bentonite clay and 1 cup seaweed powder. Now warm 1.5 cups of fennel hydrosol in a double boiler. Then pour it into the stainless-steel pot, mixing gently to form a thick mixture but not too thick – it has to be easily spreadable. Add a few drops of juniper berry, grapefruit or cypress essential oils, if you prefer. Now smear the mixture all over your body, except the chest, then wrap your body reasonably tightly with plastic wrap or cling film. Now lie under a wool blanker for an hour. This will help you sweat out all the excess fluids and enable you lose a few inches on your waist line.
» Chest Mist for Women
In a spray bottle, combine together 50% lavender hydrosol, 25% fennel seed hydrosol and 25% sandalwood hydrosol. Mist onto breasts every day. This promotes healthy and toned breast tissue. Caution: Not to be used during pregnancy and breastfeeding.
» Aching or Heavy Legs
Combine in a spray bottle: 50% rosemary hydrosol, 25% witch hazel hydrosol and 25% fennel seed hydrosol. Spray on aching, tired and heavy legs.
For More Ideas on How to Use Fennel Hydrosol, Read: 25 Ways to Use Hydrosols
Where to Buy Fennel Hydrosol
Ensure to purchase 100% pure organic fennel hydrosol. You can get it here.
Caution
Do not use fennel hydrosol in the first two trimesters of pregnancy. To be safe, avoid it all together during pregnancy.
References
Hydrosols: The Next Aromatherapy by Suzanne Catty