When certain oils are combined together, they create a beautiful and harmonious synergy that multiplies the potency of the oils. That's the case with frankincense and myrrh essential oil recipes, as you will find out below!
Essential oils are highly concentrated oils, which the chemists extract mainly from the aerial parts of the plant. These oils retain the plant's natural odor and smell and find uses in multiple ways in health and cosmetic industry. Frankincense & Myrrh oils are two ancient and historic oils, which offer you a host of incredible benefits.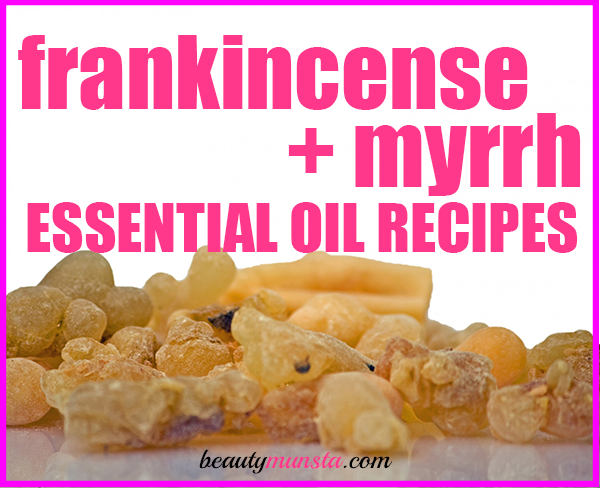 Frankincense Essential Oil
Chemists extract frankincense oil from the resin of the plant Boswellia carteri. The active ingredients of this oil include actanol, bornyl acetate, linalool, incensole, octyl acetate, and incensole acetate. Human beings have used frankincense oil since ancient Egyptian and Anglo-Saxon civilizations. It also finds a place in religious traditions and rites in Christian beliefs.
What Are the Benefits of Frankincense Essential Oil?
Here is a list of different health benefits of using Frankincense essential oil:
1. Antiseptic Properties
Frankincense oil has proven antiseptic qualities. Whether it is the medicinal smoke obtained by burning the resin of frankincense, or the direct application on the wounds after diluting with carrier oils, frankincense helps you to prevent deadly diseases like tetanus and protects wounds from becoming septic. It is also beneficial to avoid internal infection and to boost your immunity.
2. Improves Oral Health
Frankincense oil is also useful in improving your oral health. It minimizes the occurrence of bad breath, toothaches, mouth sores and cavities. Besides, it has a welcoming aroma which helps to calm your mind and soothe your senses. The flavor of this oil is also pleasant, and you can use oral health care products like toothpaste containing this oil to derive all the benefits. It also strengthens your gums and prevents premature loss of teeth.
3. Astringent Property
The astringent property of frankincense oil is also remarkable. It helps to deep clean your face, removes traces of oil and germ build up in the clogged pores. Frankincense also tones your face at the same time.
Where to Buy Frankincense Essential Oil
Myrrh Essential Oil
Myrrh is a sap-like substance which comes out from the bark of Commiphora myrrha tree. The oil is the resin of this plant and chemist extracts it after cutting the trunk region. After the resin exudes, it dries up with a brief period and looks like tears on the bark of the tree. The plant is widespread in Africa and Middle East countries, and it is related to frankincense family plants. Myrrh is noted for its white flowers and knotted trunk, which sometimes take a twisted form. Chemists extract the oil after steam distillation of the sap.
What Are the Benefits Myrrh Essential Oil?
Let us now have a look at the health benefits of Myrrh essential oil:
1. Potent Antioxidant
The Journal of Food and Chemical Toxicology (2010) has proved that Myrrh oil has potent antioxidant properties. It helps to neutralize the harmful free radicals present in your body and prevents the occurrence of deadly diseases including cancer, especially the gynecological ones, like cervical and ovarian cancers.
2. Antibacterial and Antifungal Properties
Myrrh oil has remarkable antibacterial and antifungal properties which make it a most sought-after oil to treat fungal irritations like athlete's foot, ringworm, and acne. It is effective against a specific type of bacteria like S. aureus. When we use this oil along with frankincense oil, the antibacterial property gets amplified. It is the reason frankincense & myrrh essential oil recipes are so potent.
3. Skin Health
Myrrh oil is beneficial in curing chapped and cracked skin condition. It moisturizes your skin and at the same time relaxes your mind with its soothing aroma.
Where to Buy Myrrh Essential Oil
DIY Frankincense And Myrrh Essential Oil Recipes
Now that you've seen the properties and benefits of frankincense and myrrh, just imagine the synergy that you can benefit from when you COMBINE the two!
Here is an excellent DIY frankincense & myrrh essential il recipe for a natural body lotion.
Ingredients:
Directions:
Pour the water (4 cups) in a container and heat it slightly, add beeswax and sweet almond oil to water and stir it gently.
Dissolve borax in the remaining 1 cup of water and warm it so that both the mixture reaches the same temperature.
Now put both the mix in a blender and mix them thoroughly till smooth with creamy lather.
Transfer all the essential oils to it to produce your moisturizing lotion.
There are so many more frankincense and myrrh essential oil recipes, especially for antiseptic purposes and anti-aging properties. This body lotion above is a great beginner's DIY to explore the remarkable qualities of these two essential oils.