Find out the benefits of frankincense essential oil for eyes and the best ways to use this wonderful healing oil.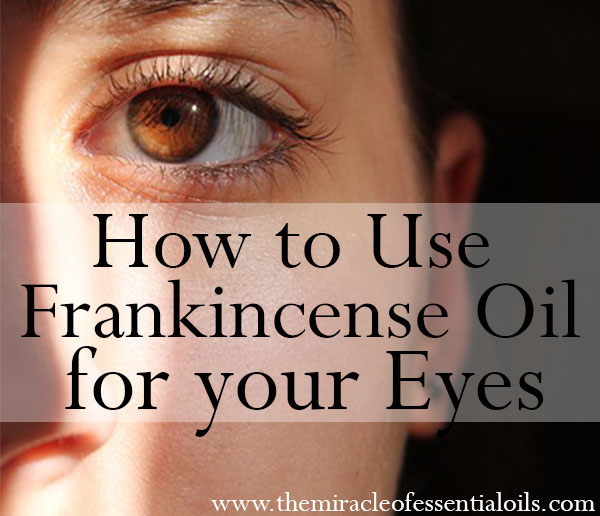 What is Frankincense Essential Oil?
Frankincense, best known as one of the 3 gifts presented to baby jesus from biblical times, is one of the most ancient and spiritual essential oils that exist to date. Harvested from the hard resin of the Boswellia trees, frankincense oil contains more than 200 molecular compounds that are packed with unique healing properties.
This makes frankincense one of the most sought-after oils in the world today and it is one that you should definitely have around the house for its medicinal and aroma therapeutic values.
What Are The Properties of Frankincense Essential Oil?
Frankincense oil as a mild-to-medium aroma with a spicy, fruity and fresh scent. Some of the properties of frankincense include:
» Antioxidant properties: Frankincense oil is rich in antioxidant properties that can help stimulate collagen production and regenerate new healthy cells.
» Anti-inflammatory properties: The anti-inflammatory properties in frankincense help reduce swelling, inflammation, puffiness and redness on the skin.
» Stimulant: Frankincense oil, when applied topically can act as a stimulant encouraging better blood flow to the area, and promoting healthy supple skin.
» For dark circles and blemishes: Frankincense is one of the best oils for lightening hyperpigmentation, scars, blemishes and dark circles around the eyes.
Caution When Frankincense Essential Oils for Eyes
Never apply frankincense directly into your eye. This is very dangerous and can irritate the delicate membranes of the eye and cause corneal burns. Even if the oil is well diluted, never pour it into your eyes.
Only use high quality 100% pure organic oils from trusted sources. Many less known brands or new companies are often not verified by organic certification and we cannot trust their statements.
Where to Get Frankincense Oil

Before we look at how to use frankincense essential oil for the eyes, make sure the frankincense oil you purchase is pure. Only buy 100% pure high quality frankincense essential oil from a trusted seller. I love Plant Therapy's frankincense oil. You can get it here.

How to Use Frankincense Essential Oil for Eyes
Here are some of the best ways to use frankincense essential oil for eyes:
» For dark circles
Dark circles can be caused by lack of sleep, stress and lack of blood circulation to the eyes. You can get rid of dark circles under the eyes by using the frankincense cotton pad technique.
Make a mixture of ¼ cup of rose water (rich in vitamin c), 6 drops of frankincense oil and 2 drops of roman chamomile oil. Now cut a circular cotton round in half. Soak these 2 halves into the rosewater mixture and apply each of them under each eye, while lying down. Remain in this position for at least 15 minutes.
Do this twice a day for best results.
» For puffy eyes
Puffy eyes are when the area under the eyes looks swollen or puffy. It can be caused by genetic factors, stress, excessive crying, hormonal imbalances, sinus infection, dietary problems or allergies.
A great remedy for puffy eyes is by using frankincense essential oil to make a hot compress. Warm up ½ coconut oil until it is hot enough to bear, but not too hot that it can burn your skin. Stir in 6 drops of frankincense oil, 6 drops of lavender oil and 4 drops of helichrysum oil. Dip a small cotton cloth into the oil and hold it carefully underneath your eye where there is puffiness. Repeat for the other eye and do this for at least 3 – 5 times, until puffiness subsides.
» For hyperpigmentation around the eyes
If you have areas of darker colored skin around your eyes, on the eye lids or on the sides of the eyes, you may be suffering from hyperpigmentation.
To remove lighten blemishes and hyperpigmentation around the eyes, make an eye cream using ¼ cup of shea butter, 6 drops of frankincense oil and 3 drops of lemon oil. Apply this carefully around the eyes at night.
» For tired eyes
Sometimes our eyes can get tired from spending too much time reading, especially on our smart phones or from working long hours on the computer. Tired eyes can also be caused by lack of sleep.
To perk up eyes that are tired, burning or painful, sleep is the best solution but you can also use essential oil ice packs. Stir in 6 drops of frankincense oil into ¼ cup of water and freeze it until solid.
Now wrap up this ice pack in a thick towel and rub it over your eyes, while your eyes are closed. This will be very relaxing and cooling for tired eyes.
» For skin tags on eye lids
Skin tags are small dark colored growths that appear to hang off the skin. Though they aren't painful or harmful, they can ruin smooth appearance of your facial skin.
Apple cider vinegar is one of the best home remedies for removing skin tags. Couple it with frankincense and you've got a powerful combo for annihilating skin tags. Mix 2 teaspoons of apple cider vinegar with 1 teaspoon of water. Stir in 4 drops of frankincense oil. Dip a q-tip in this mixture and apply it to the skin tag spots. Keep applying frequently for 2 weeks to remove skin tags.
» For strong eye lashes
Beautiful eye lashes frame the eyes like flower petals and make them pop. For long, strong and thick eye lashers, make your own DIY eye lash growth serum using frankincense oil.
In a clean empty mascara bottle, pour in 2 drops of frankincense oil and 1 drop of lavender oil. Fill the rest of the tube with castor oil. Mix thoroughly and apply this serum on clean eye lashes every night before bed.
» For eye infections
Eye infections can be caused bacterial or viral infections. They can also be caused by infections of the follicles by eye mite overgrowth. Eye infections can be painful, irritating and are characterized by redness, itchiness and discharge.
To get rid of eye infections, the best technique is to do steam inhalation. To do this, all you need is a large bowl, hot water and a thick towel. Boil around 4 cups of water until there is a lot of steam coming out. Transfer this to a large bowl and add 1 drop of tea tree oil and 2 drops of frankincense oil. Place your head over the rising steam and throw a thick towel over your head and the bowl to prevent steam from escaping.
Do this 2 – 3 times a day until the infection subsides.
Do you use frankincense essential oil for eyes? Share your experience with frankincense in the comments below.