Frankincense essential oil for skin cancer is so popular that many cancer patients have heard of it, or tried it. There are so many success stories of people reducing or curing their skin cancer completely. This article takes a look at how this could be possible.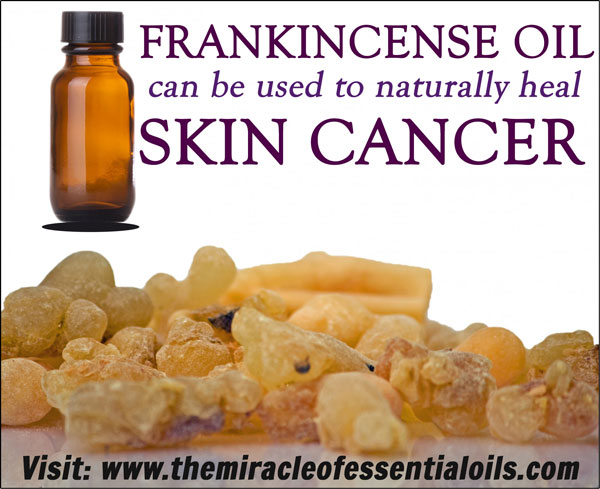 What is Skin Cancer?
Skin cancer is a type of cancer that manifests on the skin. Abnormal cells, known as cancer cells, develop and mutate in the skin and can spread or invade other organs.
There are 3 main types of skin cancer, those are:
1. Basal-cell Cancer (BCC): The most common type of skin cancer; it can invade to surrounding tissues and cause significant mutilation. It may appear as a round, shiny nodule on the skin, or like a rash similar to eczema. Surgical extraction and chemotherapy are the available treatments.
2. Squamous-cell Cancer (SCC) Occurring in individuals between 50 – 70 years of age, this type of cancer stems from the squamous cells found in the skin. It is characterized by an ulcer, reddish plaque or lesion that appears on the skin, which may be hard or bleed frequently. Surgical excision is the standard treatment.
3. Melanoma This type of cancer develops from the cells that give our skin color, called melanocytes. With more than 50,000 deaths resulting from melanoma, it is the most dangerous type of skin cancer in the world. It is treated through excisional biopsies and complete surgical excision.
Some of the causes of skin cancer include:
UV radiation from sun exposure
Smoking
HPV infections
Immunosuppressive medications, like cyclosporin and azathioprine
How Does Frankincense Help Treat Skin Cancer?
When it comes to skin cancer, frankincense is the number one essential oil that pops up. But what's so special about frankincense that gives it so much anti-cancer prowess, especially for skin cancer? Here are some of the properties in frankincense oil that make it so potent:
Anti-inflammatory: Frankincense oil is rich in special oil terpenes, which have potent anti-inflammatory qualities. Inflammation is a common characteristic in all cancers and the elimination of inflammation could mean the elimination of cancer.
Analgesic : The analgesic properties in frankincense oil help to alleviate pain faced by cancer patients, and those undergoing chemotherapy or radiation.
Anti-oxidant: Anti-oxidants are very important compounds found in frankincense oil, which can help neutralize free radical damage, reduce oxidative stress and stimulate the growth of new healthy tissues.
Cicatrisant: Frankincense is a natural cicatrisant, which means it promotes the regeneration and renewal of new healthy cells and repairs damaged cells. It also helps prevent scarring.
Research on Frankincense Essential Oil for Skin Cancer
Frankincense essential oil can help relieve pain, dispel depression and boost the immune system. These qualities are all very important and useful for those suffering from cancer or undergoing radiation therapy. (1)
Cancer patients suffering from cerebral edema were administered with frankincense extract (Boswellia seratta) and it was noted that the swelling in the head reduced by 75% – 60%. (2)
Compounds in frankincense were seen to be effective in destroying cancer cells, in a carefully monitored environment. This research forms a basis for further research and the scientists involved suggested using frankincense along with chemotherapy to achieve positive results. (3)
Testimonials Using Frankincense Oil for Skin Cancer
The internet is wrought with testimonials on how frankincense oil helped cure skin cancers. Here are a few interesting ones I found:
"Used it topically on skin cancer on my husband's ear. After a month skin cancer is gone." Sarah Jones
"My dog had a tumor growth on his leg. The vet said that if it got bigger then it would have to be removed it. It started getting bigger so I treated it topically with frankincense. It completely went away!" Lisa Mullin
"Stage 3 ovarian cancer, used frankincense before chemo. My count went from 282 to 14.1. Frankincense will be a daily regimen for me until the day I die." L. Koz
Where to Get Frankincense Oil
When buying frankincense oil, look for a high quality 100% pure essential oil with no additives. There are three types of frankincense oil including:
References
(1) https://www.ncbi.nlm.nih.gov/pubmed/18753801
(2) https://www.ncbi.nlm.nih.gov/pubmed/21287538
(3)https://www.researchgate.net/publication/270275886_Frankincense_as_a_Potentially_Novel_Therapeutic_Agent_in_Ovarian_Cancer
Have you successfully used frankincense oil for skin cancer? What's your story? Inspire others by sharing your testimonial in the comments below.